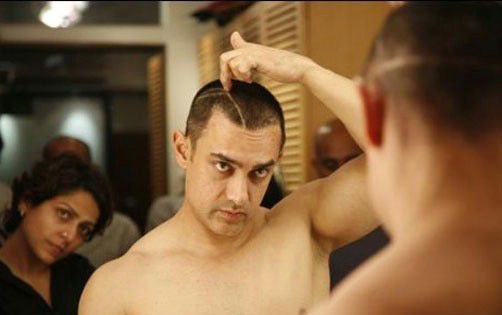 21 March 2008: Aamir Khan sparked off a new trend with his attention-grabbing haircut for Ghajini earlier this year when he revamped his look (yet again) for his forth-coming flick based on the story of Momento (tattoos and all.)
Ace hair stylist Avan Contractor is the lady behind Aamir's look in all his movies since Dil Chahta Hai. Aamir Khan, Avan Contractor, cinematographer Ravi K Chandran and photographer Avinash Gowarikar were deeply involved in finalising Aamir Khan's final look in Ghajini.
In the movie Ghajini, Aamir plays the role of a person who suffers from short term memory loss. Aamir is beaten up and the lines on his crew-cut represent the scars on his head.
Aamir Khan's near-bald crew cut with conspicuous scars has become quite the fashion statement among youth across India. In fact, the near-craze for it in Bangalore led colleges to ban students with the do from entering classrooms saying that it was becoming too much of a distraction for other students in the class.
When Aamir found out he was both, pleased and amused; pleased that his haircut was so popular and amused that the authorities were reacting so drastically.
[youtube=http://in.youtube.com/watch?v=qPvn_aK8ReA]
Aamir Khan's marketing machinery has also ensured this haircut has gotten constant mileage through a series of campaigns for Tata Sky, Titan & Samsung.
One of the things you have to love about Aamir Khan is that you can never really know – next is what?