Shiamak Dawar & Kids

This is way sweet. Last night Shiamak Davar's electric show featuring blind and deaf children was attended by Alyque Padamsee, Shazahn Padamsee, Sharon Shazahn Padamsee, Jayant Patil Home Minister of Maharashtra, with his wife Shailaja (who got a birthday greeting in sign language no less!) Shaina NC, Viral Shah, Rupali Ganguly, Vikram Phadnis and Tarana Raja Kapoor.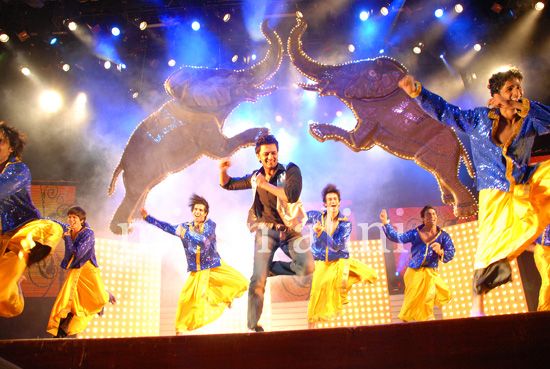 Mallaika Arora Khan
Hrishitaa Bhatt
Raj Bhavsar
Shiamak Dawar @ Kids We Can!
Performances included The Blind Man's Band (a band in which every member is blind) accompanied by Vijay Prakash, the critically acclaimed singer of songs like "Manmohini" from the movie Yuvraaj. Mind-blowing acts and audio visuals showcased how blind and deaf children recognize currency and people, can operate computers, travel in local trains, change platforms without any help and even has hold jobs without being able to see, hear or speak.
Celebrity performers included Riteish Deshmukh, Mallaika Arora Khan, an energetic performance by Hrishitaa Bhatt and never seen before gymnastic performance by Raj Bhasvar (the American desi who won a gold medal in the gymnastics category for the USA in the Beijing Olympics of 2009.) The real starts of the night however turned out to be students of the Helen Keller Institute proving without a shadow of a doubt that indeed they can.
Shiamak even moved the audience to tears with the heart wrenching tribute act to the film Black.
Its nice to see so much of this happening now and celebrities and just generally charged up regular folks showing their support as well. Whether it's for the mentally handicapped, physically abused or creatively combating poverty.