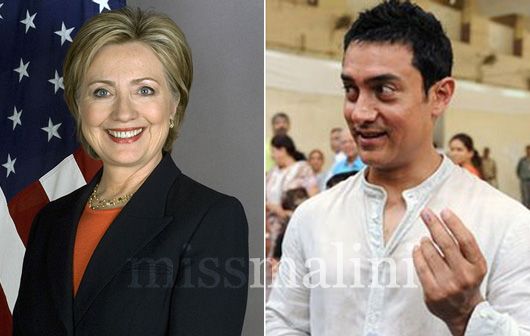 The contours of "an enhanced US-India strategic partnership" offering solutions to the challenges of 21st century may top US Secretary of State Hillary Clinton's agenda on her five day visit starting day-after-tomorrow on Friday July 17th but lets face it, she's probably psyched about meeting Aamir Khan on Sunday too (and perhaps vice-versa.) They're going to discuss his work with the NGO Teach for India. She's off to Delhi on July 19 and has plans to meet Opposition leader L.K. Advani and Congress chief Sonia Gandhi, apart from interacting with Delhi University students on the morning of July 20 at the Town Hall. Interestingly she's chosen to stay at the Taj Mahal Hotel, Colaba (Mumbai) Guess where you'll be double frisked this weekend? Might be worth a visit just to see what souped up security really looks like. She gets in at about 9pm on her special military plane. Too bad Bill's not coming.
Here's a glimpse at the rest of her itnerary: (subject to super secret changes of course!)
Upon arrival, Clinton, who last visited India as the US first lady when husband Bill Clinton was the president, will sign the 26/11 memorial guest book at the Taj.
On Saturday, July 18, she will attend a commemoration event at the Taj Executive Office followed by a meeting with business leaders hosted by Ratan Tata, chairman, Tata group. (FYI The group owns the hotel.)
Clinton's next stop will be an event organized by the Self Employed Women's Association
Followed by lunch at Kebab Stand.
At 3.30 p.m., Clinton will be at St. Xavier's College and will leave for a special event that will also be attended by film star Aamir Khan.
She arrives in Delhi on Sunday post noon. At 1.30 p.m., she is scheduled to attend a Delhi climate change event at ITC Green Building.
In the Capital too, Clinton will stay at Hotel Taj. She'll also attend an agriculture event at Pusa institute in central Delhi.
Political business will be handled on July 19. The day, however, will begin with a visit to Delhi University.