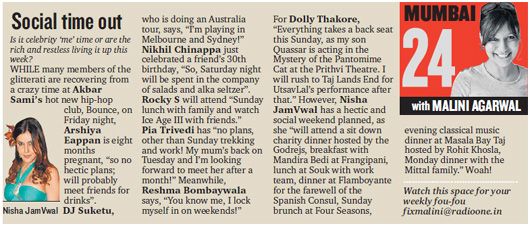 Since I can rarely fit everyone in one column here's the rest!
Shibani Kashyup just got back from Toronto and after performing at Hard Rock Café in Delhi with Luky Kenny (doing a guest appearance for Parikrama's 18th anniversary) Rabbi Shergil, Mohit Chauhan and Indian Ocean, "It's a Delhi weekend, Saturday I have to watch Luck!" Purab Kohli is in Hyderabad for South Indian Filmfare, Kailash Kher, Sonu Nigam and Sunidhi Chauhan are on tour in the US (Sonu and Sunidhi both celebrating birthdays while they're there.) Nauheed Cyrusi is going to have a chilled weekend at the Bombay gymkhana, "and taking it a notch higher tonight by going out to drink at Blue Frog or Oba!" Her Facebook status from 20 hours ago says, "in front of me-infected mushrooom!!!!! OMGGGG"
Nethra Raghuraman is in Baroda, "no plans except to eat home food, read some books and chill!" Bruna Abdullah say, "I'm so boring, I'm never in town for weekends, in Jaipur now, later in the night going to a place called sheesha to smoke double apple flavoured hukkah and eat amazing Indian khana and chill!" Suleiman Merchant is having a party for close friends and, "no plans for the weekend." Achint Kaur, "Nothing this week… next week perhaps." Juhi Pande Just back from Hong Kong says, "Same story, Shooting through the weekend. Works hectic for the next month so I'm working through pretty much every weekend!" Farid Currim is swamped with work through the weekend, just took a short break for a friends birthday yesterday, "so nothing exciting to report!" Dino Morea will be, "working right through, shooting for a film, so not much happening with me." Nisha Harale Bedi is celebrating Friendship Day tomorrow, "I plan to spend it with my rockstar friends… Aanchal, Pearl & Nikhil… dinner out with friends and its friendly time!"
Psst! Teejay Sindhu is going to give me all the dope from Rakhi Sawant's Swayamvar tomorrow they've been friends since Nach Baliye last year!