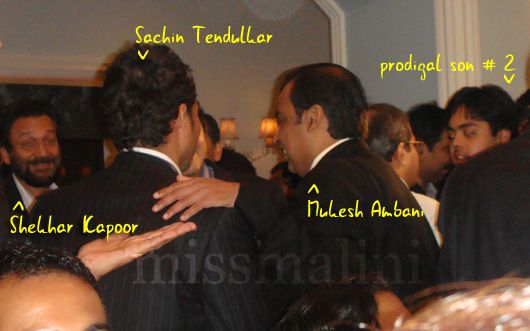 Hello there! I actually had a pretty celebrity packed weekend, you'll have to wait on the full story (in all its photographic glory) till I get the barrage of press pics but for now picture this! Sachin Tendulkar, Yuvraj Singh, Harbajan Singh, Virender Sehwag, Shekhar Kapur, Vidhu Vinod Chopra, Rani Mukherjee and Juhi Chawla all in the same room at the Taj Palace Hotel, Mumbai for the launch of the book "Shadows Across the Playing Field; 60 Years of India-Pakistan Cricket" co-written by Shashi Tharoor, sponsored by business royalty Mukesh & Neeta Ambani of Reliance Industries and published by Kiran & Pramod Kapoor of Roli Books. Cool right?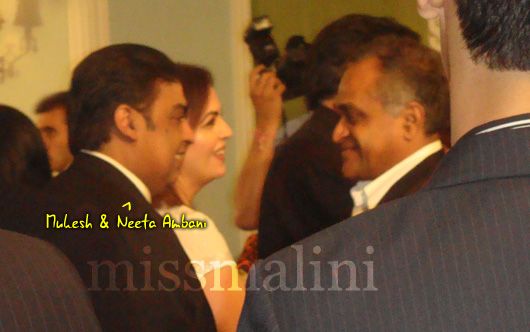 (Would you believe my LPC died on me and I forgot to carry my charger? Gutted. I even exhausted the 5.0 mega-pixel camera on my LPP trying to Twitpic! The worst part is that there was a plug point right by my chair the whole time, oh the agony!) *Sigh* this is why I only have a few fleeting over-the-shoulder glimpses and several desperate attempts where people's head are blocking the celebrity in question or they've turned around at the most inopportune moment. (But now I know better and next time I promise to take video too!)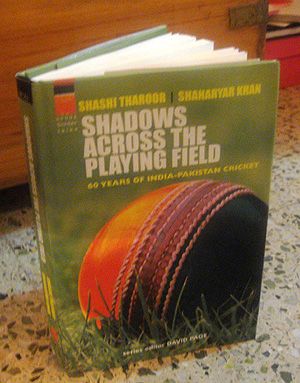 So basically former UN Under-Secretary-General Shashi Tharoor has collaborated with former Pakistani Foreign Secretary, Shaharyar Khan on this unique journey across 60 years of India-Pakistan cricket. In their essays they trace the growing popularity of the sport and how politics and cricket have become intertwined. [Buy the book here.]
Their choice of venue was notable and I think perfect for a candid conversation on the subject; the Sea Lounge, Taj Palace Mumbai where the horrific memories of 26/11 are fading over time, albeit slowly…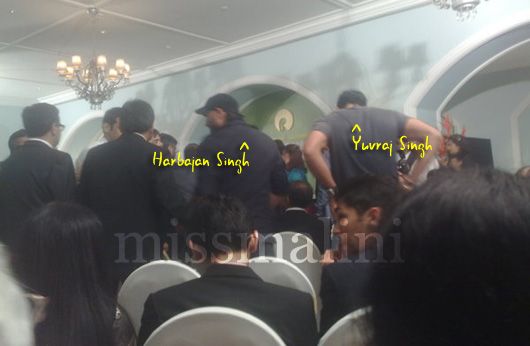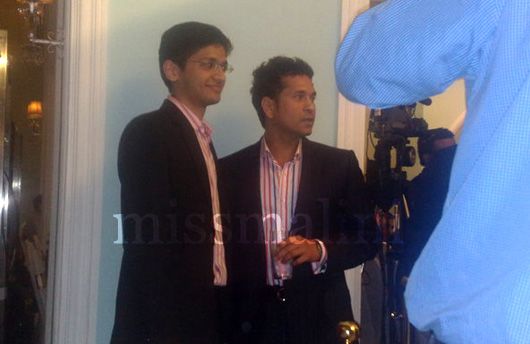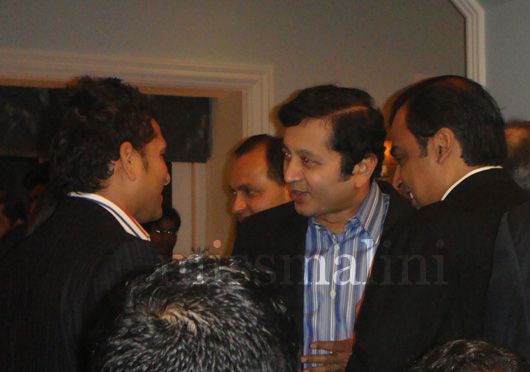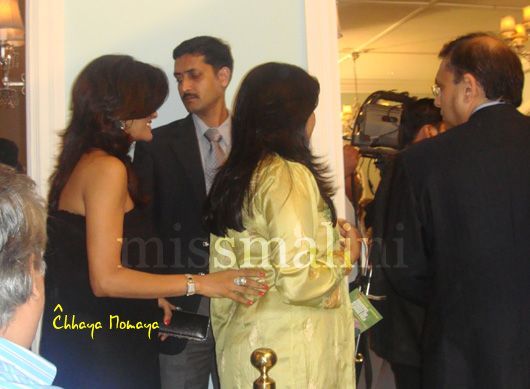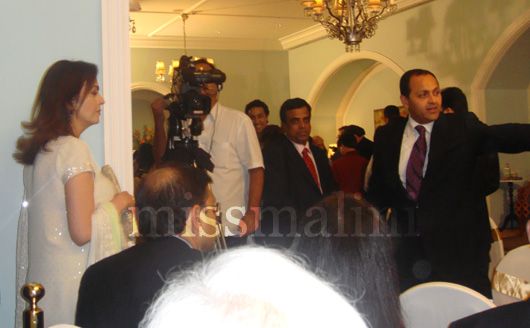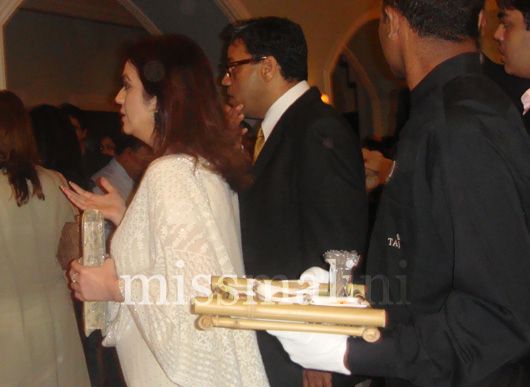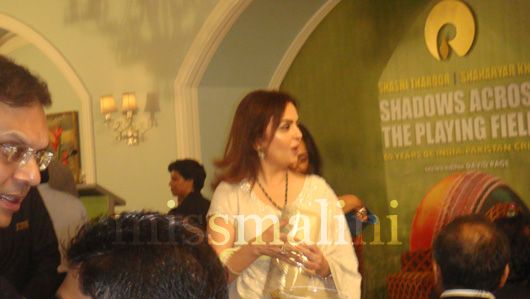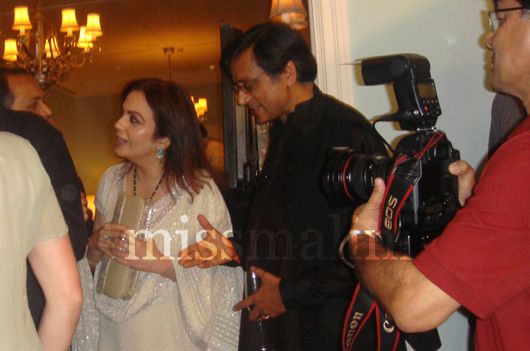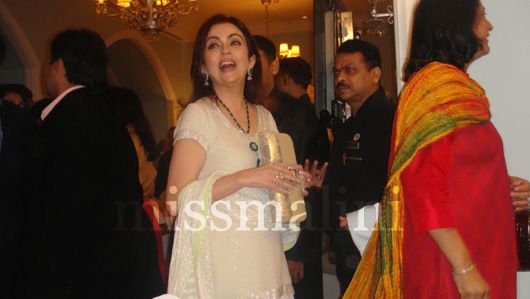 From a more voyeuristic perspective, it was interesting to see all the ladies of leisure fussing about Mrs. queen bee Neeta who was bolting around the room like an energizer bunny. She was also wearing a curiously extra short kurta which sparked some whispering speculation that it might have been her own design. 100o confidence points to Chhaya Momaya who during the proceedings, walked straight through the audience and sat down next to Rani Mukherjee with utter non-nonchalance.  But the funniest by far was when Anu Malik trooped in signed a few autographs and promptly left! (Totally oblivious to what was going on around him.)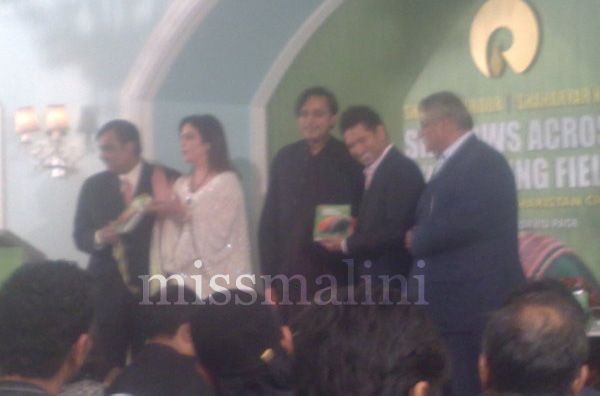 After Neeta Ambani's witty introduction (read in a mostly serious school-speech style) Sachin Tendulkar with spiked hair and a snazzy suit spoke (quite well I might add; and no, his voice is nowhere near as squeaky as the mimics make it sound!) musing, "I was barely 16 when I made my debut… in Pakistan. When I walked in to bat on the second day of the first Test, everything was a blur. I was so nervous." Followed by an engaging conversation on cricket and culture between Shashi Tharoor and Harsha Bhogle.
1000  points to Harsha for comic timing in recalling Navjot Sidhu's quip on Tendulkar, "1947 ke baad, India mein bas ek cheez acha hua. Chhotu idhar paida hua; udhar nahi." [After 1947 there's just one good thing that happened in India. Sachin was born on this side of the border!]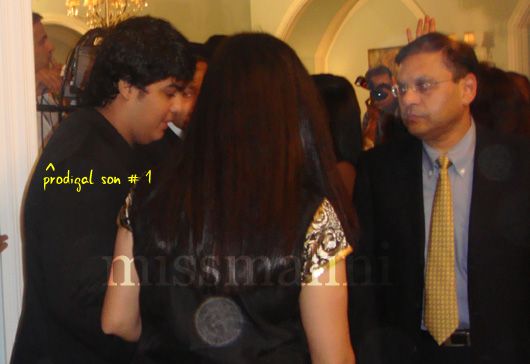 Psst! There's probably no PC way to say this so here goes…while their daughter Isha looked pretty with her princess-in-waiting hairdo (sorry I thought I was taking a picture! That's her on the left!) The Ambani boys Ananth & Akash definitely need to hit the gym or something. They've taken khaate-peete ghar ke [well-fed] to a whole other dimension!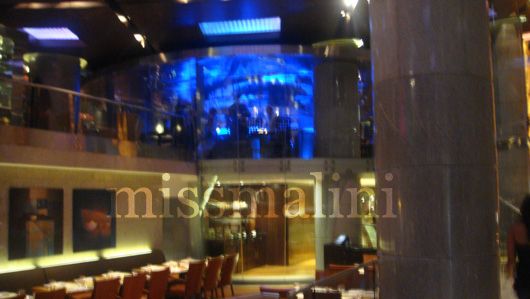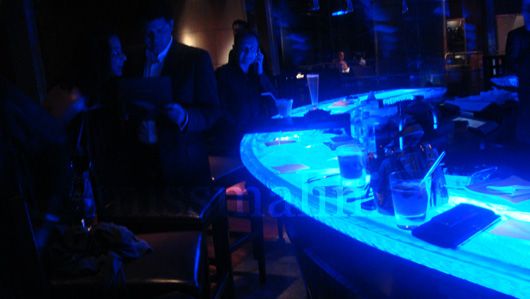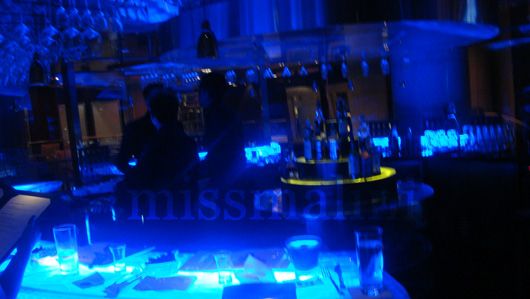 Later that night I hauled ass to the other end of town to try the Hyatt Regency White Spirit Trail at Stax, The Bar (they invited my social network Friday Club for a tasting and were SUPER sweet to us!) The Stax Bar is fairly quiet but super trendy if you're ever in the area (or you happen to like the color blue) and want to pop in for a classy cocktail before you fly out. Plus Bling is right around the corner which is a bonus!
As we walked in the Hyatt I saw Sonam Kapoor and Atul Kasbekar waiting for their ride, presumably having wrapped a shoot. She looked pretty, she always does…