Right! I'm finally posting my super duper eye-candy blog featuring Bollywood heavyweights (no reference to actual size) like Aamir Khan, Katrina Kaif and Karan Johar in high definition video (after a minor set back due to the whole process unfortunately colliding with YouTube's housekeeping time-line doh!) But we're here now and that's what matters. OMG, can I please just first tell you how unbelievably gorgeous Aamir Khan is in the flesh? I've been listening to this whole 44-playing-a-22-year-old debate with some trepidation, but now that I've seen him up close and personal I can tell you he's still way cuter than any 22-year-old could ever hope to be, seriously the man is smoking hot (yes yes Katrina's gorgeous too and dude what a sari!) And now that I'm done gushing my heart out here's the gossip from CineBlitz Gold's book launch titled "Love & Longing in Hindi Cinema".
The book is  now available online for purchase visit www.cineblitz.in
So we all know these things never start on time, but I get the feeling there was high drama involved at the Taj Lands End, Bandra on Monday night when the press (who had been waiting patiently for the event to begin) started getting restless about two hours in. Quite a lively bunch the press, particularly one lady in green who seemed intent on starting some sort of riot! Enter Vijay Mallya. Now just before he walked in I heard a few whispers about how "The Chairman" had not yet left. Left where? His house? The yacht? Who knows, but when he did eventually make it to his very own Cine-glitzy book launch he looked flushed (and dare I say ever-so-slightly sauced up?) Eventually when Katrina Kaif, Aamir Khan and Karan Johar were escorted in they totally blanked him and assumed the PR position (aka smile & nod).
Now given my Aamir Khan bias and the perfectionist he is, my theory is that AK was probably bang on time. Katrina perhaps a paint-dab-or-two later (ditto Kjo) but Mr. Mallya meanwhile was knocking back whiskey's somewhere and lost all track of time, eventually hitting up the Taj Lands End about 2 hours late and coming very close to loosing his celebrity star power for the press junket; hence the slight lost puppy avatar and a fair amount of rambling about the benefits of booze (much to Aamir's amusement). A source confirms, "Mallya was late so they both were waiting for him to arrive, there is no answer to why he is late. That's his style everybody knows it. AK was at his house near by & KK was at Mehboob studio." See? Elementary my dear Watson.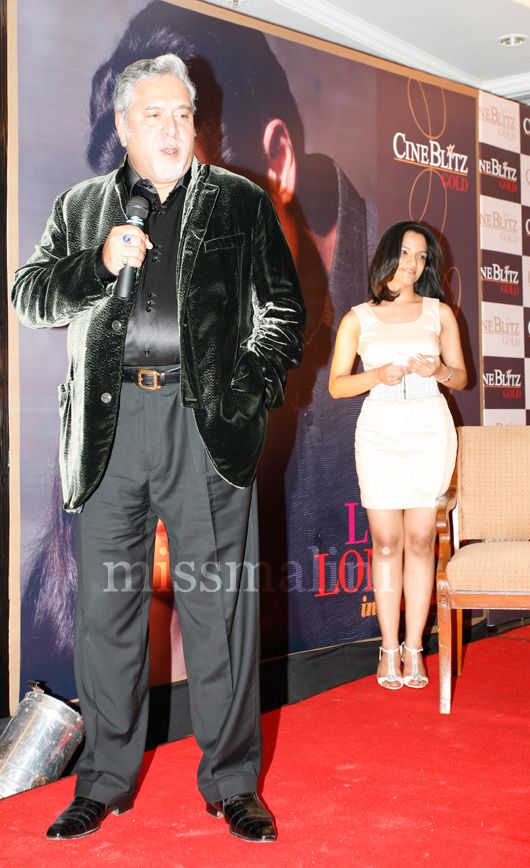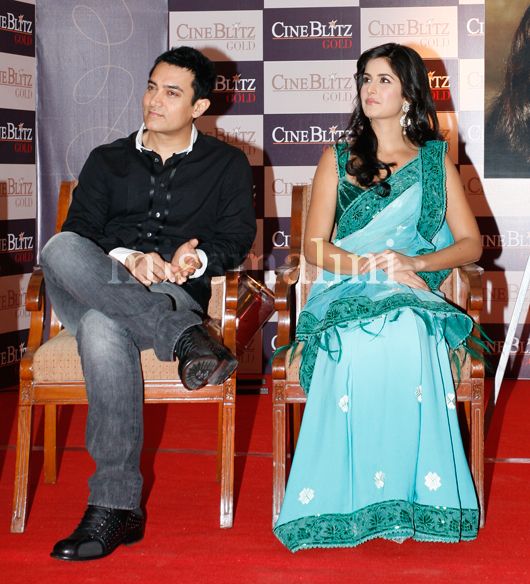 Once the press caught sight of Aamir Khan and Katrina Kaif though, all was forgiven and the most rapid firing of camera flashes I have ever seen ensued, well at least until the cute-ish emcee announced how we were "all here to celebrate love and LUST!" Amazing. (Love & Longing my girl, LOVE & LONGING, Bollywood is still working its way up to lust!) Aamir was eloquent, Mr. Mallya was every bit the terrible tycoon you'd expect him to be and Katrina batted her eyelids nervously (she also took the opportunity to drop two hints about wanting to work with Aamir, Kjo were you listening?!)
Overheard…
Mallya: "The first thing I ask the editor of OK! magazine when I see her is, are you OK?"
(drunk or sober, you be the judge)
Press: "Katrina zarra Hind mein please!"
Katrina: "That was Hindi you just thought it was English!"
(clever but sounds like she's used that before!)
Press: "Aamir who is the most romantic pair that you've worked with?"
Aamir: "Who is the most romantic pair that I've worked with?! The only romantic pair that I've worked with, that I'm not a part of, was Ajay & Kajol Devgan in Ishq!"
(lame press question #fail)
Press: "Karan you said your favorite romantic scene is from QSQT but you've used the romantic slow-dancing-in-the-rain sequence twice (in Kuch Kuch Hota Hain and Dostana) then how come that's not your favorite scene?"
Karan: "Because it isn't!"
(lol, love that.)
Press: "Aamir who is your favorite leading lady?"
Aamir: "K-k-k-k-k-k Kiran!"
(and score!)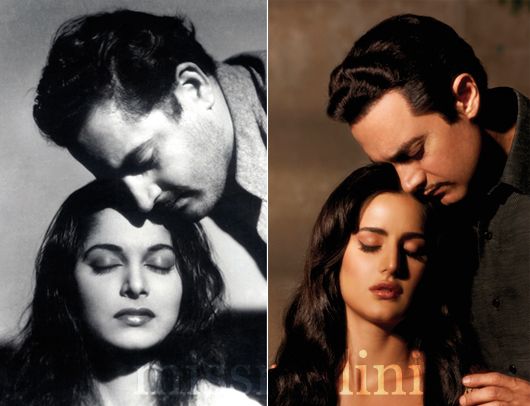 The book looks amazing though, its a celebration of CineBlitz magazine's 35 years of cinematic coverage. Aamir Khan and Katrina Kaif grace the cover and are meant to be replicating an iconic moment in romantic Indian cinema between Guru Dutt and Waheeda Rehmaan in Pyaasa. Guest writers like Karan Johar, Vikram Bhatt, Javed Akhtar, Aamir Khan, Sriram Raghavan have shared their insights on the twin emotions of love & longing and its one of those things every self-respecting Bollywood addict must proudly display on their coffee tables. I couldn't resist and bought a copy and felt all nostalgic flipping through it, you'll love it I swear 🙂