Aamir Khan's Love Child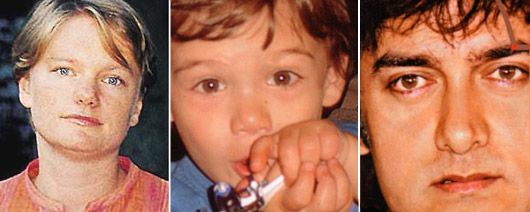 Remember when British journalist Jessica Hines shocked everyone with claims that her son Jaan Harry Hines (born in 2003) belonged to none other than the superstar Aamir Khan? She also threw in what a great kisser he was. Of course Aamir denied the whole thing (except the good kisser part!) and someone swept the story under the rug, but I believe it still remains something of a mystery to this day. Hello! Paternity Test?
Mika Singh's Stolen Kiss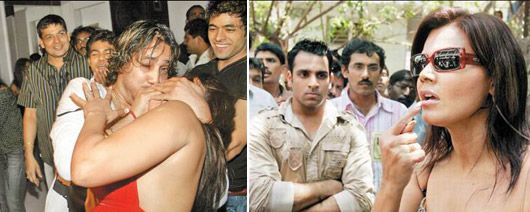 In 2006 notorious item queen Rakhi Sawant attended pop star Mika Singh's (aka Daler Mehendi's baby brother) birthday party where he kissed her square on the mouth – a gesture she didn't much appreciate. In fact she screamed blue murder all the way to the police station sparking off a public feud that lasted till her sojourn into the Bigg Boss house (where the camera's were on her 24/7 anyway.)
Shahid & Kareena Sitting in a Tree. K-I-S-S-I-N-G!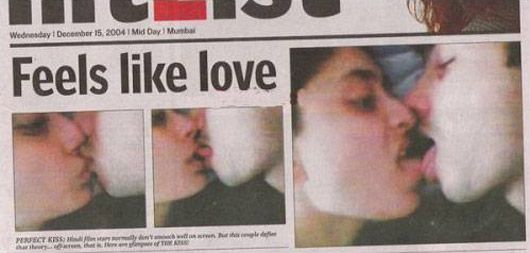 Speaking of kisses – once lovers, Shahid Kapoor and Kareena Kapoor were videotaped kissing at close range at a nightspot in Juhu. A local tabloid published the pictures forcing Kareena into an embarrassing situation with her racy image. She should probably have thought about that before she took the clip on her own phone and forgot to erase it before upgrading to a new one. Doh.
Richard Gere Show's Shilpa Who's Boss

In fact it appears kissing-controversies were the flavor of the decade considering Hollywood star Richard Gere managed to get himself into one with Shilpa Shetty while at a press conference for HIV-AIDS awareness! Gere gave Shilpa Shetty a kiss on her cheek, along with a friendly dip which earned him an obscenity charge and her as much publicity as the Jade Goody racism slur.
Bips Kicks Off A Kissing Controversy

In 2007, Bipasha Basu and John Abraham's on-again off-again love affair saw some soccer heat when Bipasha was photographed kissing Portuguese footballer Cristiano Ronaldo. The media went crazy but Bipasha maintained that she'd been a fan of Cristiano for five years and that they were just friends, "good friends".