As far as I can remember my 2nd birthday was a largely uneventful affair, like I got a balloon and a pastry MAX. So imagine my surprise when I walked into Sammeer & Palak Sheth's daughter Shenaya's 2nd Birthday Hawaiian Brunch fiesta at the May Fair rooms on Sunday. (Ok, so I wasn't really that surprised, that's just how the glitterati roll.) They had a live band ("The Other People" who were awesome btw) nail art, foot massages, several vegetarian food counters, a chocolate fountain and fun and games for children of all ages. I particularly liked that Palak was having a blast herself (which is pretty rare for a hostess right?) while Sammeer was breezing through the various banquet halls making sure everyone had a drink and a smile. Nicely done… BUT by far the two most entertaining people in the room were Kishen Mulchandani and Brian Brown. Brian was actually fairly sedate considering he had his kids in tow (and who are going to be SO traumatized when they find out who "dad" really is!) but believe me there's a "Frank The Tank*" in there just busting to get out! I have video to prove it 🙂
*If you haven't seen a movie called "Old School" and you love Vince Vaughn go rent it right now. It is HILARIOUS and a tad worrisome if you're significant other says things like "It feels so good, once it hits your lips!"
Meanwhile Kishen, infamous for his torrid one-liners threw out a gem while we were drinking up the last dredges of champagne (which he somehow managed to score from Binny the Bartender after the bar shut) quipping, "I'm very generous, when I'm not paying for it darling."
Brilliant! I also found it endless entertaining that Sulaiman Merchant rather seriously commented on how, "Kishen has become very cynical." I couldn't really help myself and giggled that, "I guess we're all pretty cynical when the bar shuts." Lol. Over 3 glasses of champagne and a giant piece of chocolate cake I heard snatches of conversation and one I feel particularly compelled to share. Apparently there is a Nasik Fashion Week in the pipelines which the glitterati are already scoffing at. I died laughing when Ash Chandler busted out with "Man, I'd rather go to Nagpur Fashion Week sponsored by Haldirams than Alibaug. They're calling it Farsaan Week! Hey Nari make sure your collection has a Khakra Choli in it." Lol!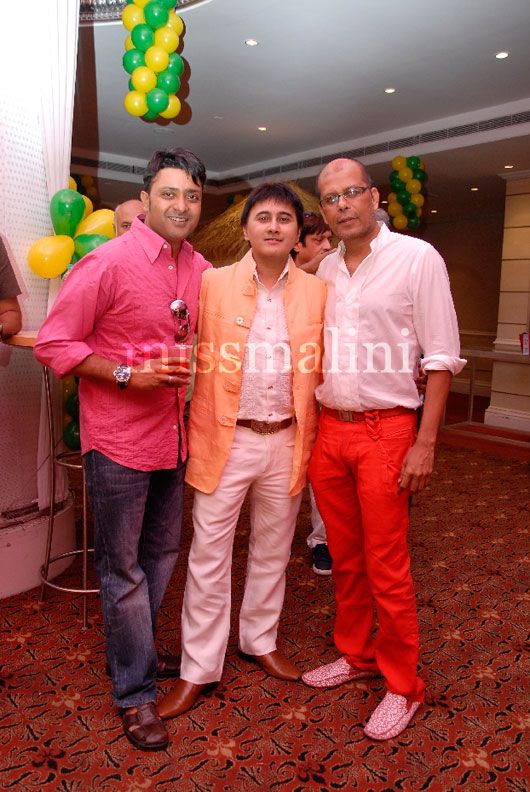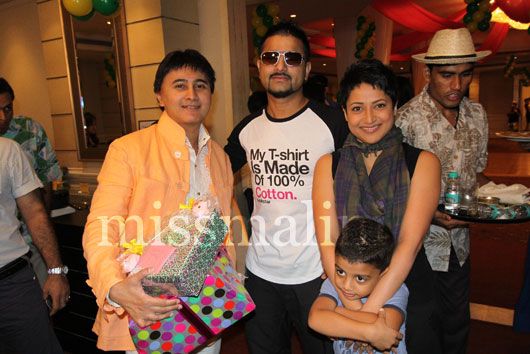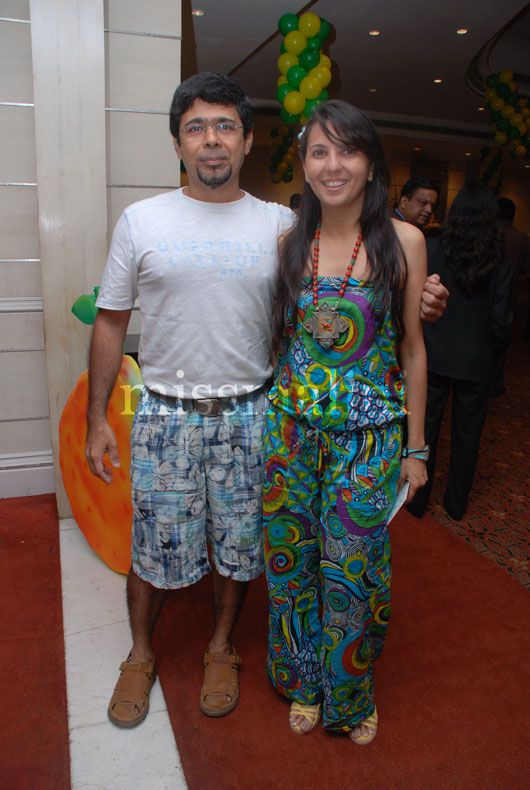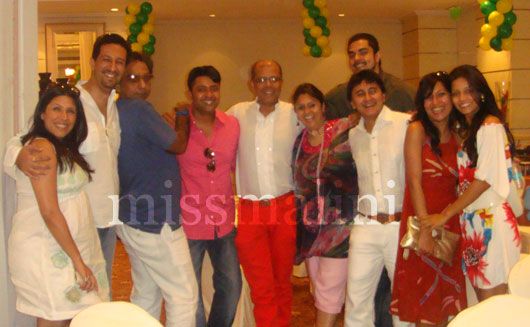 Spotted: Marc & Waluscha Robinson, Sunil &  Tanuja Padwal, Arzaan &   Khushnuma Khambatta, Riyaz  & Reshma  Gangji of Libas, Former  Trafffic Chief Sathish Mathur, Celebrity  Dentist Mr.  Sandesh Mayekar, Narendra Kumar (who was uncharacteristically low key from too much travel and is off again to Zurich and Berlin), Pervez  Damania, Riyaz  & Reshma Gangji of Libas, Asif Bamla,  Ashok Salian (rocking the caveman look as always), Sabina Singh, Kailash  Surendranath, a glowing-pretty-pregnant Reshma & Sulaiman  Merchant, Neeta & Niskha Lulla,  Poonam Soni, Lascelles Symmonds, Ash Chandler & Junelia Aguiar, Surendra Hiranandani,  Vinod Advani, yummy daddy Sudhanshu  Pandey,  Sunil & Krishika Lulla, Lata Patel, Kishin  Mulchandani, Rij &  Arshiya Eppan, Remu  & Naaz Zaveri, Bryan Brown, Rohit  & Maya  Khosla, Bijon  Das Gupta, Nikhil & Sheetal Chaturvedi of Provogue, Vicky Adnani and Leena   & Nikhil  Mogre.
P.S. It is mildly ironic that I decided to take a picture of Nari's shoes (which I thought were super funky) on my way out because an equally dapper pair of men's sandals from the same brunch got some pretty harsh treatment over at the Four Seasons at Aer the very same afternoon, but that of course is a blog of a different color 🙂