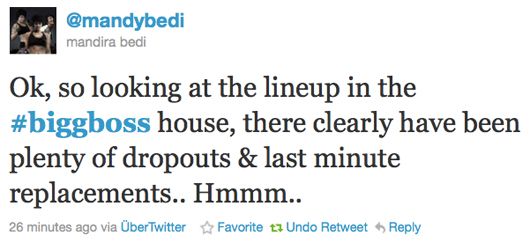 So I'm blogging this LIVE because I couldn't resist! And some of my friends are watching for the first time and just can't wrap their heads around the extra dramatic show production (and Salman Khan in general), can you blame them really? Anyway the motley crew is: Shweta Tewari (Raja Chaudhary's ex), Abbas Kazmi (Kasab's lawyer), actor Sameer Soni, Seema Parihar (Phoolan Devi Part 2?!), Bunty Chor (of Oye Lucky fame), Ashmit Patel (Ameesha Patel's bro), Veena Malik (Pakistani actress who was dating cricketer Mohammad Asif), Sara Khan (from Bidaai), Sakshi Pradhan (Splitsvilla), Rahul Bhatt (son of Mahesh Bhatt and gym buddies with suspected terrorist David Coleman Headley), Aanchal Kumar (model), Ali Saleem Khusra/Begum  Nawazish Ali (cross dresser from Pakistan who was seen in 9x's chat show, Mr. India, Hrishant Goswami and of course, a token Bhojpuri actor Manoj Tiwari (who claims to be quite popular in Holland Lol!) Damn, my list was SO much more fun, Mandira Bedi clearly agrees!
Psst! I bet madame dacoit gets axed first, just gut feel.
Spotted on the hey-I-was-on-this-show once celebrity sofa: Ravi Kishen, Kashmira Shah (crazy b*itch from 2 seasons ago), Sambhavna Seth (another crazy b*itch from 2 seasons ago) and, Vidhu Dara Singh, Raju Srivastava, Tanaaz & Bakhtiar and Rakhi Sawant. And now, for those of you still mystified about this curious desi phenomenon I proudly present…
21 Observations of a 1st Time Bigg Boss Watcher.

01. "Its a little scary watching this show with a hardcore Bigg Boss fan."
02. "The show is more about the host, less about the house."
03. "Why are people talking to themselves?"
04. "Salman Khan's pants are SOOoo tight."
05. (Abbas Kazmi's entry): "Who's this guy?"
06. "I bet it takes 11 hours to paint that shirt onto Salman's body in body paint."
07. (Kashmira Shah dances.) "Oh my God, look at that tummy."
08. (Trying to identify Seema Parihar) "Is she the female Veerappan?"
09. "It's like watching a train-wreck. (That repeats everyday for 30 days.)"
10. "Forget the transvestite, those dancer dudes are so fat."
11. (Tanaaz & Bakhtiar dance) "Look at these outfits. How are these outfits considered acceptable?"
12. (Rahul Bhatt says, "But the establishment was very fair with me.") Group reaction,"Hahaha What?"
13. (Vodafon Blackberry commercial) "I actually likes this ad."
14. (Sara Khan dances) "She's wearing a dress made of chains."
15. (Paan Parag commercial) "What does happy new day mean?"
16. (Ashmit Patel's denims) "Look at his acid washed jeans, holy sh*t."
17. (Salman Khan's eye-hai-hai-hai-hai) "How is that funny? This doesn't make any sense. You people are insane."
18. (Veena Malik dances) "Why are they all wearing Jasmine outfits?"
19. (Veena Malik introduced as an actress, model & comedian) "Yeah that part about her being an actress and a model are the joke!"
20. (Cut to Vidhu laughing) "That doof on the side laughs at anything."
21. (Cut to Raju grinning) "Look at this cheeseball."