Oh dear, I really launched myself into 2011, at the deep end… (of the bar!) Here's a glimpse of what I got up to and who I ran into over the last 48 hours! enjoy 🙂
P.S. I blame the Capricorns. There are SO many of you in Mumbai, Lol!
Friday: Bunty Arora & Parul Kakad's B'Day @ Tryst

Thank you Bunty for an awesome night! Props to the DJ for a killer combo of house hip-hop and Hindi and *high five* to the waiter who first heard my "ek shot" as "8 shots" and totally changed the game! Hahahaha, epic.
Saturday (1st Stop): Milena Raskovic & Tim Etherington-Judge's Double B'Day @ Cafe Goa
Psst! Tim is the new Reserve Brand Ambassador at Diageo (saweeet!) and he cooked up some awesome cocktails for the night. My fav was the Ketal One Vodka based "Nari Nair" punch – named after the fabulous Narendra Kumar. Watch this space cos Tim and I are planning some awesome mayhem together. Did somebody say its time for another MissMalini friends & fan party? 🙂
Psst! I only just yesterday discovered that Nari aspires to be a rap star someday (and I swear he's not pulling a Joaquin Phoenix.) I'm hoping to bag (and blog) the exclusive launch of his "Newa Newa" crew right here for you, stay tuned.
P.S. According to the Urban Dictionary "saweeet" is a cooler way of saying sweet, used when extra psyched about something.
Saturday (2nd Stop): Amit Keswani's B'Day @ Shiro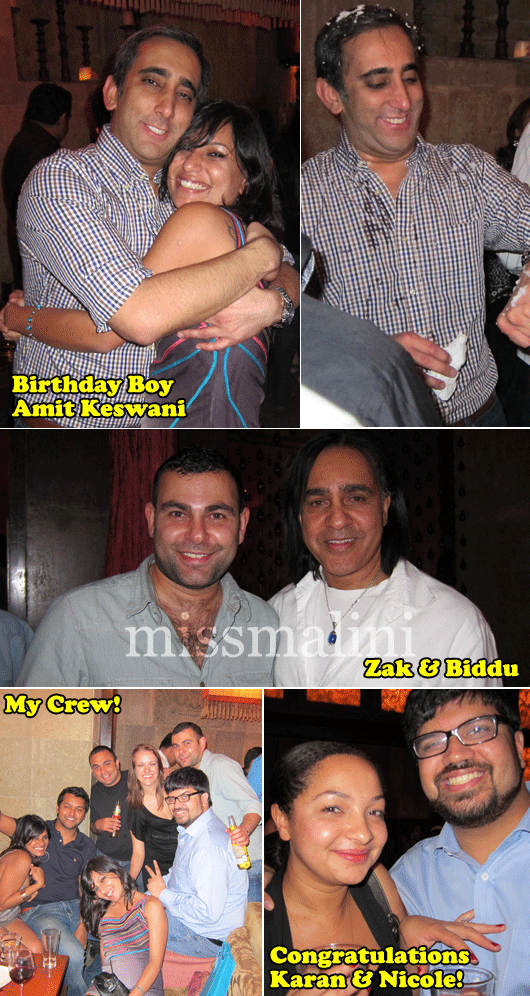 Captain Keswani, I am thrilled that we made several big life decisions with foam in our hair and vodka on our lips, Lol! I also ran into Biddu (who is now retired) and his son Zak Biddu who is bringing some killer talent to India starting now with The Prodigy in Delhi & Bangalore (win tickets!) and watch this space for super cool contests and a chance to help choose who comes to perform next! I vote Kanye West, the new album is off the hook.
P.S. Big love to Karan & Nicole who got enganged last week yaay! <3
And… how was your weekend? Know any Capris? Lol. 🙂 xoxo