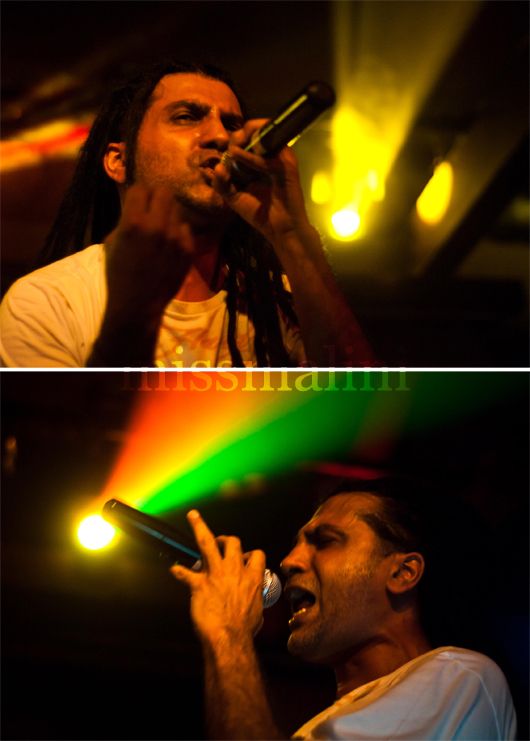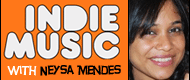 Apache Indian at Blue Frog; I owed it to my childhood to make sure I was there.
Blue Frog was packed when I walked in and the excitement in the air was pretty palpable. Apache had two DJs open for him DJ Sa and DJ Jassim. I'm not entirely sure who picked them, but really? Diana King's Shy Guy and a remix of Time Of My Life by the Black Eyed Peas don't really seem like appropriate build up music for the Don Raja. But we grooved a little bit, and waited, not too patiently. (I remember two distinct attempts the crowd made to fake clap the DJs out of there). When it seemed like we couldn't take any more of remixes-from-hell, DJ Jassim aka Scary-Dance-Man came on and proceeded to half sing over tracks and break out into the oddest dance which honestly looked more like a strange mating call ritual off National Geographic.
Close to midnight, Apache Indian walked onto stage and a full cheer went up from packed house. I'm not sure Apache Indian quite expected that reception and he definitely hadn't prepared for it. For the next hour or so, we were put through, what is most safely described as 'Apache's Circus' – The Fat Lady, shiny silver costumes and Hard Kaur; they were all invited on stage. Steven Kapur (that's his real name) filled the gig with antics and seemed like he needed to kill time because he just didn't have enough material to fill a set. He invited (not once, but twice) random girls on stage to dance, held an even more random dance-off between them, invited a few freestylers on stage, and just when you thought it couldn't get any worse, he brought on Hard Kaur. She made an attempt at freestyling, told us very proudly that they're from the same 'hood' and intelligently used up 10 minutes of stage time. Smart move, Steven. And through most of this gig, we were treated to DJ Scary-Dance-Man on stage.

It wasn't all entirely bad, Arranged Marriage was the high point for me, singing 'Me Wan Gal' back to him was a total nostalgia trip. He also closed the set with his hits Chok There and Boom Shak-A-Lak which were such fun. However by then the Don Raja had lost me, and I'd made my way from my front-and-centre spot right in front of the mic to the bar and was ordering a drink. To help me forget.
Yes, that was possibly one of the most entertainingly weird spectacles I've been to in a while. But once is enough for a lifetime.
P.S. Here's a heads up for the next spectacle – Apache Indian performs (with Bombay Bassment) at IC Colony in Borivali West on the 6th of March, this Sunday.
Thanks to Roycin D'Souza for the lovely images. If you want to check out more, head to his blog.