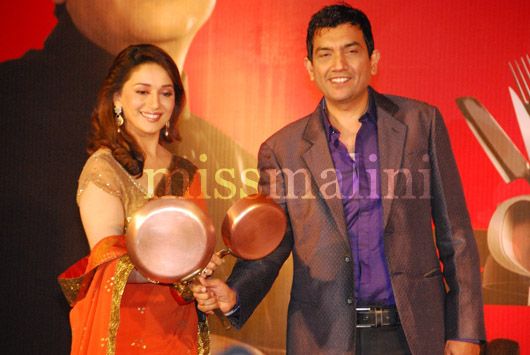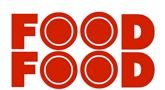 Superstar Madhuri Dixit Nene and celebrity chef Sanjeev Kapoor are calling for entries for the Food Food Mahachallenge, touted as India's biggest culinary reality show. Who do you think cooks better? Men or women? You're going to find out when sixteen participants from across India battle it out in the kitchen. Madhuri Dixit and Chef Sanjeev Kapoor have already visited the cities of Ahmedabad, Pune, Indore and Jaipur to explain the rules and regulations of the Mahachallenge and to invite people to register for it. Fun and games like local food stalls, quizzes and live interactions were also arranged for at these events.
After the registration process, the participants will be screened by a jury and post that, the shortlisted prospects will be brought to Mumbai where they will join their respective teams. For several weeks thereafter, these chefs will battle each other at the Mahachallenge each week. Week on week, clashes and eliminations will be based on the basis of time clocked, presentation, innovation, team dynamics, cleanliness, entertainment quotient and how brilliantly they are able to delight the jurors.
You still stand a chance to participate. Collect and drop off registration forms with a unique recipe and a passport size photograph at the following locations:
Area
City
Dropbox
West
Ahmedabad

The Yellow Chilli, Heritage Square
Radio Mirchi Office, Vejalpur
Gujarat Telelink Pvt Ltd, Sahjanand Shoppingcentre

Bhuj

The Yellow Chilli, HOTEL MANGALAM

Belgaum

Pace Vision, Khade Bazaar

Jaipur

Radio Mirchi Office, Amrapali Circle
My FM Office,JLN Marg

Kolhapur

Bhima Riddhi Infotainment Pvt Ltd ,New Shahupuri,Station Road Kolhapur

Mumbai

The Yellow Chilli, City Park Building, Powai
Home Cable Entertainment, Devidayal Road, Mulund (W)
Hathway Bhavani Cabletel & Dtacom Ltd- Hemu Kalani Marg, Chembur
Hathway Sai Star Cable & Datacom Pvt.Ltd- Surya Village, Kandivali (E)
Den Satellite Network P. Ltd      – Hiranandani Business Park, Powai

Pune

The Yellow Chilli, Koregaon Park
Radio MirchI Office ,Kondhwa
Hathway office, Deccan Gymkhana
Next Generation Cable Network – Shivaji Nagar

Pandharpur

Bhima Riddhi Digital Services in cableOpp. Railway station

Solhapur

Bhima Riddhi Digital Services, Murarji Peth,Solapur

Sangli

Sangli Media Services Pvt Ltd, South Shivaji Nagar,Sangli

Mumbra,Thane

Den New Broad Communications P. Ltd-Near KDMC, Dombivalli East
Konark IP Dossier P. Ltd , Powai Chowk, Ulhasnagar, Thane
Signet Digital Pvt.Ltd, Near Sai mandir, Virar West, Thane

North
Delhi

The Yellow Chilli, Pacific Mall , Yojana Vihar
The Yellow Chilli, Shalimar Baug

Haryana

The Yellow Chilli,161-Sector-9, Panchkula

Indore

Fortune Landmark, Ashram Road
Radio Mirchi Office, Industry House
Digi Cable, AB Road

Jalhandar

The Yellow Chilli,Hotel Residency

Ludhiyana

The Yellow Chilli, SCF Sarabha Nagar

Noida

Hathway Bhawani National Dish Anteena Services-  Kausa Nr Kismat colony
The Yellow Chilli, J-56, Sector-18 Noida

East
Guwahati

The Yellow Chilli,Hub G.S Road

South
Hyderabad

The Yellow Chilli, Kimtee Square
SMS Maha (space) (email id) to 5607020. You will receive a form which can then be fixed, printed, affixed with a passport photo, scanned and emailed to mahachallenge@foodfood.com. The last date for all entries is April 30th, 2011.