They call him the Santa Claus of special needs children and the education revolution. Amole Gupte, the creative director and writer of the landmark movie, Taare Zameen Par is back! This time delving deeper into the psyche of  children with his second venture, Stanley Ka Dabba. Remember how Darsheel Safary (toothy smile and all) shot to fame with a heartbreaking performance? Stanley Ka Dabba promises more sniffles-inducing scenes.
P.S. I went to boarding and  found the song "ma" very moving.
At the music launch hosted by Fox Star Studios at Landmark, High Street Phoenix Amole Gupte spoke about why he didn't want the child actors to face the media so early on in life. (Ah!) The parents of the children were there and were impressed by Amole's ethical film making which didn't make the kids miss a single day at school. Vijay Singh, CEO of Fox Star (the studio that gave us My Name is Khan) was at the launch. The show belonged to Karan Johar who looked dapper in black . He was mobbed by the media the moment he arrived flanked by men in black. He spoke about how he loved the movie and wished for millions to see it. KJo said that one of the characters reminded him of his biology teacher whom he dreaded. The admiration for Amole and Deepa Gupte (Amole's better half) was evident in  Karan's words. He thanked Deepa for being a huge inspiration. Karan had everyone in splits when he said that Amole was the only man who knew both food and children so well!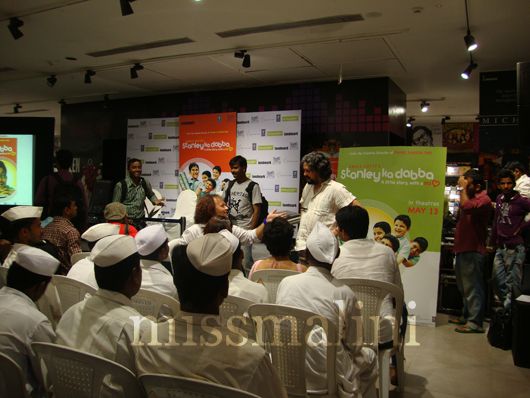 Even the dabbawallas of Mumbai were invited!
Fact check: I was hugely inspired to learn that in Mumbai, there are over 500o dabbawallas who religiously carry over 200, 000 steel lunch dabbas. (Wow, that's a lot of food and a lot of stamina). The cast of the movie which includes Raj Zutshi, Divya Dutta, Rahul Singh, Kadambari Kadam, Aditya Lakhia Jitu, Shashank and Amole Gupte honoured these unsung heroes of Mumbai. The star performer was a boy called Adi who sang on stage and played Beethoven's symphony on the piano effortlessly. His enthusiasm had the audience applauding his talent. Divya Dutta looked rather cute in a candy floss pink saree and a short hairdo. 'A mole Frog' as Amole Gupte is fondly called by children surprised everyone when he and a bunch of dabbawallas walked onto the stage with a huge wooden carrier dancing to the tune of the title track 'Dabba' by Sukhwinder Singh. They were carrying a giant steel dabba which contained the music CDs which Karan Johar unveiled.
The "Dabba" in the title is actually a metaphor for love, life, longing and other emotions experienced in a child's journey through school. Come 13th may, we can't wait to find out if Stanley Ka Dabba succeeds in making us smile, brings back bittersweet school memories and most importantly  reminds us to listen to our hearts. The earnestness and passion in the air makes me feel that it will totally strike a chord with lovers of cinema. As for me, I hope the emotional scenes are strong enough to evoke tears from an otherwise 'I don't cry at the movies ' stand I maintain.