*Hehehe check out what Roshan Abbas tweeted about this post? Yaay 🙂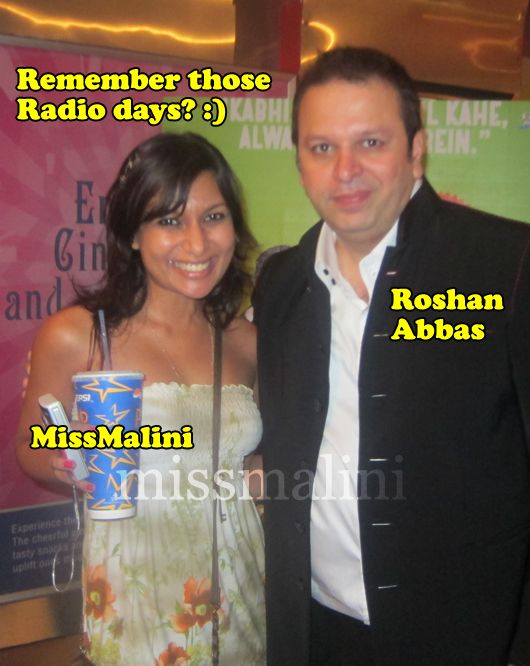 OMG go watch  this movie! It's a cute, fun, feel-good flick with catchy tunes and  just enough drama to feel like a teenage masala flick. Plus I think I  found a new Bollywood crush 🙂 #FTW Out in theaters: June 17th (that's today!)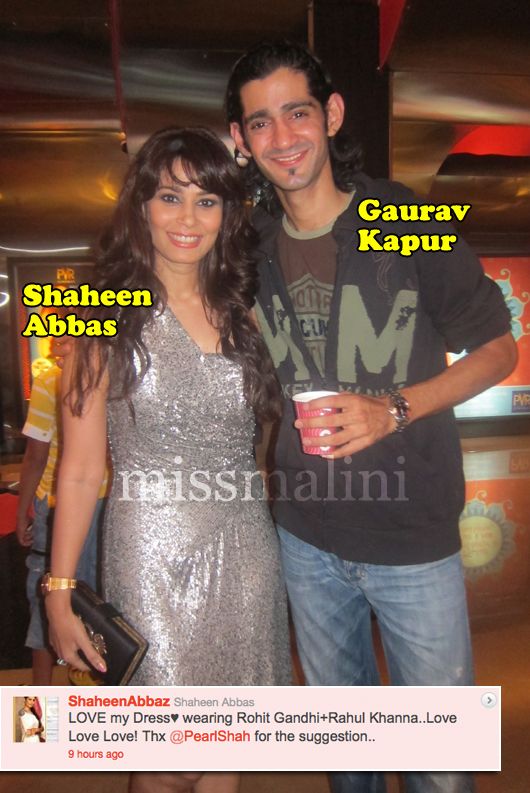 Psst! Wanna win part of the wardrobe? Watch the movie and post YOUR favorite scene in the comments below, you might just get yourself a piece of the action!
Ok, so you know I don't usually rave about (new) Bollywood movies all that much. Primarily because I'm kinda old-school and I won't even go watch a movie these days unless it has my trusted favorites Aamir Khan, Shah Rukh Khan, Salman Khan (only cos of Debangg), Abhishek Bachchan, Abhay Deol, Farhan Akhtar, Imran Khan or Priyanka Chopra in it (er.. I had to expand my list as I was typing, sorry!) but my point is this; I went to see Always Kabhi Kabhi because I adore Roshan & Shaheen Abbas (also love the Rohit Gandhi & Rahul Khanna dress!) and started my radio career at the same station as Roshan nearly a decade ago (WIN 94.6 Remember?!) But from #AKK I came away feeling like I did the first time I watched Jo Jeeta Wohi Sikander or Jaane Tu… Ya Jaane Na or Anjaana Anjaani. REFRESHED! What was extra awesome was that I had pretty much given up hope of any generation 'X' actors being able to impress me much in terms of pure acting skill, but these four did a spectacular job. Two in particular are very very awesome.
Ali Fazal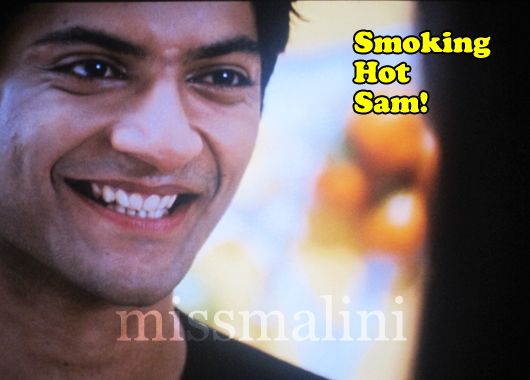 OMG. How cute is he?! Doesn't he strike you as a young Shah Rukh Khan (only taller? Lol.) Right off the bat you can tell he has that star quality and the camera ease of someone with much more experience. I'm sold. I'd go watch his next movie, wouldn't you? In AKK he plays "Shortcut Sam" the semi-player with a good heart and just enough male ego to land him in jail that one time… but he manages to keep even the grown ups (in the audience) on his side despite getting busted for smoking pot in a club, now that's charisma!
P.S. Yo Ali, the time you slid down the wall in tears and banged your hands on the coffee-shop table out of hurt both slayed me.
Giselle Monteiro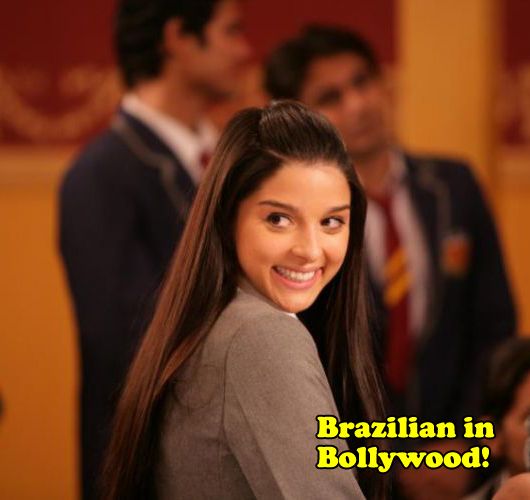 So you gotta give her props for being Brazilian and rocking two Bollywood movies as the (village) belle to perfection. First as Harleen Kaur in Love Aaj Kal and then Aishwarya Dhawan (renamed Kashish, hilarious) in AKK. But to tell you the truth her one trademark super-innocent look doesn't do it for me as much as Zoa's power-packed performance does. If you asked me to judge her purely on skill not origin I remain unimpressed. Having said that she seems very sincere and looks fabulous in that red dress!
P.S. They dubbed your voice right?
Satyajeet Dubey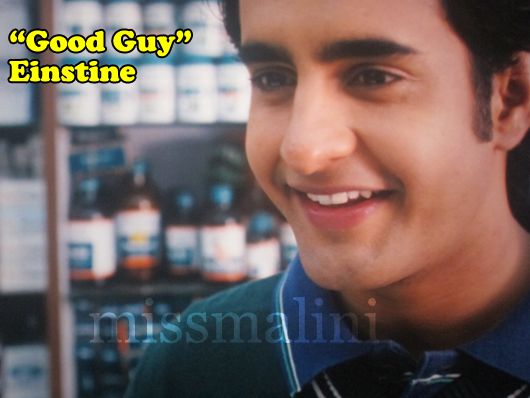 Now here's a chocolate boy that needs just a tiny bit more puberty. Don't get me wrong, he's as cute as a button but you know we like our bad boys 🙂 I also think that in the long run he'd do well to change his call sign to "Satya" to you know, "keep it young." Other than that I think he played the nerdy goody guy, Tariq to perfection. I suspect he could even eventually pull a Shahid Kapoor and be a little more badass (aka Kaminey) but I'll tell you this, the boy can dance. I couldn't take my eyes of him whenever a song & dance sequence erupted!
Zoa Morani
This chick has balls (and I mean this in the most flattering way possible. So much so that I think you should have been drinking Redbull not Cloud 9!) She took my snap judgement of her in the first scene and turned it on its head. (Snap judgement being: oh no, she's going to be that diva chick that calls everyone else a "Loser") So she has some mommy issues, but boy can she act (and still look quite girl-next-door glamorous in tears.) I think she looked smoking hot in her Better Not Mess With Me (f*ck you I'm going to Goa b*itches!) semi item-song and the only thing I'd change about her are those shiny black spandex tights she wears for the final school play, euuuw #wardrobe, we have a problem.
P.S. Didjya know she was an assistant director on Om Shanti Om? Oh and as she innocently mentioned at the music launch, "Papa and Shah Rukh are friends" love it!
Also special props to the supporting cast…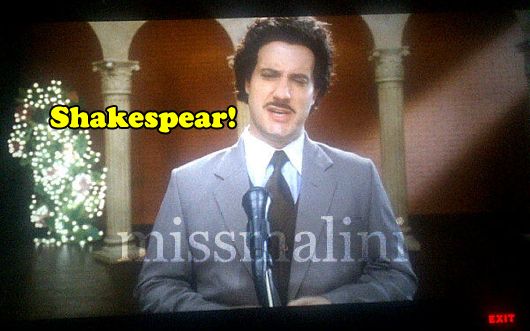 The OTT characters cleverly provided good comic relief while making the leads look that much more real… Ashwin Mushran was brilliantly funny in both his cameos as the British theatre legend and the quasi Nazi jail-warden in the promotional video, Lilette Dubey what's your secret? You look fantastic! Satish Shah was hysterical as "Kenny G" (I get you Roshan!) and Navneet Nishan you really remind me of someone I've met in real life, but I probably shouldn't say who, lol! Ooh, the good peeps over at Bottomline Media told me how, for the first time a Fanta jingle was used as a song, quite ingenious I must say!
Also… I don't quite know what these two guys actually do in the  movie  but they were definite show-stoppers at the premiere! I give you "The  Twins!"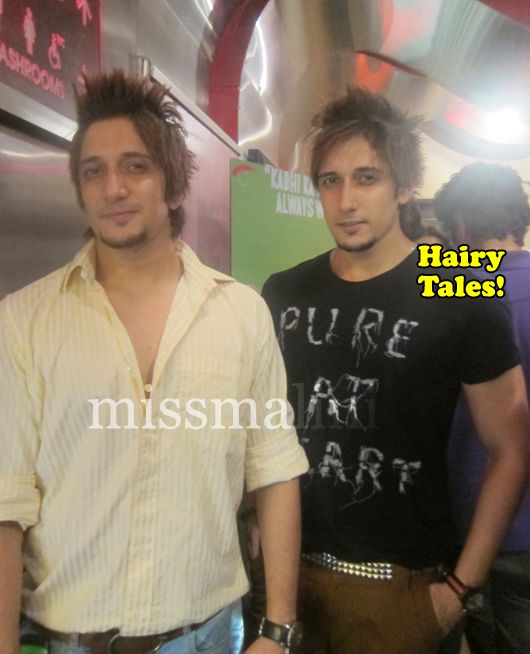 INTERMISSION!
Roshan Abbas
I have to mention here again that Roshan is solid heart. He meets everyone (big or small) with the same amount of love and genuine affection. I can believe that he made this movie with the actual intention of helping parents understand their kids better and perhaps open up some channels of communication. And he did it with integrity and without a raunchy item song! This is a quality you see slip away quickly, especially in the big bad world of Bollywood but I suspect he shall remain a giant teddy bear till kingdom come 🙂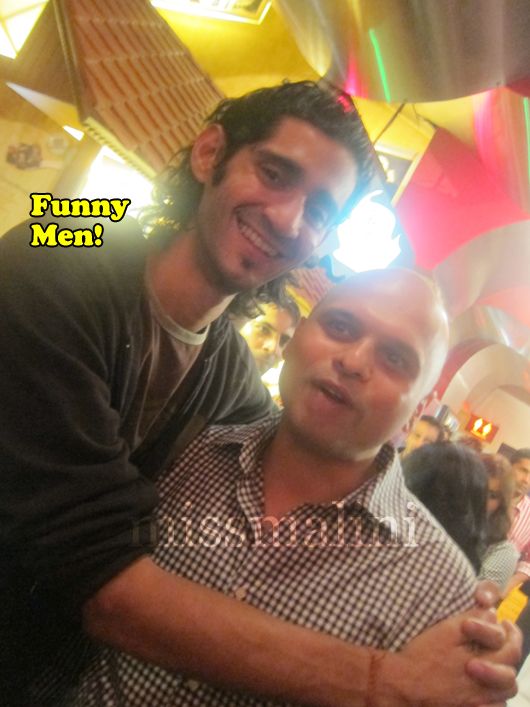 I don't want to give away too much of the story, because I think the things that delighted me most worked best as a directors surprise (but I have to give props to the dance sequence in neon, killer!) The music is also very catchy and I loved the title track Always Kabhi Kabhi, School Ke Din and Jane Kyun. (Jane Kyun for its Dil Chahta Hai – Tanhayee or Anjana Anjani – Tujhe Bhula Diya vibe, mostly thanks to Ali Fazal's heartbreaking angst (yup, deffy "crushing" Lol.) All in all it tells the story of every teen (pretty convincingly) and somehow didn't alienate moi (who entered her teens two decades ago, eeks!) Nicely done Roshan, you really are a legend. Plus I could feel your (and Vikram Sathaye's sense of humor shine through on multiple laugh-out-loud occasions!)
P.S. Gaurav Kapur mentioned that during the play-version of this film (Grafitti) his main job was to entertain Shaheen Abbas, his idea of which was gol guppas at Khan market!
Do yourself a favour and stick around for the end credits of you want to see a VERY dishy Shah Rukh Khan (it's his
Red Chillies Entertainment

production after all!) bust a move to Antenna. unconventional but catchy (especially when SRK groves to it, yummay!) xoxo