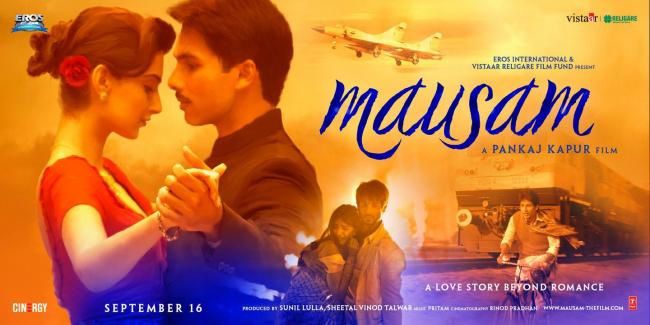 Hi MissMalini Peeps,
Miss R. here with a Toronto International Film Festival announcement (or TIFF as everyone calls it), a time where my city of Toronto is literally crawling with celebrities. There is a lot to cover, so be warned, it's a long post! Every year TIFF showcases Bollywood cinema, and gets Bollywood stars to walk the TIFF red carpets. Last year's big Bollywood film was Dhobi Ghat, which brought Aamir Khan and Kiran Rao (along with a very fresh faced Prateik Babbar) to Toronto.
This year, the film to be showcased is Pankaj Kapur's Mausam, starring his son Shahid Kapur along with Sonam Kapoor and Anupam Kher. I'm really interested to see how Mausam will fare, as it comes at a pivotal time for the lead pair. Shahid Kapur, as cute as he is, needs some more critical appreciation, like Ranbir Kapoor, in Wake Up Sid. Shahid Kapur has a lot more competition now in his Bollywood age bracket, especially with Ranveer Singh on the scene. Sonam Kapoor had the traditional girl next door look in her first two films, and then emphasized the metro chic look last year in Aisha, but rather than her on-screen fashion, I'd like to see if her performance is critically appraised as well.
Of course, there are other notable Indian selections as well, such as Michael, produced by Anurag Kashyap and starring Naseeruddin Shah.  That is an awesome combination in my opinion, and I hope the film raises the profiles of Naseeruddin Shah, who I may feature in my Bollywood's Under-Appreciated series.  Also, a shout-out to all the Kollywood fans, Azhagarsamy's Horse will also be screened.  I am super happy about that, as whenever the west throws around the term "Indian cinema", they only refer to Bollywood, when there is so much more (like Kollywood and Tollywood)!
Another film with Indian roots, is the Indo-Canadian production Breakway, produced by Akshay Kumar himself, starring Anupam Kher, Russell Peters, Rob Lowe and Gurpreet Ghuggi (who is awesome in Punjabi movies) with a cameo by Toronto's own homeboy Drake.  The film centers around Vinay Virmani as Rajveer, who must balance his love for hockey with his Indian parents. This seems like a Canadian "Bend it Like Beckham", hopefully it lives up to that legacy as well.
Finally, there is the Freida Pinto factor of course! Freida Pinto had two movies at TIFF last year, Miral and You Will Meet a Tall Dark Stranger.  This year, she returns to the festival that launched Slumdog Millionaire (and basically her career) with Trishna, directed by Michael Winterbottom.  While her two films last year did not meet the critical acclaim of Slumdog Millionaire, Freida Pinto plays a simple Rajasthani girl in Trishna, in this British-produced film set in India (like Slumdog Millionaire), directed by a well known British director (like Slumdog Millionaire).  It will be interesting to see how it fares, I'm all for female character centred films. So MissMalini fans, are you excited for this upcoming crop of films?