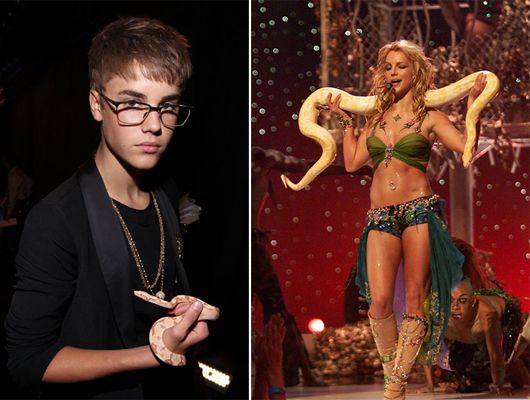 It's that time again, to bring out that ultra bitch and judge the red carpet fashion at the MTV Video Music Awards. The usual suspects Nicki Minaj, Lady Gaga, Kreayshawn and Jessie J brought out their alter egos. Quite literally in the case of Lady Gaga who appeared in drag for her performance of You and I. Yet the most eccentric fashion award for me goes to Katy Perry who bridged the gap between unique and fashionable.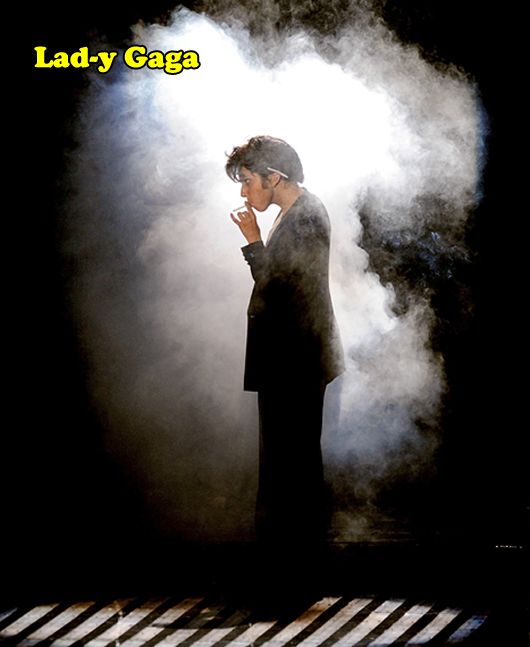 The big news was Beyoncé, clearly showing off her Baby bump, Congrats! Some awkward moments on the red carpet with Justin Beiber. He looks more like a girl now than ever and I think he was trying to pay homage to Britney Spears by bringing a baby snake that looked like Britney's stage snake from the good old days.
Selena Gomez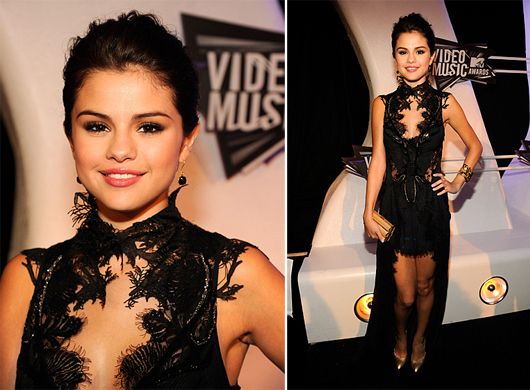 I can't believe this girl is dating Justin Beiber, especially after looking like this! Rocking a very seductive black lace Julien Macdonald dress with just the right amounts of gold for a highlight, Selena looks stunning. I'm mildly put off by the sex appeal only because she's very very young, but she's transitioning better than most Disney teen stars so we'll let it slide.
Beyoncé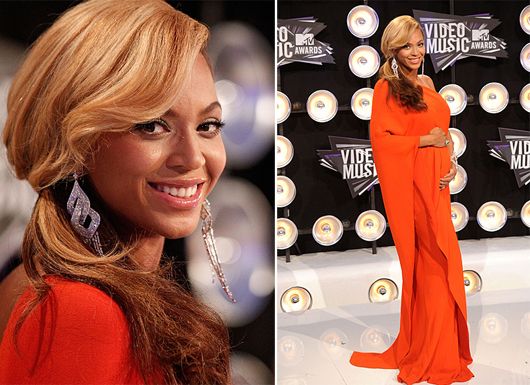 She could never look bad and now that she's expecting she's practically glowing. The Lanvin dress falls beautifully on her especially in that crimson red colour. What I love about the dress is that is has loads of oomph without having to show off every curve on her body. Teamed with those diamond earrings and beaming smile she knocks this look out the park.
Britney Spears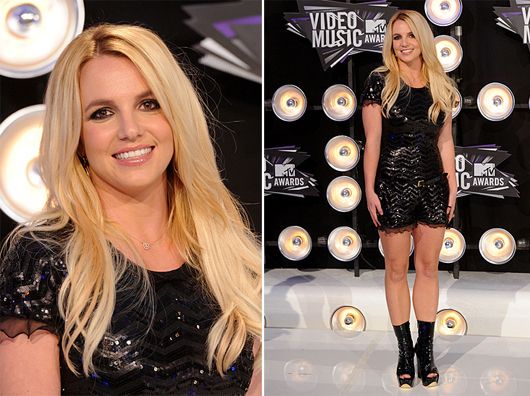 Britney Spears is looking like she's back to her glory days, especially in this Black sequined Moschino romper. The mid calf boots give the look an S&M vibe, which has now become her statement style. She loves to mix the cute with the sexy and this time thankfully she's done it well!
Katy Perry
I'm in LOVE with this Atelier Versace dress especially since Katy Perry wears it so well. Her quirky dress sense along with her love for fashion is clearly visible with this look. Her old Hollywood inspired make up and hairstyle is given a twist with that glossy pink mane. Can we please take a bow for the pink strap Jimmy Choo heels? (I want!) All in all a great look for Katy.
Oh Adele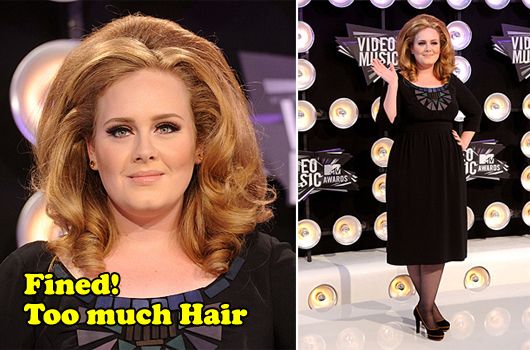 I know Adele loves her 60s glam style but I think she over did it with the hair extensions and hair spray. The make up is gorgeous, dress is perfect for her body type and the shoes are classic with a twist. Just like her voice she nails this look but sadly misses the mark with the hair.
Nicki Minaj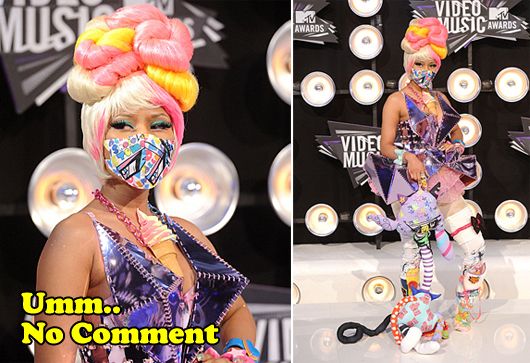 I think she attacked the gift shop at NASA to get her materials for this one. Space age meets the Muppets or Miss Piggy goes to Pluto, I'm not sure what to call it. The pink and yellow buns and the black tail near her foot, all a bit of an over kill if you ask me.
Miley Cyrus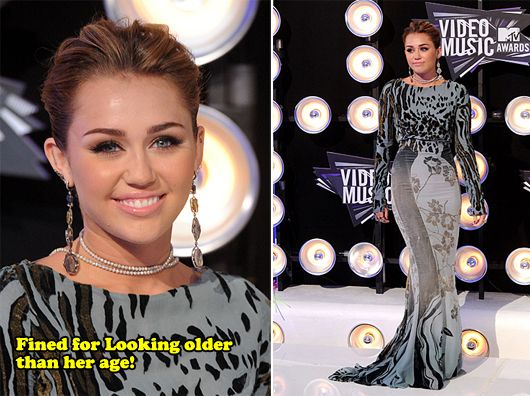 Honestly how old does Miley Cyrus look to you? The long earrings, heavy make up and strange fitted dress by Roberto Cavalli makes Miley look at least 10 years older than she is. I'm dying to see Miley go back to her girl next-door, fresh-faced days but are they long gone?
Kelly Rowland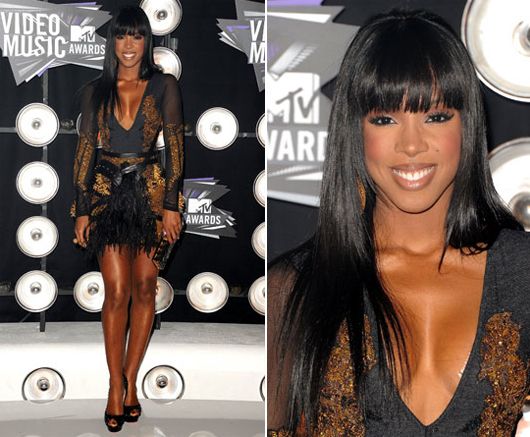 Falguni & Shane Peacock bring out one of their best dresses for diva Kelly Rowland, who works the dress like no other could. The deep V and dull gold sequins add that drama while the feather detail gives it that feminine touch. Polishing off the look with studded Christian Louboutin peep toes, her stylist really hit all the right spots with this one.
Kreayshawn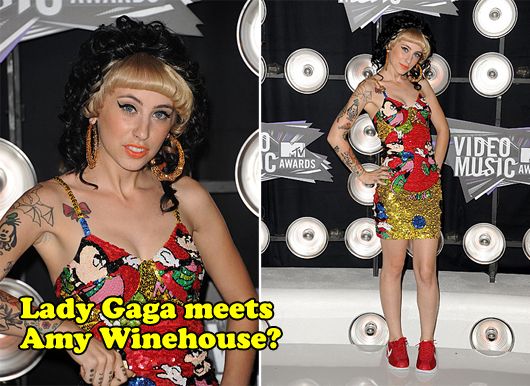 What's amazing about this look is that her red Nike kickbacks caught my eye before anything else. Which is a surprising feat considering the two toned hair, Mickey Mouse sequined top (and blouse) and really big hoop earrings! I should really join popular culture and listen to some of her music, maybe then I'll understand her sense of style.
Justin Bieber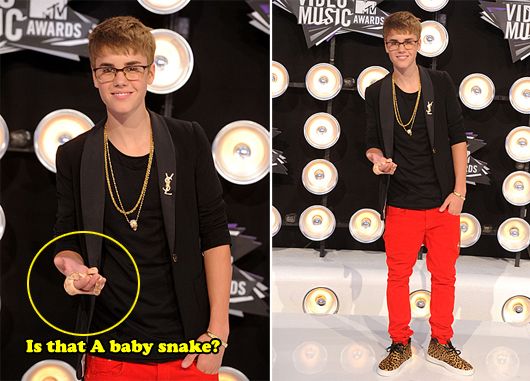 He's a boy? Say WHAT? You've got to be kidding me, he's definitely wearing make up and he's 'shaped' his eye browns. Hmm tell me again why girls are going crazy over him. The red pants and cheetah print shoes with the black YSL blazer, I mean what was his stylist thinking?
30 seconds to Mars & LMFAO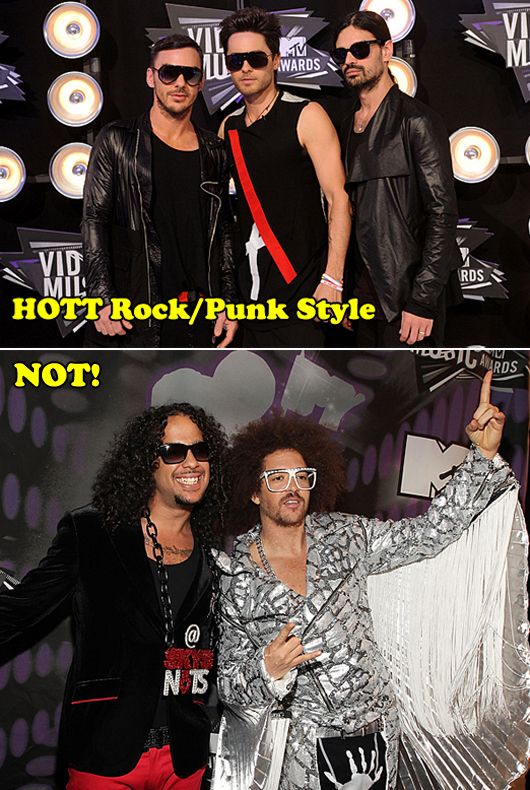 Here are two great examples of how boy bands can get it right and oh so wrong. Jared Leto's band 30 seconds to mars looks super hawt in their rock/punk style oozing tons of attitude, soo sexy right? On the other hand, LMFAO looks like they've had one to many 'shots shots shots' and have come dressed in this mixture of disco meets hip-hop. Not impressed. Still loving their Party Anthem song though! "Everyday I'm shuffling"
Jessie J.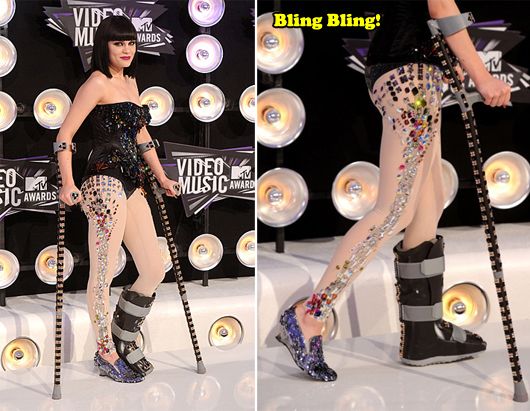 Poor thing couldn't commit to the entire look because of her broken foot, but I give her props for trying. Just feels like she left her pants at home and decided when she was in the car to bedazzle her stockings with big gaudy sequins. Cute Crutches though.
Demi Lovato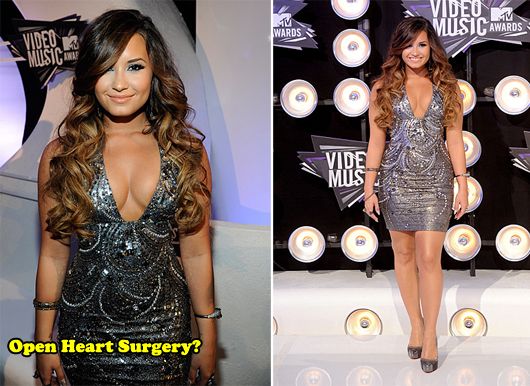 Demi Lovato was showing off quite a bit of cleavage at the VMA's but I have to say this Mandalay dress looks great on her. The silver embellishments look fabulous especially up-close. I like that she did tone on tone with the Christian Louboutin shoes and jewellery, it sets off her blonde hair making her look like the poster child for that metallic trend.