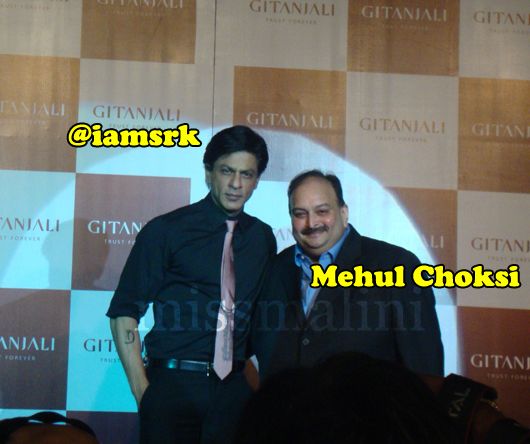 Mehul Choksi says: "We understand what it takes to win people's trust – a continuous quest for perfection, a commitment to quality and a never ending passion to stay at the top. These are values that Shah Rukh Khan embodies perfectly."
Yesterday, the Gitanjali Group hosted a press conference to announce Shahrukh Khan as their new brand ambassador. Gitanjali's branding is centered around the concept of "trust forever" – which is why Shahrukh was picked to be the brand ambassador. They also wanted an element of romance in their branding, and ooh, what a perfect choice. We were left waiting for nearly 2 hours before Shahrukh got there, but so worth the wait, there is not a man alive who is more charming than him! I loved Shahrukh before I even really new what films were, so I made the most of this opportunity and I had a ball. Got pix and details from the event, you will love them 🙂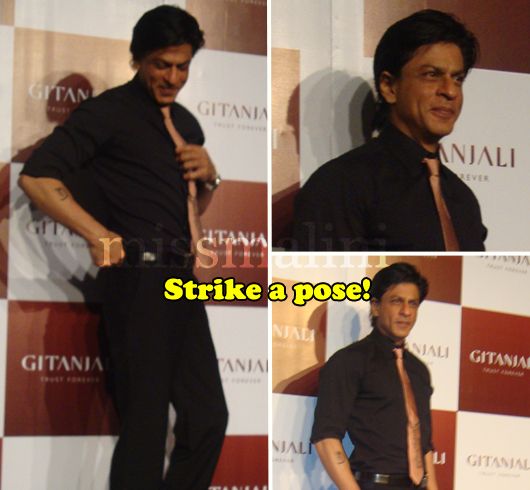 Shahrukh Khan says: "I think jo mard hote hai, woh aurat ka gehna hote hai.* They should make the woman look beautiful, they should make the woman feel pretty, they should make the woman feel comforted."
*"I think men are the jewellery of women."
(And the crowd went 'awww'!)
SRK was his usual charming self; full of his witty comments as usual, but more than that he exuded a lot of humility and respect. Such a treat to see this man speak, I'm still going a little gaga over it! Check out the video, you'll see what I mean.
He was dressed in all black, save for a pink tie which was totally blinged-out. Very interesting tie, have a look: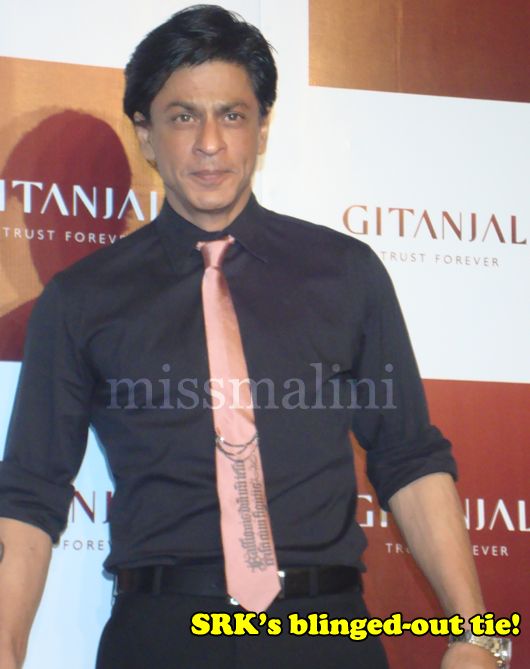 He was asked on his choice of tie, and SRK said that it was a gift by Mehul Choksi, who (according to Shahrukh) liked him enough to give him a "jewelled" tie since he doesn't really wear jewellery. But then Shahrukh also said that Mr. Choksi doesn't like him that much, because there were no real diamonds on the tie. 😉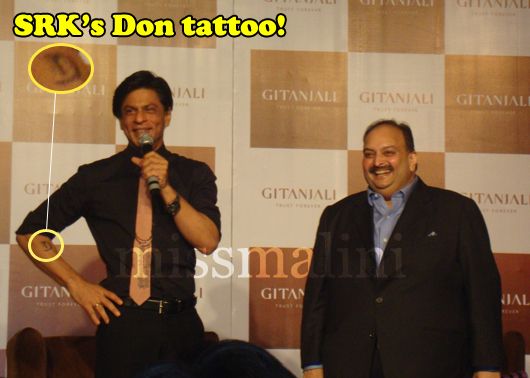 Shahrukh came in sporting his Don 2 'D' tattoo. He was asked what he thinks about tattoos being the sort of "men's jewellery" and Shahrukh said that while tattoos can look really good on certain people, he personally is scared of getting one. He said the 'D' tattoo was not permanent; he only has it because he's currently shooting for Don 2 and it is very much removable. Then he hastened to tell the audience that it doesn't mean he hadn't showered for 7 days, it's just that the tattoo takes a while to come off! 😉 Oh, and his favourite spot for a tattoo on a woman is the lower-back! 😛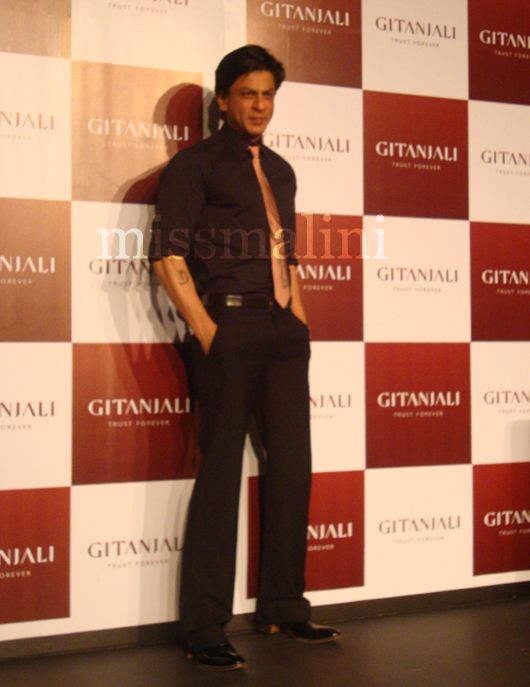 The biggie of the afternoon was a journo telling Shahrukh that Salman Khan is also associated with the Gitanjali brand, and asked him if it bothered him at all. SRK's publicist was trying to get him to evade the question, but Shahrukh very politely said, "It's a petty matter. Darling, if I keep answering that question, I'll never grow up. And if you keep asking it, you'll never grow up." Loved his response.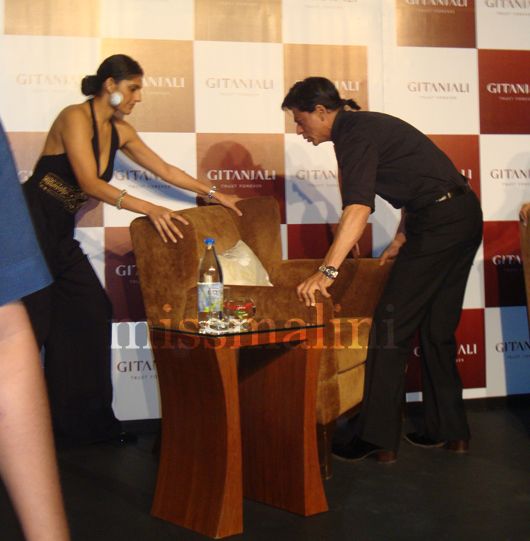 He was really very sweet throughout the whole thing, actually. A journo  up front was trying to ask him a question for the longest while, but  since she didn't have a mic, she kept getting drowned out. SRK noticed  and even though the MC started to say, "Sorry guys, but due to time  constraints…" he stopped her and told the girl to ask her question. When pix  were being taken, the photographers wanted the chairs to be moved so  they could take pix against the Gitanjali backdrop, and SRK started to move them himself.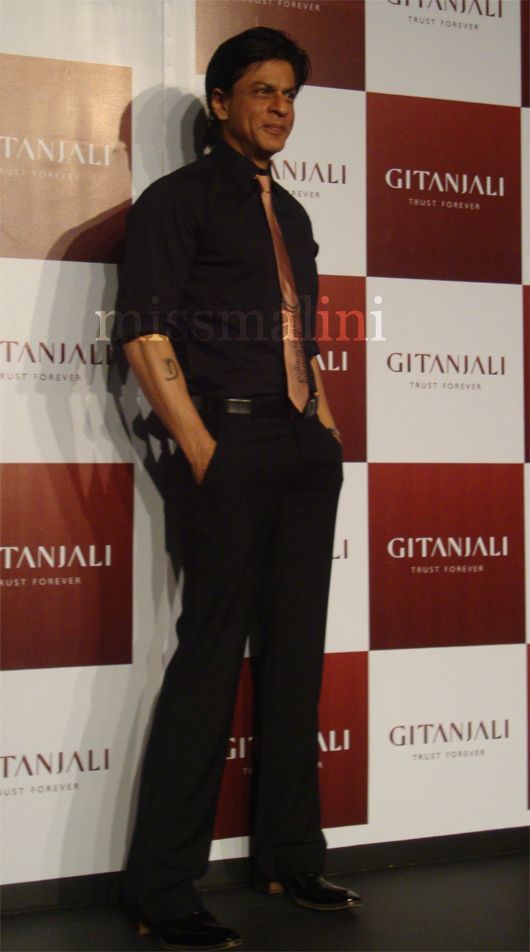 While pix were being taken he also passed the comment, "Acha photo lena, haan. Main aaj handsome lag raha hoon."* I thought it was so adorable and the photographers got a bit of a chuckle out of it.
*"Take good photos, okay? I'm looking handsome today."
Then he started to leave, I yelled "Thank you!" and he spotted me waving at him; he waved back and smiled. I sort of stretched out my hand hopefully and he came around, shook it and said bye. Then I proceeded to die and go to fan-girl heaven, from where I am currently writing this post! Never washing my hand again.