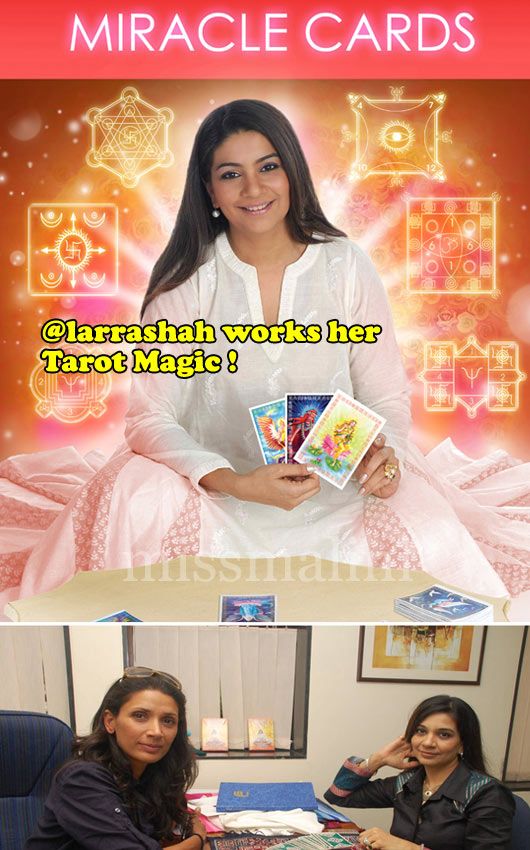 As promised, the lovely Larra Shah is back with Miracle Mondays. So, I had a blast shooting with Larra for the second edition. She's basically done a video blog answering all your questions about love, marriage, work and other things that you can't wait to find out more about! Btw.. the people that Larra picks for the reading are through a random selection, so if your question isn't featured this time don't worry, you could still be on our list of lucky readers next Monday!
Also, this time, Larra gives us a special insight into her work and how it all began ( love that part!) Psst.. now that the festive season's round the corner, we have a special surprise for MissMalini readers. Larra has these amazing Good Luck Kriya medallions which would make super Diwali presents and you can now get them on a special discount if you mention MissMalini!
We're also really excited about our Diwali Special Miracle Mondays Tarot reading that we'll bring to you next week. So, this week guys send us all your questions about colors that are good for you this season, lucky colors for your home, the lucky stones that could transform your life and other things that can help enhance your festivities!
And the week after that, we're having an intriguing session where Larra will answer your queries about past life regression and soul-mates Oooh, I like the sound of that! So, just hurry up and send in your questions along with your full name and your Date of Birth on @MissMalini or @larrashah on Twitter, on MissMalini's Facebook Wall or post them in the comment box below and we'll be here to guide you about your future and unravel your life's greatest mysteries for ya!