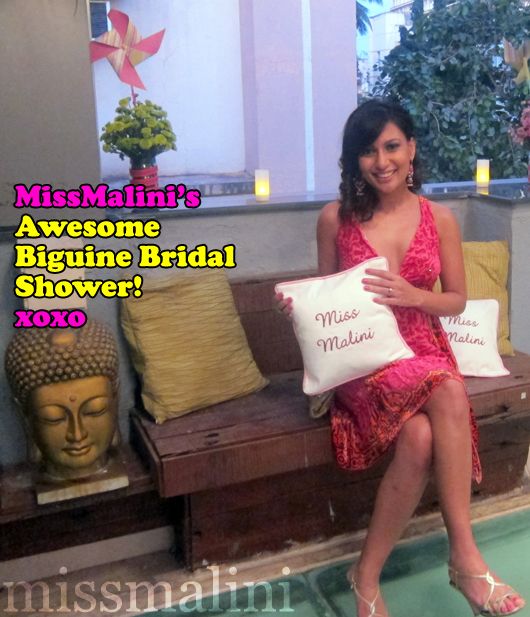 *A bridal shower is a gift-giving party held for a bride-to-be in anticipation of her wedding. Not to be confused with the Bachelorette (which is much more about shots-giving. *Lol*)

Oh yes indeed, I got me my very own bridal shower (a fairly new concept at Indian weddings n'est pas?) but super fun! Mine was courtesy Jean Claude Biguine salon in Bandra (where they have a lovely terrace btw.) Marry Me – The Wedding Planners put together all the party favors, fun & games and with fresh fruit sangria, mini cupcakes, mani, pedis, blow drys and foot massages we were pretty much good to go…
Psst! I even recruited photog Ara Alexander.com to be my trigger-happy for the night. All-in-all my favorite part was just chilling with my girlies and finally letting it hit me… OMG I'M GETTING MARRIED! (This is also probably why we ended up at Bonobo for a post-bridal shower party, with the boys and several types of shots!)
Btw, I absolutely adored my bridal shower theme (created exclusively by Marry Me – The Wedding Planners, down to the last MissMalini cushion and "xoxo" cupcake! How cute is that? I Love.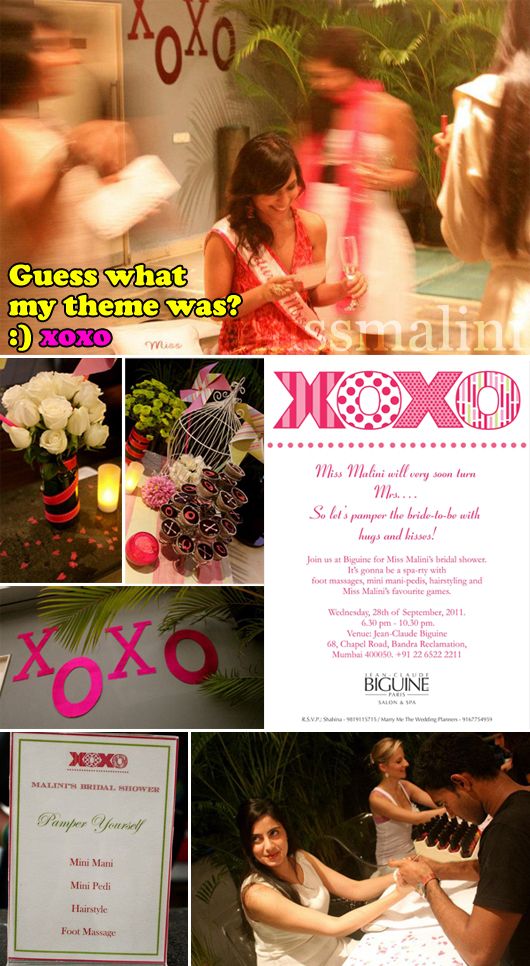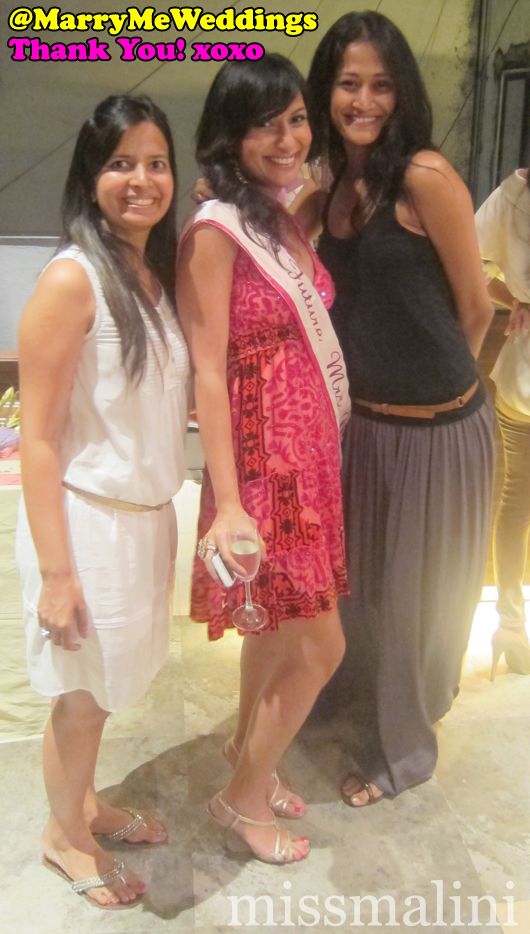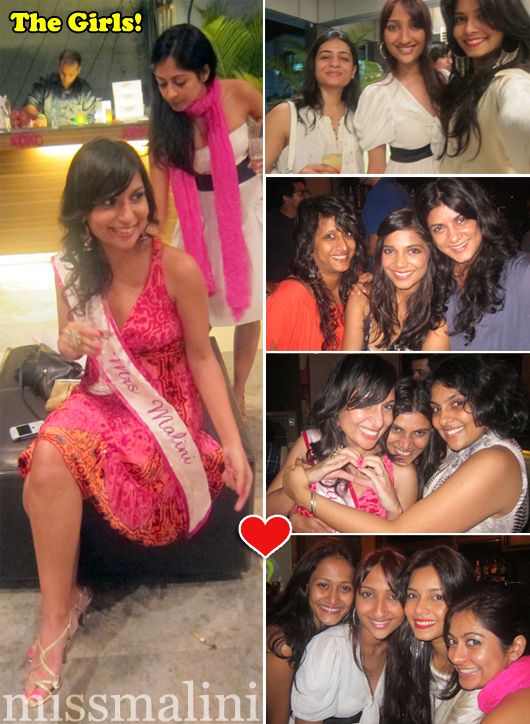 He Said/She Said
We even played a few fun bridal shower games, one which requires a little per-briefing from the groom-to-be and then all the girls have to guess who most likely said what; my fave was that Nowshad's response to, "Ten years from now… we'll probably still be drinking Redbull." and everyone thought it was me! *lol* Gotcha.
The Toilet Paper Wedding Gown
Perhaps not terribly eco-friendly but loads of fun! It may sound silly, but this crafty activity really brings people together, and you'd be surprised at how creative everyone gets. Divide the group into teams, and let the most beautiful toilet paper gown win!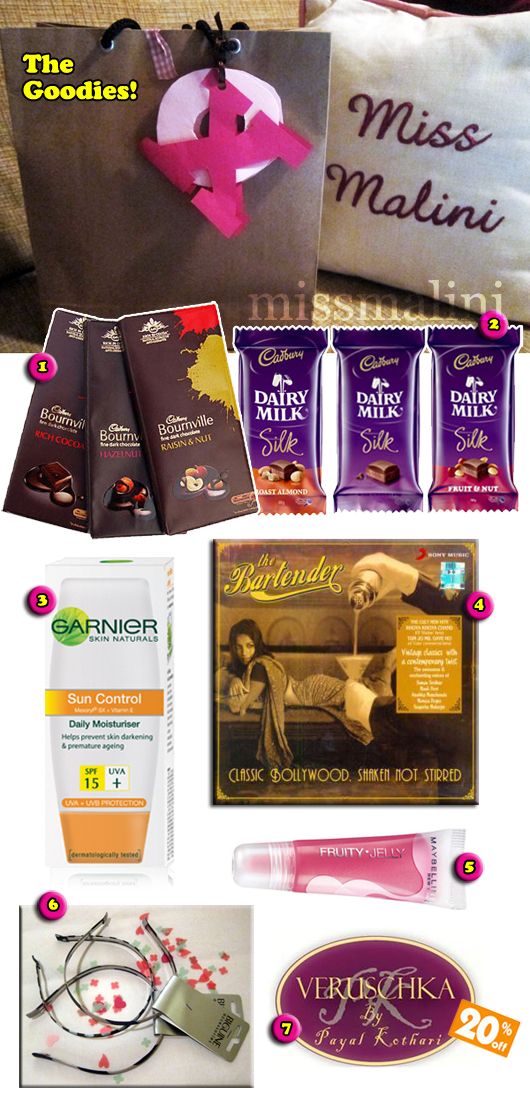 A big fat thank you to all the goody-givers for my bridal shower goody bags. I know my girls loved all of them (and please don't miss the hand crafted "XOXO" bag tags courtesy Marry Me – The Wedding Planners (they really do think of everything, don't they?!)
1) Cadbury Bournville Chocolates
2) Cadbury Silk Chocolates
3) Garnier Skin Naturals – Daily Moisturiser
4) The Bartender – Classic Bollywood. Shaken not Stirred courtesy Sony Music India
5) Lip Color from Maybelline
6) Hair Accessories by Jean Claude Biguine
7) 20% off on Veruschka Shoes
And Later We Had a Post Bridal Shower Party at Bonobo (with the Boys!)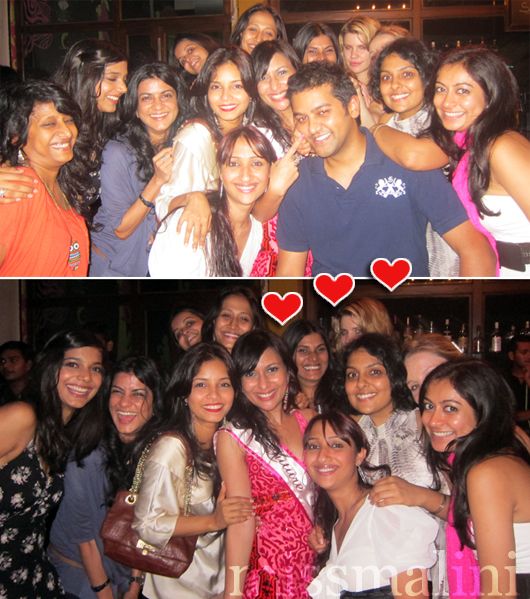 And Just In Case There Was Any Doubt (Whatsoever!)
So ladies if you have a Big Fat Indian Wedding in the works, don't forget to shower yourself with lots of love and affection, or call Marry Me – The Wedding Planners, they'll throw one for you! xoxo