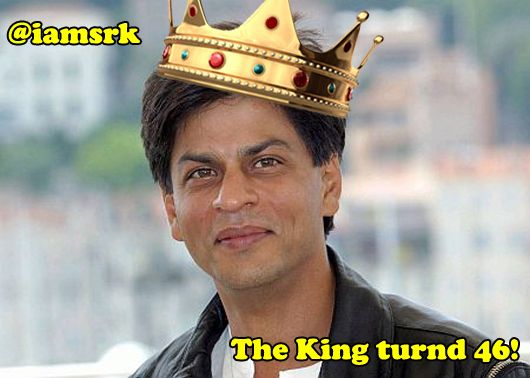 No matter what one says about Shah Rukh Khan, it is never enough. Not only does he hold the record for the most number of Filmfare awards in the Best Actor category, but he also has a huge fan following in India as well as abroad. He is, well and truly, the King of Bollywood. Even Wikipedia agrees with me:

To celebrate his birthday, we're taking a look at some of his best scenes ever – and it's quite hard to pick!
1. "I love you, K-k-kiran" from Darr
In Bollywood, it's so easy to get typecast as the villain – but there's something about SRK in this film that screams "unconventional hero" more than "villain." He delivered a great performance in this film, and his "K-k-kiran" dialogue is famous even today.
2. "Palat" from Dilwale Dulhania Le Jayenge
It's no secret: I absolutely love DDLJ. And this is by far one of my favourite scenes from the movie. From the cheeky "kisi ke aankh khoobsurat hai, kisi ke hoth ache hai" to the adorable "palat… palat… palat," this scene was loaded with some SRK goodness!
3. Gazebo scene from Kuch Kuch Hota Hai
This is not only one of my favourite SRK scenes, it's one of my favourite scenes ever. Kajol looks the most gorgeous she's ever looked, and SRK's air-piano is the cutest thing ever. I can't play musical instruments to save my life, but I just had to learn how to play this tune on the piano, just because I loved it so much!
4. Raj Aryan from Mohabbatein
Raj Aryan, with his glasses, sweater draped over his shoulders and violin in hand, is probably one of SRK's most iconic characters. Plus, the scenes between him and Amitabh Bachchan are electrifying, in part due to some amazing dialogues, and in part due to their terrific acting.
5. "Yeh duniya hi chod doh" from Devdas
Shah Rukh's portrayal of Devdas is by far one of his best performances, and also one he earned a Filmfare Best Actor award for. This dialogue in particular is iconic, and SRK delivers it perfectly.
6. He reads the diary in Kal Ho Naa Ho
There are a lot of scenes I love in this movie: SRK's rendition of Pretty Woman, for one, followed by his "che din, ladki in" dialogue. However, this is probably the scene I liked the most. Great acting and some lovely dialogues – my favourite is, "pyar toh sab log karte hai, lekin mere jaisa pyar koi nahin kar sakta… kyun ki kisi ke pas tum jo nahin ho."
7. Veer's freedom dialogue from Veer-Zaara
This is one of those scenes that can't be written about. You actually have to watch it. Just beautiful – definitely one of Shah Rukh's best scenes.
8. His heartfelt performance in Swades
Swades was one of Shah Rukh's most heartfelt performances – I still think it's among his best today. And this scene is a touching one, which occurs soon after he realizes just how bad the poverty in his country is.
9. Sattar Minute from Chak De! India
This Sattar minute dialogue is one of his most famous dialogues, and rightly so – it's incredibly inspiring. And after you've listened to the dialogue and been awed, take out a minute to appreciate scruffy Shah Rukh. 😉
10. "Picture abhi baaki hai" from Om Shanti Om
This dialogue is one of my favourites ever in Bollywood history. Will you ever need to hear anything more inspirational? Hamare filmon ki tarah hamari zindagi mein bhi end tak sab kuch theek ho jata hai. Happys endings. 🙂
There are so many more scenes I could put here – scenes from Dil Toh Pagal Hai, Main Hoon Na and My Name Is Khan almost made it on here, but couldn't because I've already reached the end of my list!

What are some of your favourite SRK scenes? Let me know so that I can spend his birthday by Youtubing them all! 🙂