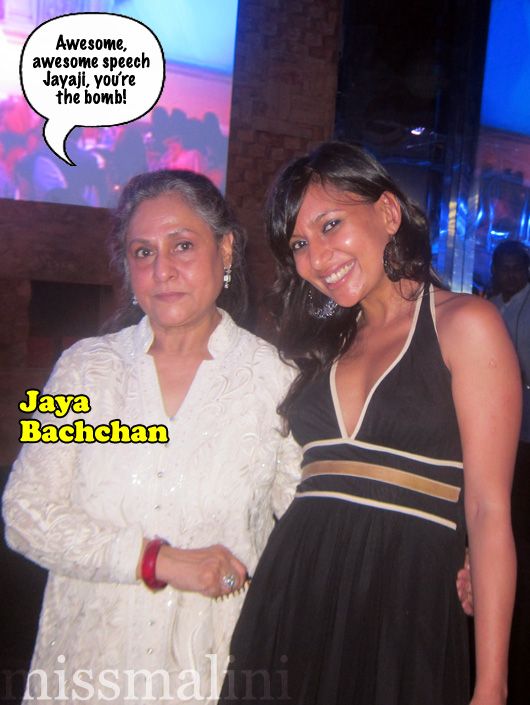 I have to admit, I was pretty blown away by Jaya Bachchan's exuberant speech at Abu Jani & Sandeep Khosla 25th Anniversary amid cheers from Abhishek & Aishwarya Rai Bachchan last night (hosted by Daniel Lalonde, President & CEO, Moët & Chandon) at China House. Aish looked radiant (and ready to pop!) and Abhishek looked super stylish yet again. Jaya even stayed and danced till 2am after Aish & Abhi left! Wanna see her speech?
Dimple Kapadia
Joining her on stage, Dimple Kapadia got pretty emo at the end of her speech and begged to be buried in an Abu Sandeep creation (which was a tad depressing, so it's not in the video!) and I saw Arjun & Mehr Rampal, Kiron & Sikander Kher, Abhishek Kapoor, Shashi Tharoor, Sangita Bijlani, Twinkle Kapadia, Ali Zaffar, Feroze Gujral, Sussanne Roshan, Queenie Singh, Gaurav Bhatia, Ekta Rajani, Bandana Tewari, Schauna & Bikram Saluja and Sonali Bendre. Oh and Jackie Shroff wandering around till pretty late too!
Abu Jani & Sandeep Khosla 25 Year Celebration with Moët & Chandon
Well done Moët & Chandon – that's how you celebrate Twenty-five years of Abu Jani and Sandeep Khosla, over loads of bubbly and giant screens featuring montages of their grandest shows. #SuperLike!
Psst! MissMalini's Fashion Police coming soon and loads more pix here. xoxo