Whenever I'm off blogging somewhere I take random pictures from time to time (and notes in my phone) so I can share it all with you later, this one was fun to put together because every time I spotted something I knew you'd like (or be amused by) it put a little smile on my face too 🙂 India Resort Fashion Week in Goa was a blast (but it went by too fast!) here's a flashback from the trigger happy…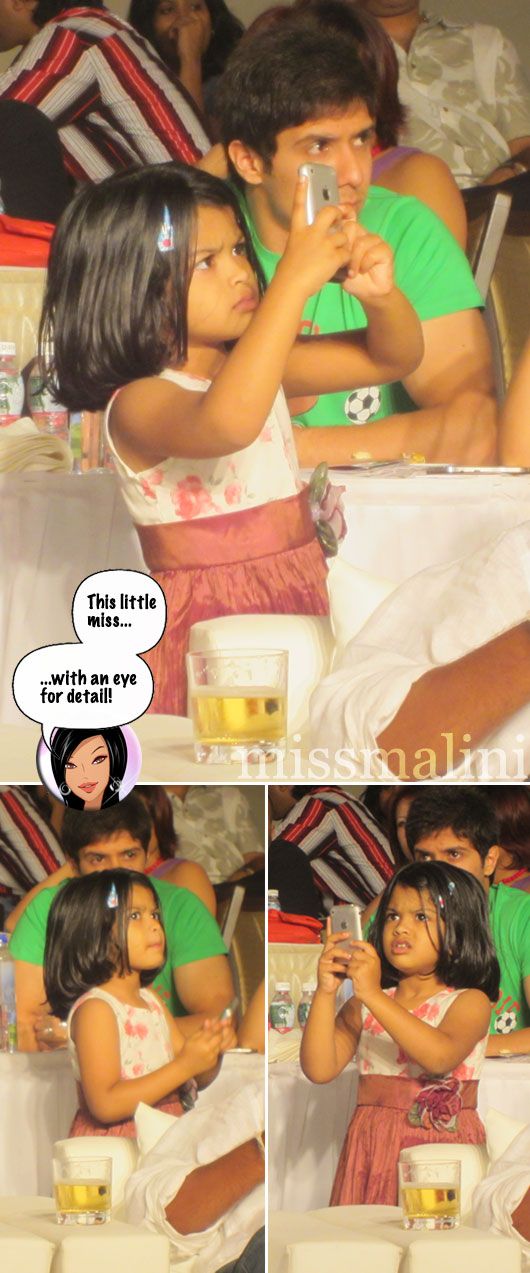 1. The future MissMalini!
I kid you not, I did a double take when I saw this stylish small wonder so engrossed in the first day's shows. Cuteness aside her expressions are priceless! And quite classic for a front row runway show dontchya think? 🙂
PS. I looked for her everyday after that hoping to recruit her right away but alas, no luck.
2. Buyers who walk the talk.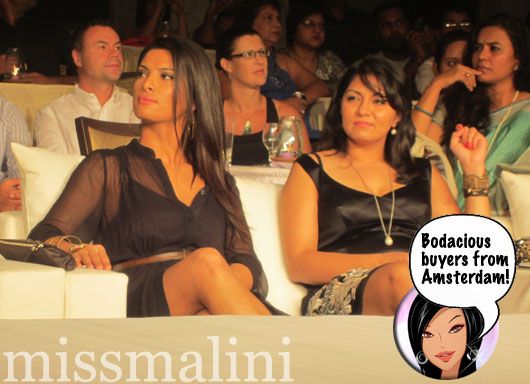 This lovely lady had something elegant to wear to every show (and an exotic accent to match.) Aside from the fact that she could very well have been a model herself I love that she kept it SO stylish off the runway and has now started reading my blog… hello! 🙂
3. The Genius of James!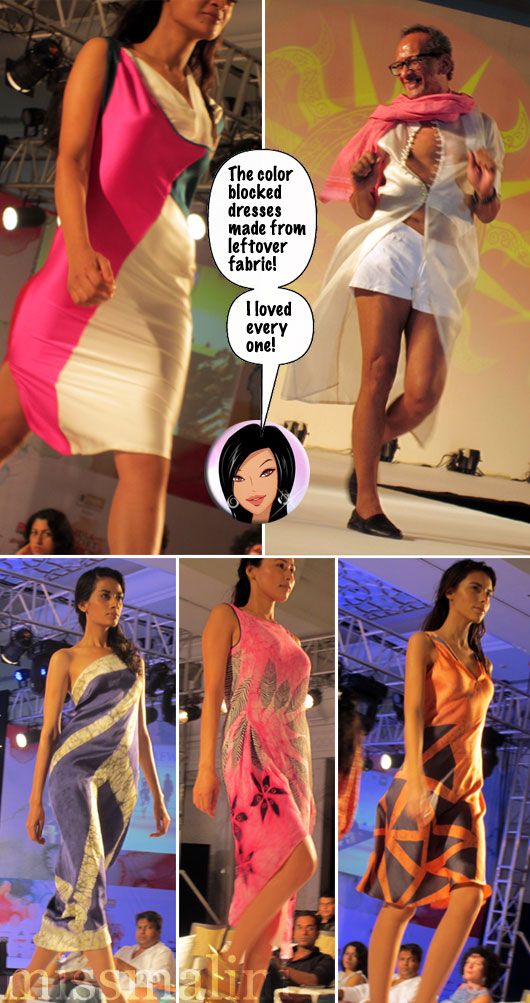 Yup, it's true, leftover fabric made high fashion at IRFW. Ranjit from Team MissMalini told me about it in Goa, neat right? And one big fat giant kissy to James for giving me this gorgeous A/W 2011 print drape dress (yay!) with a gracious text, "Please keep it, the dress looked made for you. Hugs." Hugs back J-Awesome, hugs back!
4. Goa's New Wave.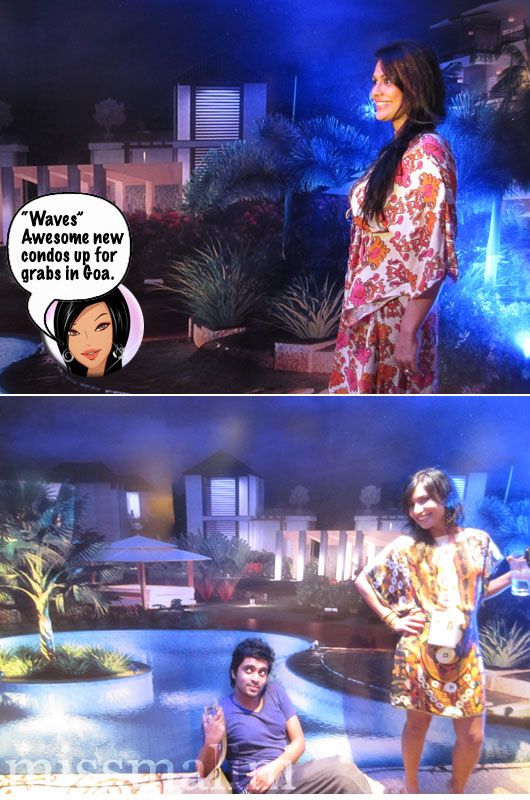 If you're looking for full-service luxury condos, look no further. You can buy one of these babies and have your own home away from home in a cozy little spot near Calungute, Goa. (Sunil Shetty's got one too!)
PS. This was the backdrop to their lounge at IRFW, if you stood close enough you could picture yourself by the pool 🙂
PPS. Also one big shot out to Shalini Chuganee Business & marketing Head at id8 Media Solutions for putting together such a brill event with so much style xoxo
5. Nari, the Jack of all designers…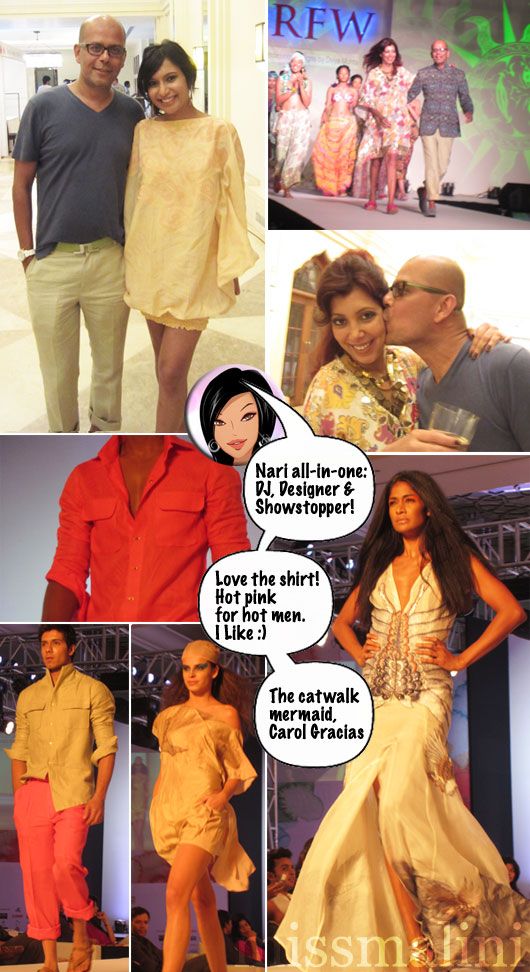 You have to hand it to him. Narendra Kumar gets away with doing all sorts of goofy stuff (and with so much style!) Just as I was wondering how he would top serving chai shots at his last offsite he decided to wow the crowd by walking as Divya Mohta's show stopper (in a jacket he created himself out of fabric she sent him!), then played iPod DJ at his own show and pulled out a to-die-for resort collection from under one of his many hats!
PS. That hot pink shirt on tan skin is a total win, so buying it for the husbo tomorrow.
6. Getting all dolled up & shooting UTV Bindass, Style Police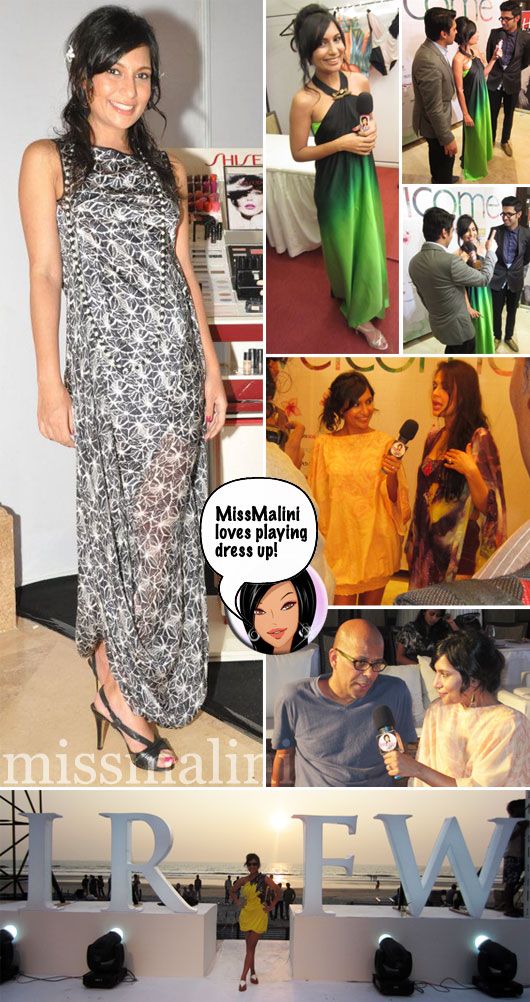 Thanks to many of the fabulous designers at India Resort Fashion Week I barely had to dip into my personal wardrobe all week! I wore James Ferreira on Wednesday, Divya Mohta (thank you for my dress too D!) and Narendra Kumar on Thursday, Shivan & Naresh and Pria Kataria Puri on Friday and Shantanu & Nikhil on Saturday! Shiseido matched my looks to the ones chosen by the designer for their runway shows and I was good to get set shoot for my brand new segment on UTV Bindass! It's call Style Police and you can watch me on it every Monday at 8pm (don't forget ok?!) You'll see my gabbing at IRFW with Neha Dhupia, Sushmita Sen, Purab Kohli and all the designers including Manish Malhotra.
Psst! Loads of warm up videos on my YouTube channel here: missmalinivideos
7. Style Police, Hits & Misses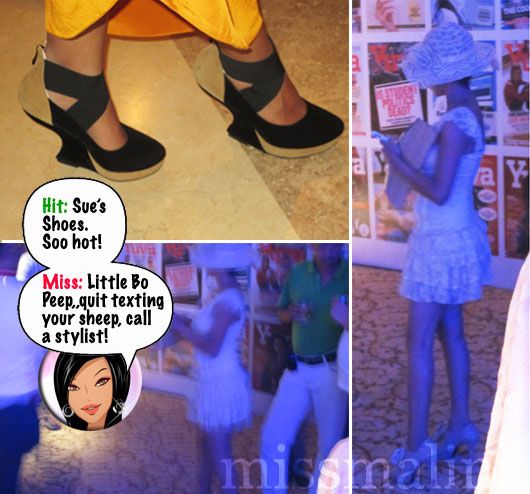 Oh Sue, I will never forget your response to me whining once that my feet hurt one fine fashion week. You said, "It's fashion Malini, I can't feel my toes!" I bet you felt them in these shoes 🙂 super hot btw. For more of Sue's foot fantasies check out her blog. And while I refrain from bitching too much about people's choice of attire (and leave that to my team fashionistas) once I saw this lacy horror I knew we weren't in Kansas anymore, Toto. Plus she looks like she's lost her sheep for reals this time.
8. Jacob (from Twilight) Lookalike on the Runway!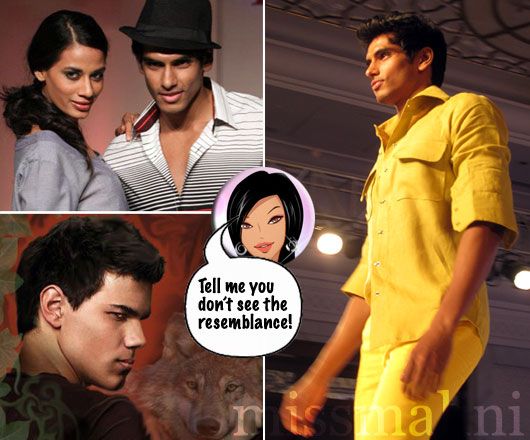 Need I say more? Every time I saw this boy I was like "Hey! That guy totally looks like Jacob from Twilight!" and most people within earshot would nod in agreement. Do you?
9. Fashion & Fireworks!
On day 4 we moved to Marbela Beach for some fun in the sun and the most awesome beach front runway I've ever seen! At night Sushmita Sen blew down the catwalk looking incredibly elegant in a Shantanu & Nikhil (I love these guys!) creation, she somehow even managed to manipulate yards of fabric to look like a wave chasing a mermaid, well played madame!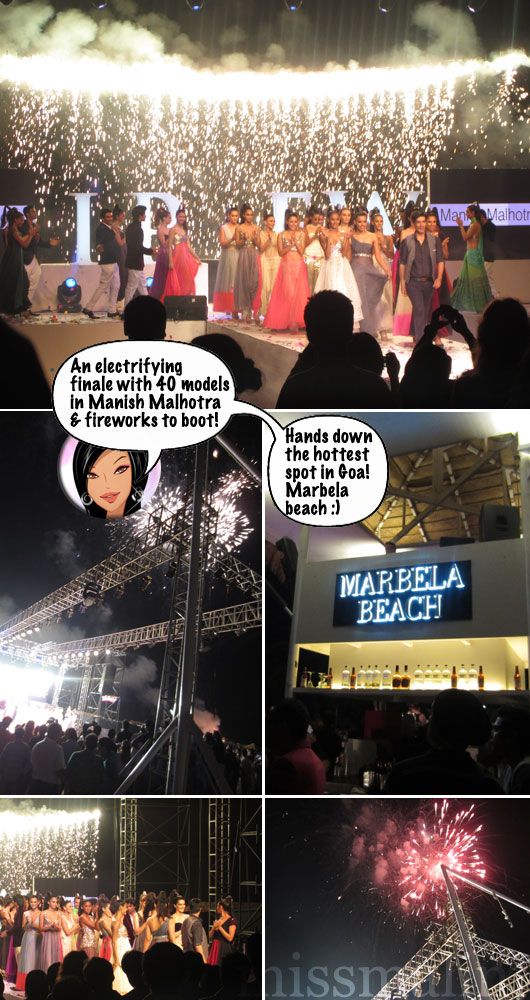 And then Manish Malhotra lit up the stage as the skies filled with fireworks for a grander than grand finale. My favorite bits of course were the insanely awesome drummers from Marbela, Spain who were there all weekend and catching up with Marbela Beach proprietors Paul & Caoilinn McGlade and Jaydeep Rajebhosale. Can't wait to get married there in February, yay!
10. And now for a few (more) of my favorite things…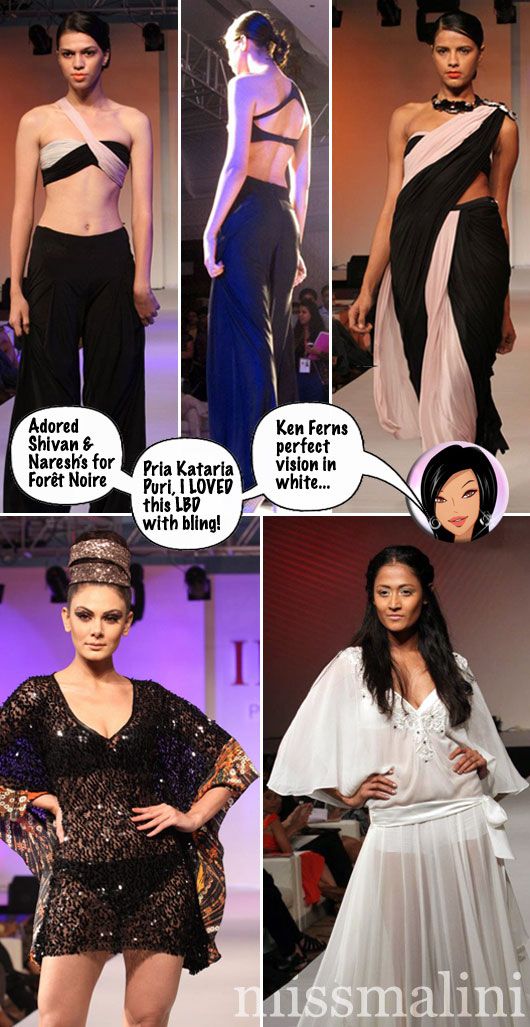 Resort wear in general is entirely up my alley, because well when you're at a resort you can afford to wear all manner of wispy fabrics (over bikinis) without raising too many eyebrows! I think everyone agreed that Shivan & Narresh put on a stand-out show with their collection (and extremely well conceptualized video) wanna see?
PS. And I'm quite liking the concept sari and interesting cut out backs!
So that's it for my little recap, I hope you enjoyed it and will Like my missmalini Facebook page to win yourself some more fashionable goodies, and also please leave a comment if you enjoy this blog and want more like this one! 🙂
*India Resort Fashion Week 2011 presented by INK Infrastructure in association with YUVA & powered by Provogue