"The Golden Globes are to the Oscars, like Kim Kardashian is to Kate Middleton – a bit louder, a bit trashier … a bit more easily bought." – Host of the 69th Golden Globe Awards, Ricky Gervais.
Award season has kicked off in Hollywood with the 69th Golden Globe Awards, which took place in Los Angeles, at the Beverly Hilton Hotel. The Golden Globes are an important indicator of who will be in the running at the Academy Awards, taking place February 26, 2012. Here's a wrap-up of the show!
George Clooney won Best Actor: Drama, for his role in the film The Descendants which also won Best Picture: Drama. Earlier in the night, best friends Clooney & Brad Pitt introduced each other's films, which were both nominated in the Best Picture category;  Clooney graciously mentioned how proud he is of Pitt, and the work he's doing, during his acceptance speech.
The French silent film, The Artist, took home three awards: Best Picture: Comedy, Best Actor: Musical or Comedy given to Jean Dujardin & Best Original Score given to Ludovic Bource.
Meryl Streep was literally at a loss of words when she won Best Actress: Drama for her role as Margaret Thatcher in the film Iron Lady, because she forgot her glasses and had to remember what she wrote down. Adorable!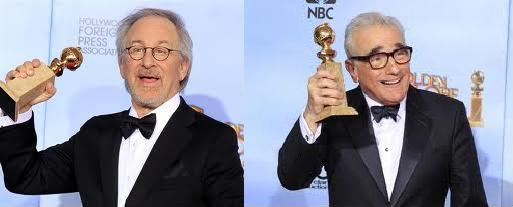 Hollywood royalty made their presence felt throughout the night as Martin Scorsese won Best Director for his film Hugo, Woody Allen won Best Screenplay for Midnight in Paris (one of my favorite films of 2011), Steven Speilberg & Peter Jackson won Best Animated Film for The Adventures of Tintin, and the charming Morgan Freeman received the Cecil B. DeMille Lifetime Achievement Award.
Michelle Williams won Best Actress in a Musical or Comedy for her role as Marilyn Monroe in My Week With Marilyn, and sweetly thanked her daughter Matilda Rose, mentioning she's a mother before an actress.
The supporting actor awards went to Christopher Plummer for Beginners & Octavia Spencer for her powerful role in The Help. If you haven't watched The Help yet, I highly recommend you read the book first – it's fantastic.
In the world of television it was a big night for the British, with Kate Winslet continuing her winning streak by receiving the Best Actress Award in a TV Miniseries for her role in the critically acclaimed Mildred Pierce. One of my favorite shows Downton Abbey, won Best Miniseries or Movie, and Idris Elba won Best Actor in a Miniseries or Movie, for the BBC drama Luther.
Kelsey Grammar is back on the television scene and won Best Actor: Drama for his show Boss, while Claire Danes won her second Golden Globe as Best Actress: Drama for the hit show Homeland, which also won Best Drama.
Jessica Lange won Best Supporting Television Actress: Series, Miniseries or Movie for the American Horror Story, while Peter Dinklage won Best Supporting Television Actor:  Series, Miniseries or Movie for the Game of Thrones.
Television's funniest show Modern Family won Best TV Series: Musical or Comedy.
Matt LeBlanc took home his first Golden Globe, for Best Actor in a Television Series: Musical or Comedy, for the show Episodes where he plays himself. Laura Dern won Best Actress in a Television Series: Musical or Comedy for Enlightened.
There was a bit of drama before the show, when Elton John told a reporter, his arch-nemesis Madonna "…hasn't got a f*cking chance" of winning Best Original Song – a category they were both nominated in. Well John was wrong because Madonna took home the award for her song Masterpiece from the film W.E (which she has also directed). I hope they don't bring this childish behavior to the Oscars.
You can watch the repeat of Golden Globe Awards tonight at 9pm only on Vh1 India!