And now say hello to Anushka Arora; our very filmy new guest blogger (and Bollywood correspondent) from Sunrise Radio, London. Catch her updates on Bollywood in the UK on MissMalini.com, follow her on Twitter at @Anushka_Arora and read on! xoxo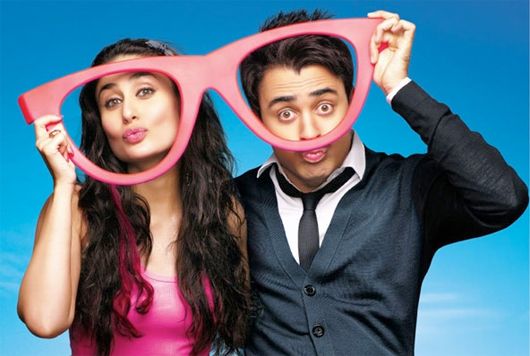 Abhishek Bachchan said a few weeks ago… "promoting the movie is harder than making the movie itself!"
Promotions of B'Town movies are in full swing and this time its Riahana and Rahul – Imran and Bebo promote Ek Main aur Ekk Tu on Music India.
Our chocolate boy was asked why oh why Rahul rated Rihanna's bum 4 out of 10 – Kareena STILL NOT very impressed! They also talk about 'what happens in Vegas says in Vegas' 😉
Kareena looks absolutely gorgeous in a black/blue top with white dots, denims and her brown shoes completing the outfit. Imran looking  abit more manly with his grown beard (altho I prefer him without it) – guessing this is the look for his next movieMatru ki Bijlee ka Mandola.