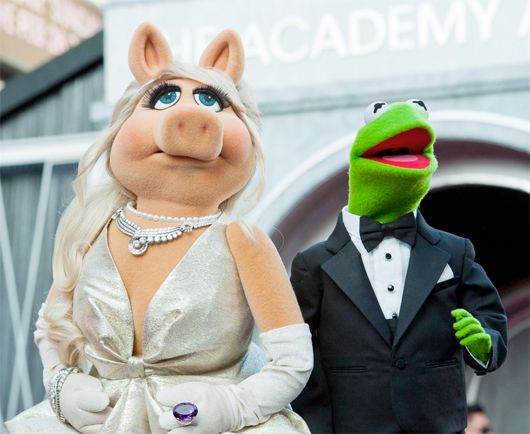 Hollywood fashion was at it's best on Oscar Sunday, and this time, there was actually some fun on the red carpet. Miss Piggy turned up in a Zac Posen gown, with Christian Louboutin heels, jewellery by Fred Leighton and hair by Kim Kimble (stitchkingdom.com). How incredible is that! Oh, and Angelina Jolie actually SMILED and flirted with the cameras, by showing off her legs. Why is she in such a good mood all of a sudden!? Enough talk already, let's get to the list.
The best dressed list:
No.1: Michelle Williams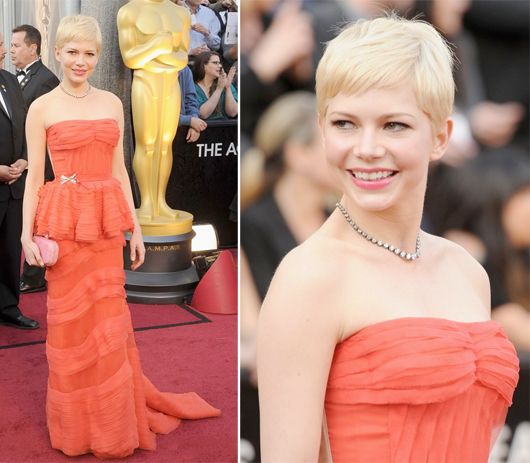 An unusual choice, going with Louis Vuitton for her gown, but it was so unlike any other we'd seen on the red carpet, that we coudln't get enough of it. The tangerine coloured peplum gown stood out on Michelle Williams, and complimented her whimsical side, perfectly. We adore the pink Bottega Veneta clutch that she added, to complete the look. Such a breath of fresh air, when it come to pushing the envelope with Oscar fashion.
No.2: Jessica Chastain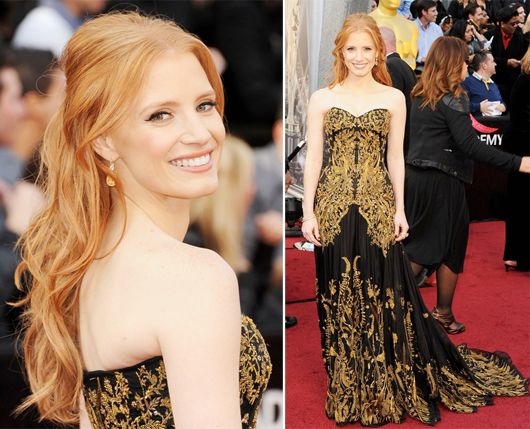 The sweet Jessica Chastain, Hollywood's biggest rising star, made a huge name for herself on the red carpet, opting for an Alexander McQueen gown, with intricate gold embroidery. While it's not a look that many will fall for, it does wonders for Jessica. She looked like a real southern belle, with her less-is-more makeup and loose locks, that gave her even more charm than she already has. We can't wait to see how this lady's career will spear ahead from this point.
No.3: Gwyneth Paltrow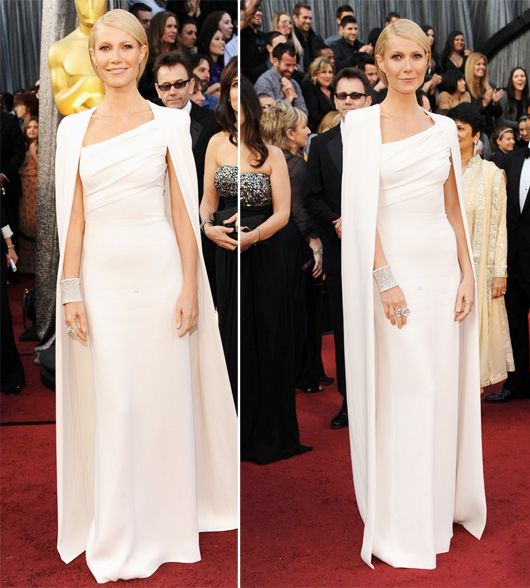 Tom Ford makes capes for superstars, not super heros – and Gwyneth Paltrow rocks this minimal look, to the core. Her low ponytail and barely there makeup, just add to that clean look we're digging for the coming season. The diamond cuff and chunky cocktail ring scream out statement, especially with this polished do. She's definitely setting a trend, while looking stunning at the same time; it's to be expected from this fashionista.
No.4: Angelina Jolie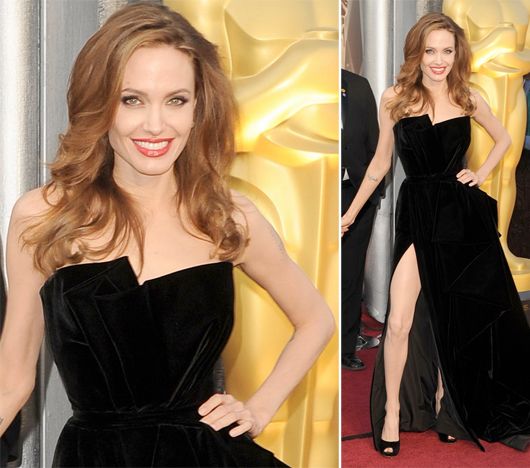 Black, fitted and Versace Atelier. It's not a look that's new on Angelina jolie, but what is, is her excitement on the red carpet – we haven't seen that since her Billy Bob Thornton days! And we're glad it's back; flashing not only a big grin, but also some leg, Angelina looked like she actually enjoyed giving the cameramen their 'money shot'! Oh, and the new lightened locks, such an uplifting change. What's with the sudden warmth and cheer Angie?  Tell us already!! Maybe she thought Brad Pitt would actually win this time… too bad he didn't.
No.5: Rooney Mara
I'm sure not many are going to like this choice, but coming in at No.5, is Rooney Mara, in a Givenchy gown. It might be a tad bit nautical, and a bit futuristic, but think about it –  Rooney wouldn't look good all dolled up in some pretty dress. Here, with this choice, she's radiant, fashion forward and true to her identity. Which is why she made our list. Reason enough?
No.6: Stacy Keibler
Didn't I predict the Marchesa gown would make an appearance at the Oscars? Well, it definitely did. Whilst George Clooney was beaten by Jean Dujardin for Best Actor, he still went home with his real (female) Oscar, Stacy Keibler. This slinky gold number made her look like a sensual siren, that I'm sure drove Clooney's blues away.
No.7: Milla Jovovich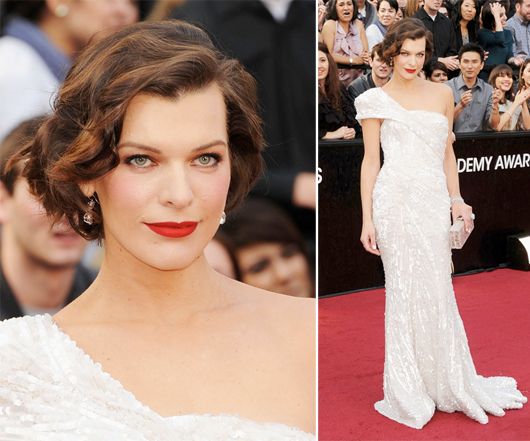 As you can tell I'm a big fan of white on the red carpet, and when it's Elie Saab, how can you not be on a list? Milla Jovovich brought the fashion A-game to the Oscars in this gown; the strong shoulder and the hourglass figure is a great mix of femininity and power, just like the actress herself.
No.8: Octavia Spencer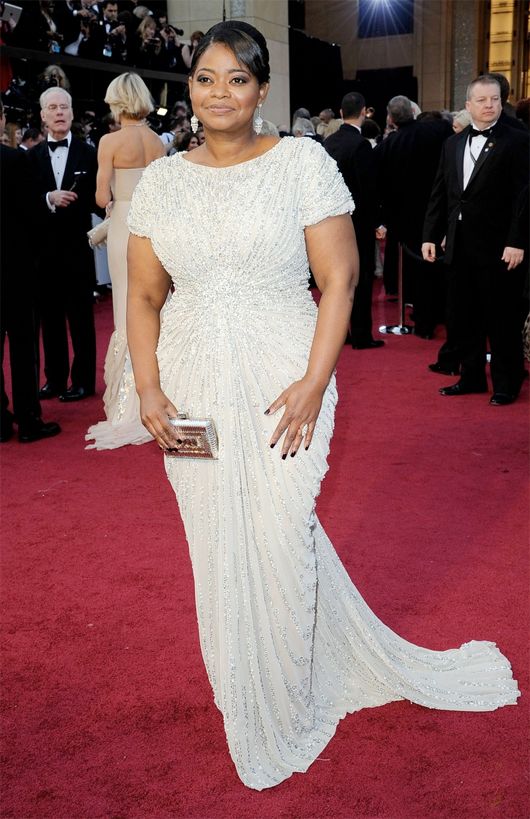 Another rare choice for the Oscars, Tadashi Sohji. Octavia Spencer pulling out all the stops for this night; I guess she knew she'd win it. It was only fitting after the Bafta's huh? She looked extreamly groomed and suave in the dress, and the bling-ed out Judith Leiber clutch, was that bit of extra sparkle (apart from the Oscar she took home).
No.9: Sandra Bullock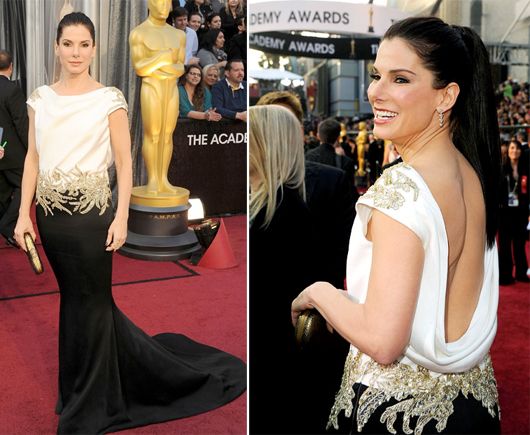 Surprised that she's she's so low on the list? We are too. We really thought Sandra Bullock would make more of an impact, considering her last years red carpet performance, but she didn't. I do think the Marchesa dress is incredible, especially with it's dramatic back, but for Sandra, I just expected… MORE.
No.10: Judy Greer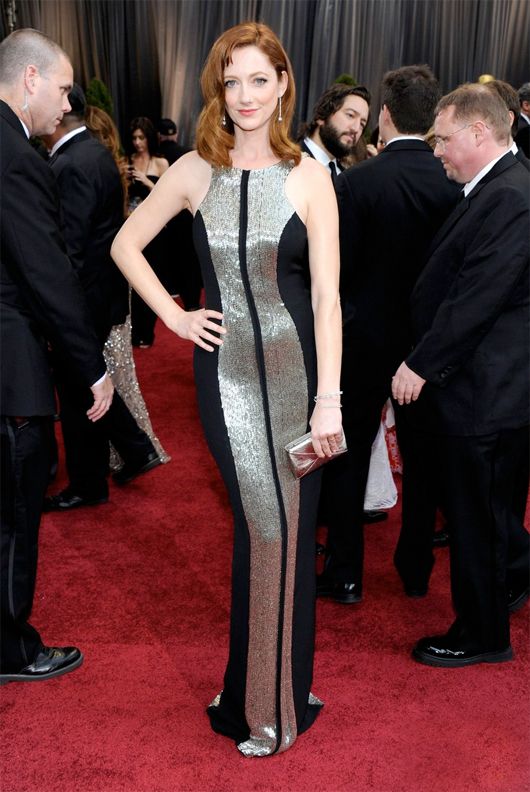 Hello 1940's glam. It's Judy Greer calling, and I want a dress from you. Well she didn't go back to that era to get one, but rather, she simply looked to Monique L'huillier. This paneled gown was just that bit of glam that didn't overpower the actress, but rather, helped her look like a silver screen temptress.