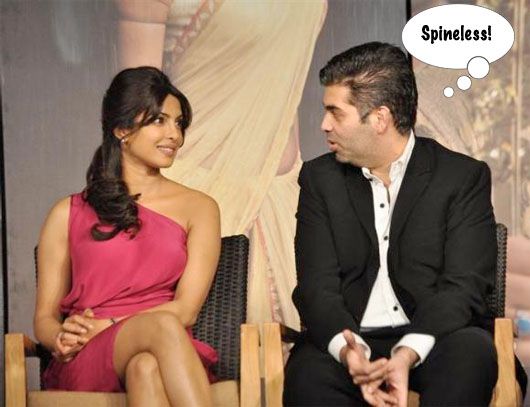 We saw this coming: we told you earlier that Karan Johar has been giving Priyanka Chopra the cold shoulder (apparently because of the rumors doing the rounds about her affair with Shah Rukh Khan). Now, there have been more developments. Recently, Priyanka made headlines in a number of tabloids when her "friends" said these SRK rumors are taking a toll on her and star wives should stay at home and sort out issues with their husbands instead. There were even one particularly derogatory statement that was a thinly-veiled dig at Gauri Khan – which seems to have angered KJo. Here's all the dirt!
In the reports, Priyanka's "friends" have gone out to say that the rumors are upsetting Priyanka, but she's retaliating by immersing herself in work more – her film offers, music deal, etc. They continue to say that these star wives have no achievements to their name, and in the end will only be known as "Mrs so-and-so." Ouch! Here's what Karan had to say about that:

Uh oh. Looks like Karan wasn't too pleased about the way Gauri Khan was portrayed in the reports; I guess it's understandable – when the time comes to pick between Priyanka or Gauri, I think we all knew which way Karan would swing!