We told you first on MissMalini.com about the lovely Tina Sareen and her cute little store called LBD in Bangalore, Now she's brought her launch (via tea party wonderland) to life in a guest blog that I absolutely adore. Eat your heart out Alice. xoxo
Psst! If you'd like to share Your Life on My Blog please write to info@missmalini.com.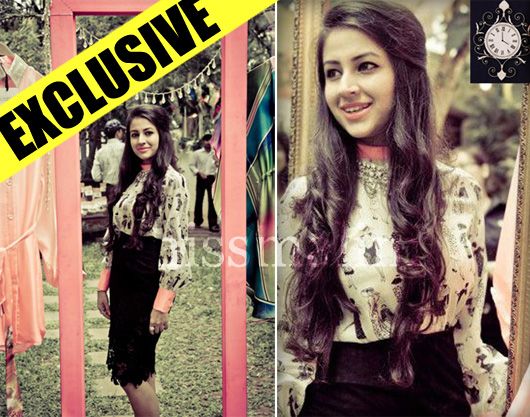 Just shy of 4:00pm on a lovely April afternoon I checked my reflection, tucked my rose clip into my hair, hooked my lace pencil silhouette and sprayed my neon cuffs with Coco Mademoiselle.
As I walked into the garden adjoining my studio, I was pleasantly surprised to find guests traipsing in. Early!
Pink lace and satin trailed lush, green grass from high tables adorned with lilies and pearls and pieces from my latest Spring Summer collection hung from low branches.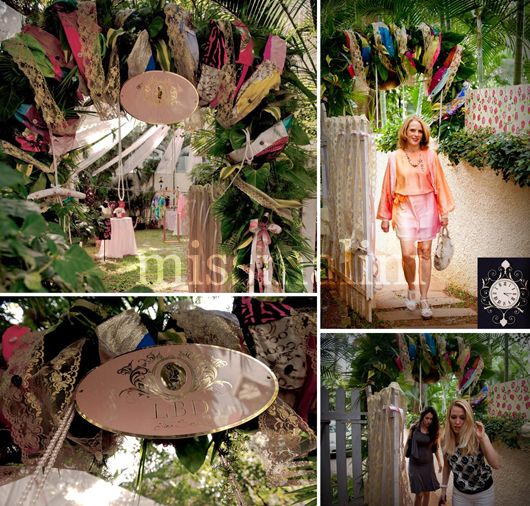 By 4:15 – more fashionistas fluttered in through the fabric arch, most of them looking pretty in their LBDs.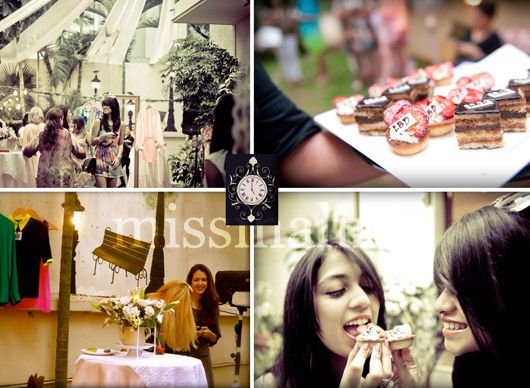 By 5 :00, everyone was completely engrossed in sampling the delectable dainties – of the eatable and wearable kind. Conversation and people flowed seamlessly from the chandelier and carpeted boudoir to the velvet chaise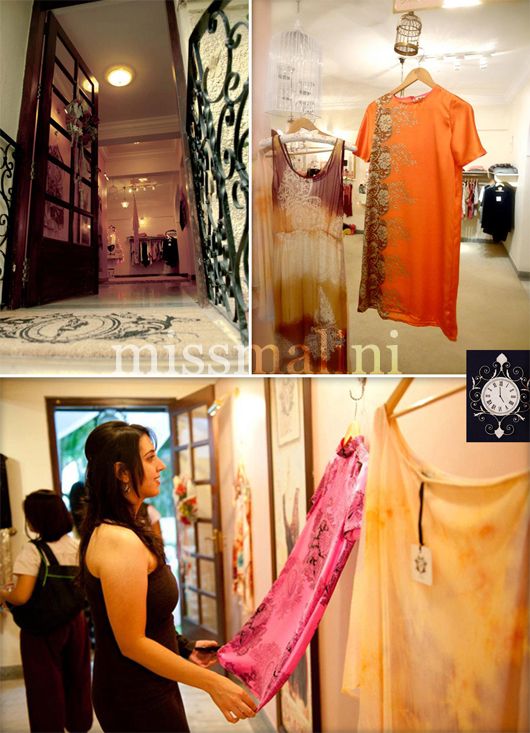 Everywhere I looked, women were touching, feeling and draping fabric on their shoulders – bold printed silks from Milan, ombre chiffons from downtown Dubai, neon trims from Berwick street in Soho.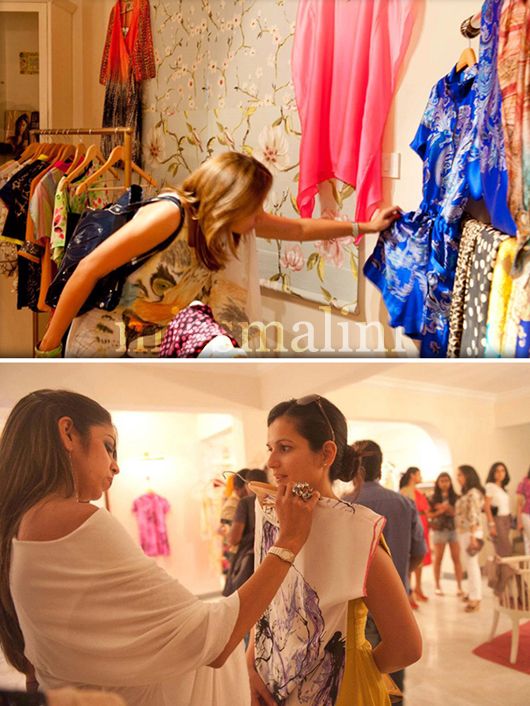 Some swooned over stylish resort wear & sequined skirts and others admired vintage laces. My personal favorite – if someone had stopped to ask – would have been the classic Audrey Hepburn inspired shift dresses.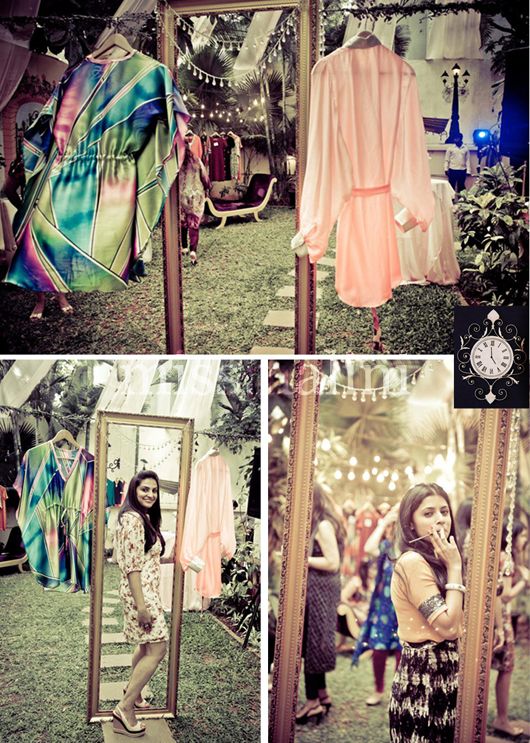 Even the most hesitant of the lot transformed into fashion victims, trying on anything that caught their fancy, posing and pouting unabashedly as they stepped into the gilt frame in the garden for a photo.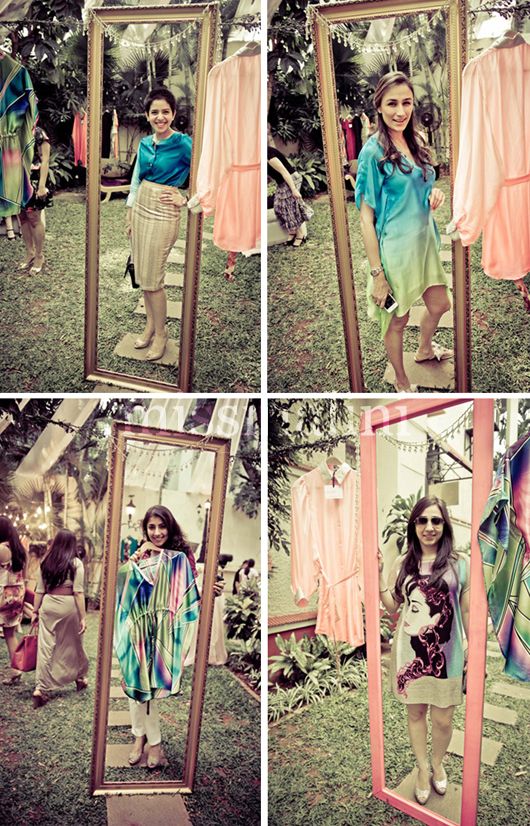 As the hands on my vintage wall clock moved to six o'clock, my surprise guest strolled out.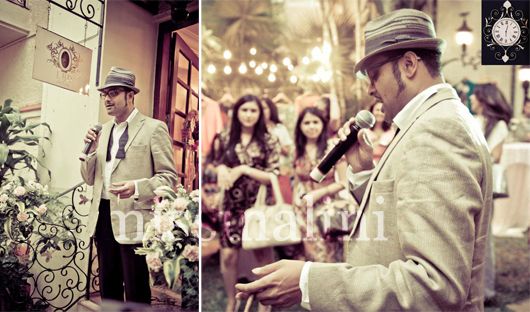 I watched as everyone stared at the only male in this butterfly garden. Ash Chandler, stand up comedian and singer from Mumbai, wowed the ladies with his sparkling wit, punctuating jokes with Spanish boleros in his silken voice.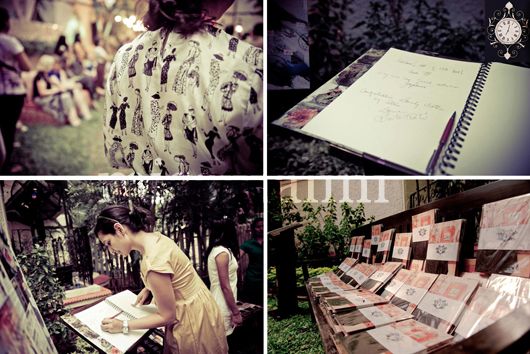 In the subdued light at 7:00 I paused for breath, a deep one, feeling tired but gratified as I heard one guest comment, "She's the difference between a dress and an LBD dress! I soaked in the affection and appreciation that came my way."
Some guests walked out with LBDs wrapped in polka dotted paper, carefully nestled in powder pink bags and everyone got a keepsake – a DVD of my all time favorite fashion flicks.
Store address: 1001 Marrakesh, 5/6 St Marks Road, Banglore 560 001