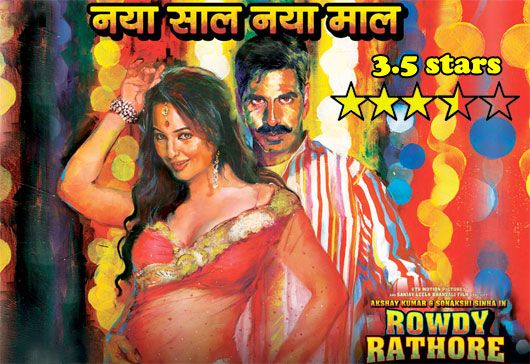 Rowdy Rathore tells the story of a petty thief, Shiva (Akshay Kumar), who makes his life out of duping people – until one day he falls in love with Paro (Sonakshi Sinha), and decides to leave behind his life as a criminal for good. He's just about ready to get onto the "right" track and settle down, when life throws him a curve ball –  he inexplicably becomes the target of a gang of criminals, which takes him on an entirely different journey than he was expecting.
Not exactly a novel concept, right? But does director Prabhu Deva give this masala entertainer a fresh, rowdy treatment? Read our pros and cons list to find out!
Pros: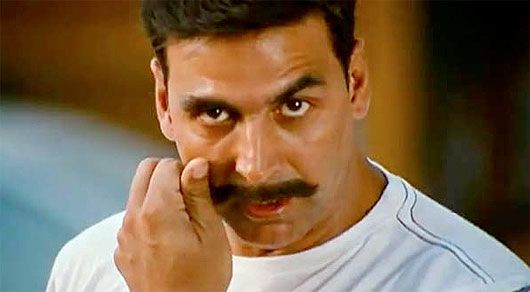 (+)
Akshay Kumar. The khiladi makes his return to the action genre after quite some time, and his fans will certainly not be disappointed. It's his film through-and-through – from the mustache-twirling to the action-packed… um, ball-bashing (if you know what I mean…), he more than lives up to the rowdiness. He'll elicit laughs and whistles – this film is for him what Dabangg was for Salman Khan.
Plus, he is dapper in pink and purple pants. Enough said.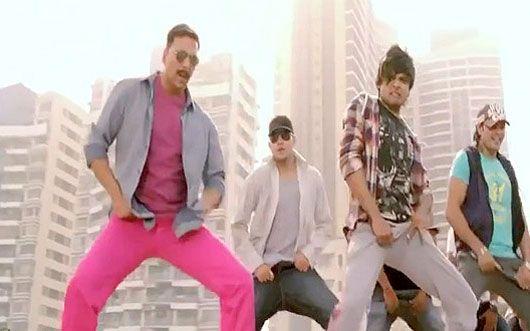 (+)
No post-interval dip. It generally happens that films take a nosedive post-interval, but in Rowdy Rathore, I actually liked the second half better. The first half entertained, but it's the latter half that will actually get you to laugh out loud – especially Akshay Kumar's first few scenes in the post-interval portions. He's back… and he's better.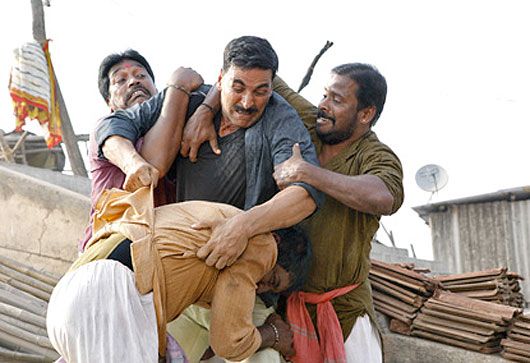 (+)
Fresh treatment of action sequences. You have your usual hand-t0-hand combat as is common-place in masala entertainers, but it's not the same ol' same ol'. Director Prabhu Deva handles these scenes extremely well, delivering laughs while not watering down the action.
(+)
Chinta Ta Ta. Silly though it is (that's the point), I can't get over this song. From the hand step to Akshay's chest-thrust, this song is a full-on entertainer. Plus, there are several jokes related to this song that are peppered through the film, and while you realize it's stupid, you can't help but laugh anyway. I'm pretty sure that whenever I hear this song now, I will want to drop everything I'm doing and find a flat surface on which to go chinta ta ta.
Cons: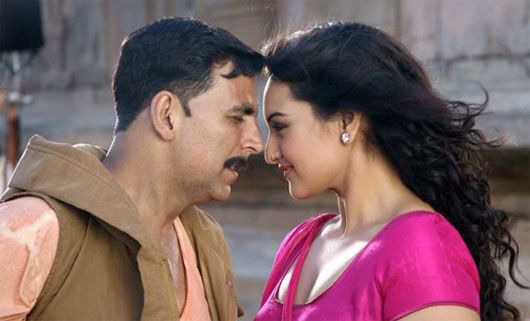 (-)
Sonakshi Sinha. There's just not much for her to do in this film. She walks by, looks pretty, and smoulders with her eyes, but beyond that, she's not utilized. It is clearly Akshay's film – but I want to see Sonakshi play something other than the go-to stand-in-girl for masala entertainers.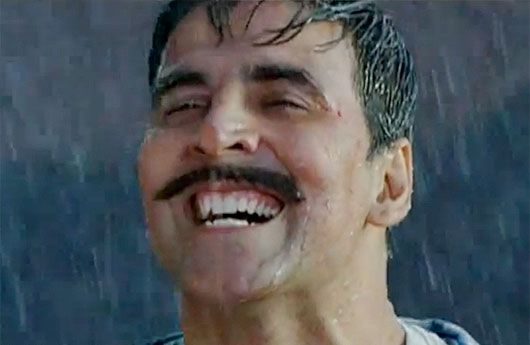 (-)
It's illogical. You expect it to be a silly, masala film; but even then, there are some portions that you just have to shake your head and roll your eyes at. For the most part, though, it's entertaining – and if you go in with the full expectation that you'll have to leave your brains outside, I think you will appreciate the film for what it is (especially since it doesn't take itself too seriously) and come out laughing.
Verdict:
Go for it – if you don't mind a bit of silliness. Those who don't like masala entertainers will probably roll their eyes through the film, but for the regular movie-going audience, this is a paisa vasool film.
3.5/5 stars
.
With inputs from Amruta Khatavkar.