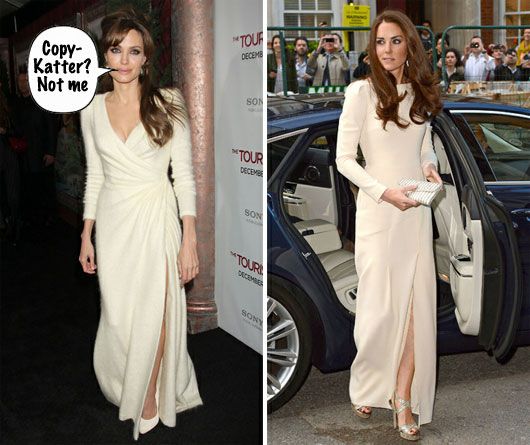 You ever get the feeling that some people are just clones of the original? Apparently Angelina Jolie is taking the heat for copying Kate Middleton's style, but I feel Angelina has always had the same sense of style, and perhaps… Kate's stylist is copying Angelina?! Who knows! I'm more interested in this Olympics party Brangelina (Brad Pitt and Angelina Jolie) are throwing!
The guest list is making me wish I could attend… Brangelina has invited the Duke and Duchess of Cambridge, along with Prince Harry, including A-listers like  David and Victoria Beckham, Sharon Stone, Michael Douglas AND Catherine Zeta-Jones.
In true humanitarian style Angies party will benefit a charity. The black tie event will raise funds for the Sports For Peace initiative.
Do you think the royals will be attending Brangelina's bash? Post your comments below!