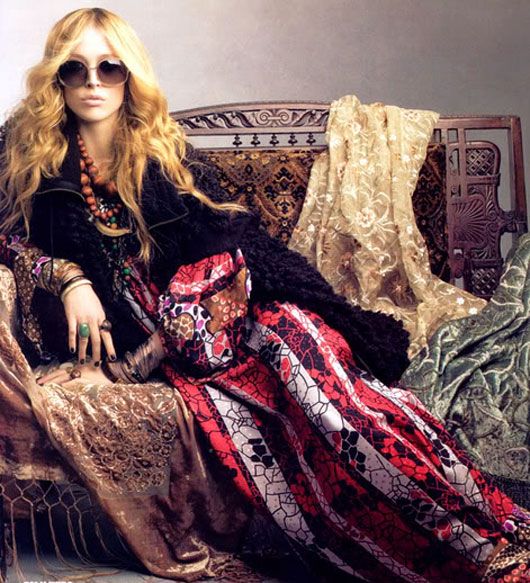 Today's word of the day is Boho-chic.
Bohemian or boho for short is a trend that stems from the hippie '70s lifestyle. So before you think you have to bust out in peace signs and dreadlocks hold it right there!
The whole look is glam but intentionally disheveled. Think loose flowing floral maxis, embroidered tunics, frayed denim, headbands, peasant skirts and slouchy boots. Brands like Missoni, Etro and Pucci usually do some variations of the boho-chic look in their collections. But the people who have really put this style on the map are celebs like Kate Moss (who seems to have a fashion Midas touch, don't you think?) Nicole Richie, Sienna Miller and Mary-Kate and Ashley Olsen.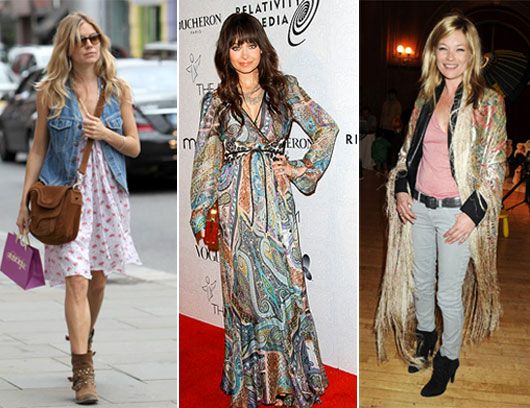 This sense of style reflects a very young and care-free lifestyle. Cheat this style by wearing a floral or paisley print maxi dress. Add a tassled shrug like Kate Moss did to a simple jeans-tee combo. Layer a denim vest over a flirty dress à la Sienna Miller. The key is to look like  you've thrown things together and that you're not trying to hard. Are you a boho-chic dresser? Let us know!