The lovely Poonam Soni designs handcrafted jewellery that is unique, exotic, colourful and dimensional. It has been described as 'red carpet' jewellery which is pretty much how you can describe Mrs. Soni herself! So we're thrilled she agreed to open up her jewelry box to MissMalini.com xoxo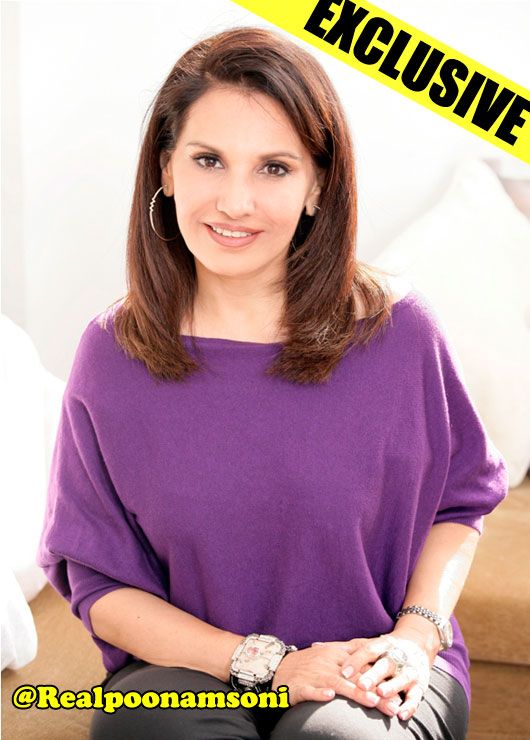 Jewellery is an intrinsic part of my wardrobe as I am a passionate creator and collector of jewellery. My dress style is clean and simple with strong colours, so I prefer to offset it with jewellery accessories. Much as I love my precious jewellery I am a collector of eye- catching costume jewellery pieces. I love colour and most of my jewellery has strong colour accents in it. Thank you MissMalini for inviting me to share my 10 favourite jewellery pieces on your blog! I am going to divide my jewellery into 4 categories:
The Classic.
In this category I love my emerald earrings with trillion diamonds. The emeralds took me long to source as I had to find four pairs of pear shaped emeralds for this. The 2nd is my four diamonds ring which is made of a pair of round and a pair of drop shaped diamonds.
My Statement Favourites.
I love my diamond bracelet with Burmese rubies on the side. The faces are made of pearls & minakari with vilandi-traditional Bikaner-style. A bracelet carved out of metal in brick forms studded with rubies & diamonds in pink metal from the 'Gaudi Revived collection' is one of my special pieces…
A lariat cum brooch with a painting of angels on canvas in a garden of diamond flowers and leaves with a motif of traditional Patchi in orange is extremely eye-catching. It looks on a strong green on black dress. I had designed this for the Swarvoski trends book 2011.
My Special Collections.
One of them is a grey miniature canvas by artist Laxman Shreshta which I framed on a carving with emeralds and diamonds. This is from my 2005 jewellery collection 'Monochromes" which was listed as a global trend in the Italian jewellery trends forecast book.
The other personal choice of mine is from my Sautoir collection which I had launched with Nawaz Singhania who painted the fabulous miniature canvases. Here Nawaz and I are flaunting our special favourites!
Costume Jewellery Favourites.
I love my Karl lagerfield multi gold chain necklace, its the handiest accessory I have!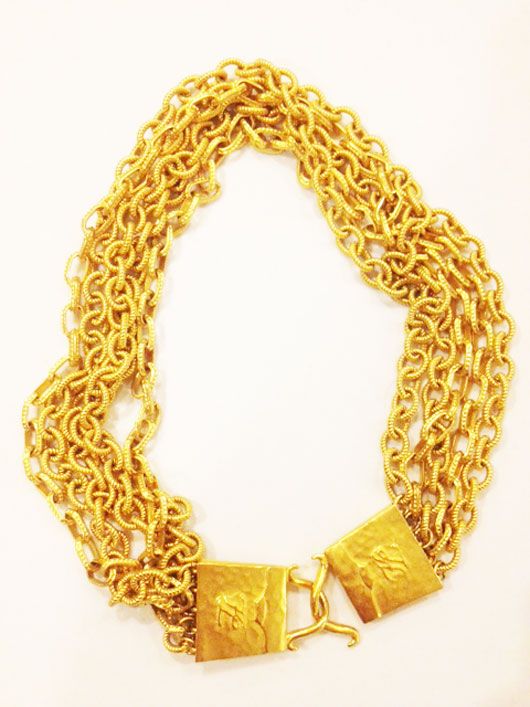 The 2nd is an aubergine coloured neckpiece designed by my daughter Kriti, I love the colour story and the style of the piece. A shell necklace in soft orange tones with a chrome yellow neon frog clasp completes my list. This was a Mothers' Day gift to me by my daughter Esha. I love the colours, it's my special favourite.
Here as I close my list of 10 favourites, I want to share that these days I am in the mood to flaunt bright jewellery in tones of fuchsias, neon greens and yellows!