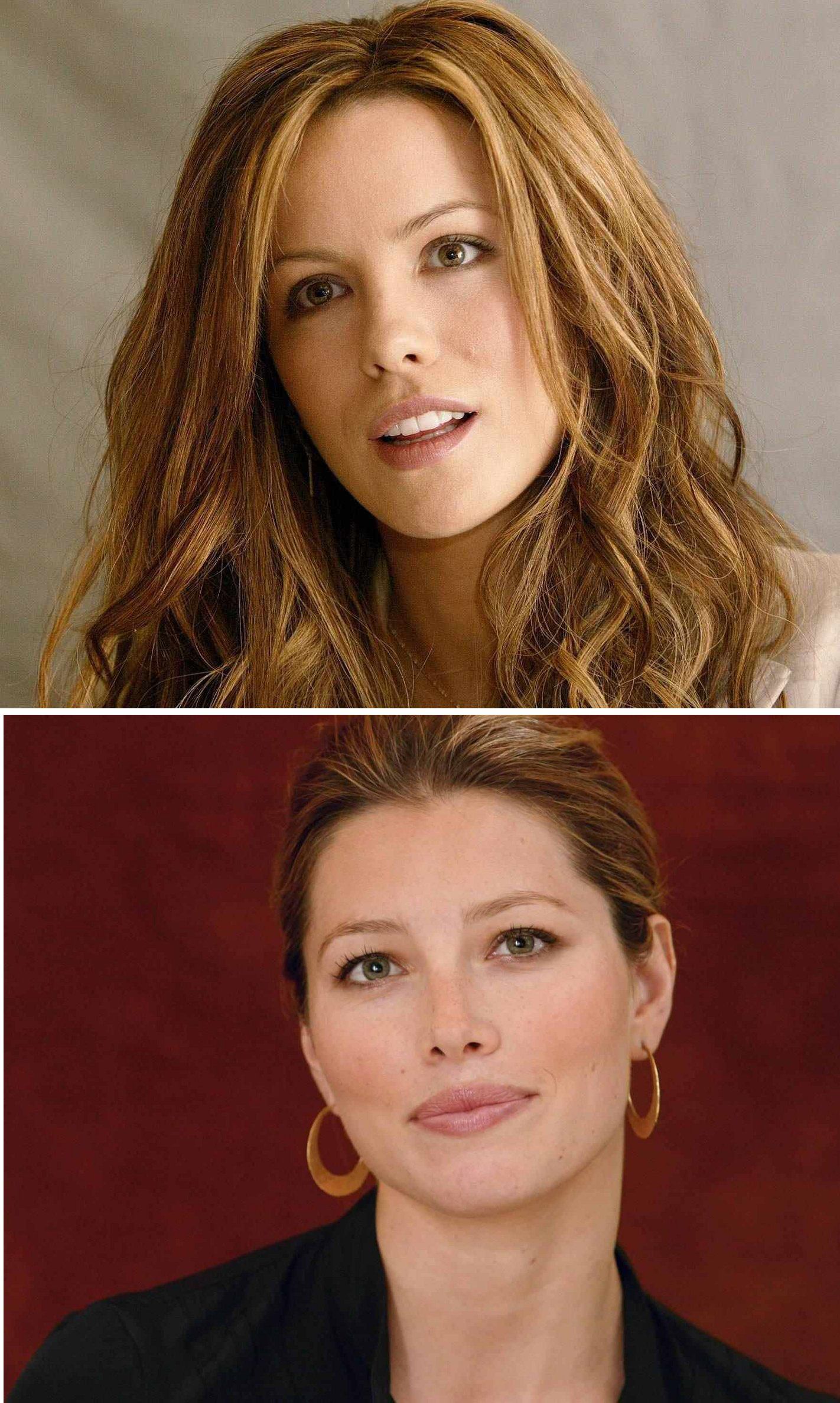 Oh, bugger, I seemed to have *almost* missed this one while I was watching, for the umpteenth time, the ah-may-zing Olympics opening ceremony (!!!). Around the same time that Danny Boyle was humouring the world with his marvel production, LA's Four Seasons Hotel played host to the photocall of the 2012 version of science fiction/action flick Total Recall, in which these two ladies star. Want to see what they turned up in?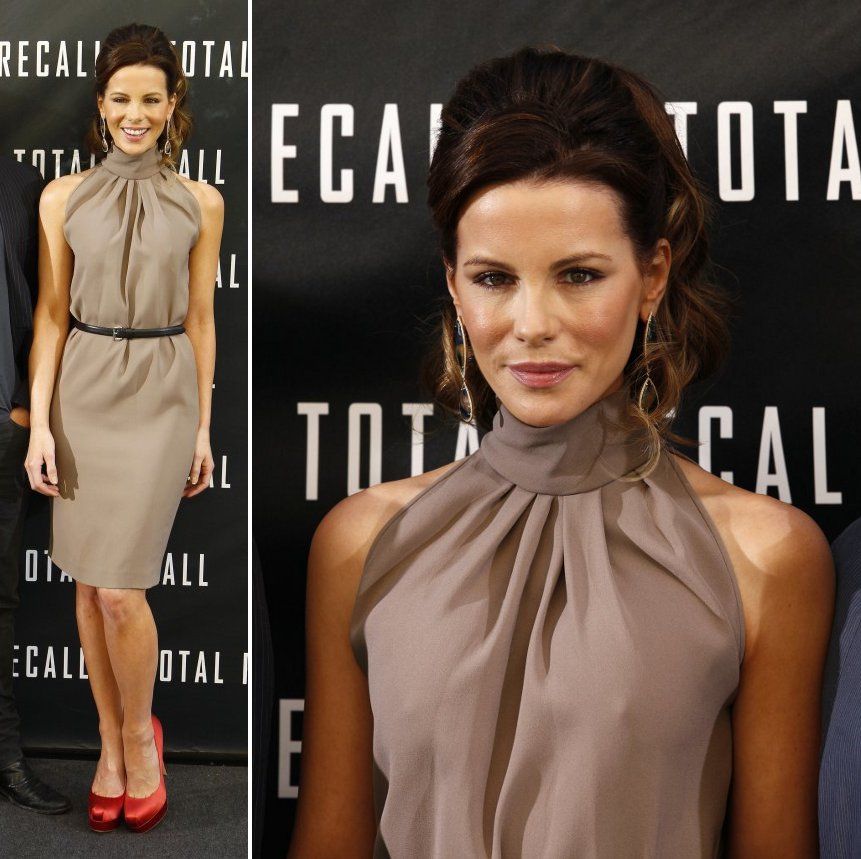 Looks like it was an off-day for the usually well turned-out, glossy Kate Beckinsale: starting from the hairdo, the hue of the dress to those red satin pumps, everything about this look is just so uninspiring. There is nothing wrong with the beige halter-neck Christian Dior number, but it just doesn't scream movie star, does it? The look was calling out for some delicate, eye-catching sandals to elevate the uninteresting dress, but those Brian Atwood 'Hamper' pumps are clunky… and in satin… therefore… tack-tastic. Dana Rebecca Designs dangling quartz earrings finished off her look, which I felt was lost amidst her wavy tresses.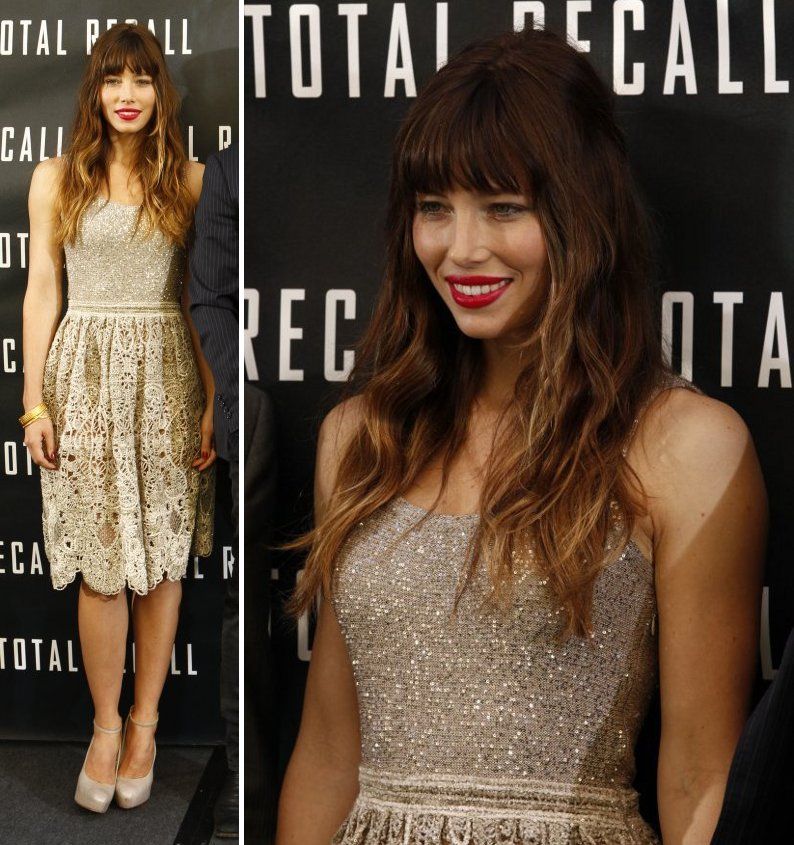 Justin Timberlake's missus Jessica Biel didn't fare much better though: she looked totally washed out thanks to the nude overdose. And those clunky Brian Atwood 'Zenith' pumps, just ruin the romantic feel of the embroidered lace skirt of the shimmering Oscar de la Renta dress, no? Ah, wish she had gone for delicate sandals, too. And what do you think of the messy 'do? I tried to like it, but failed to, unfortunately.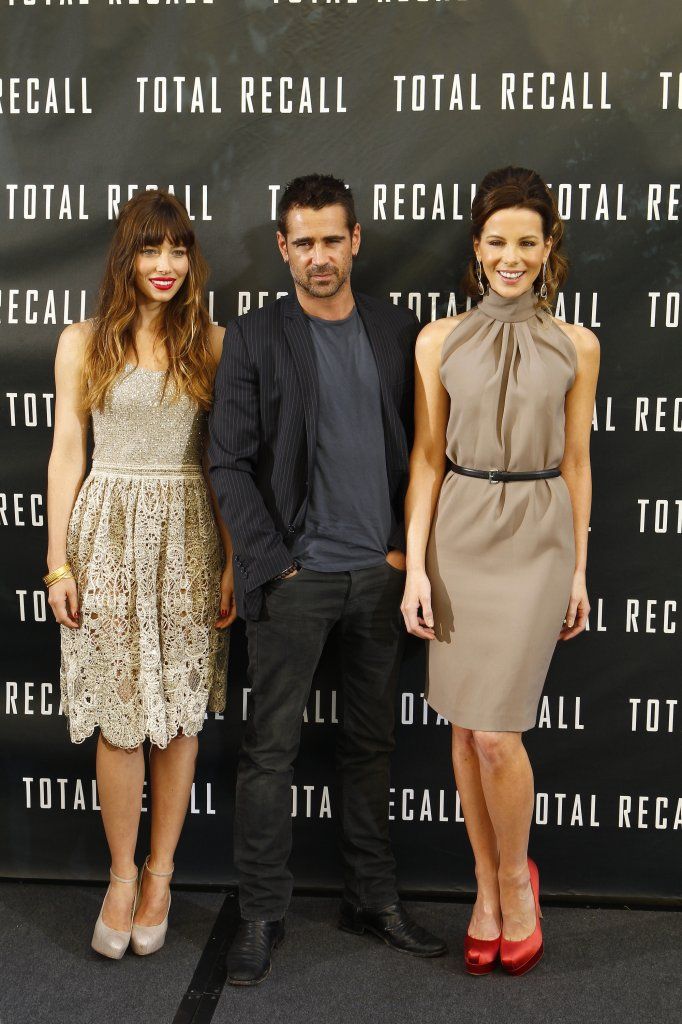 I didn't hate any of these dresses; in fact, I quite liked them, particularly Jessica's ‒ just have gripe with their styling. Now friends, over to you… Which one did you like better: Jessica's or Kate's? Do tell, do tell 🙂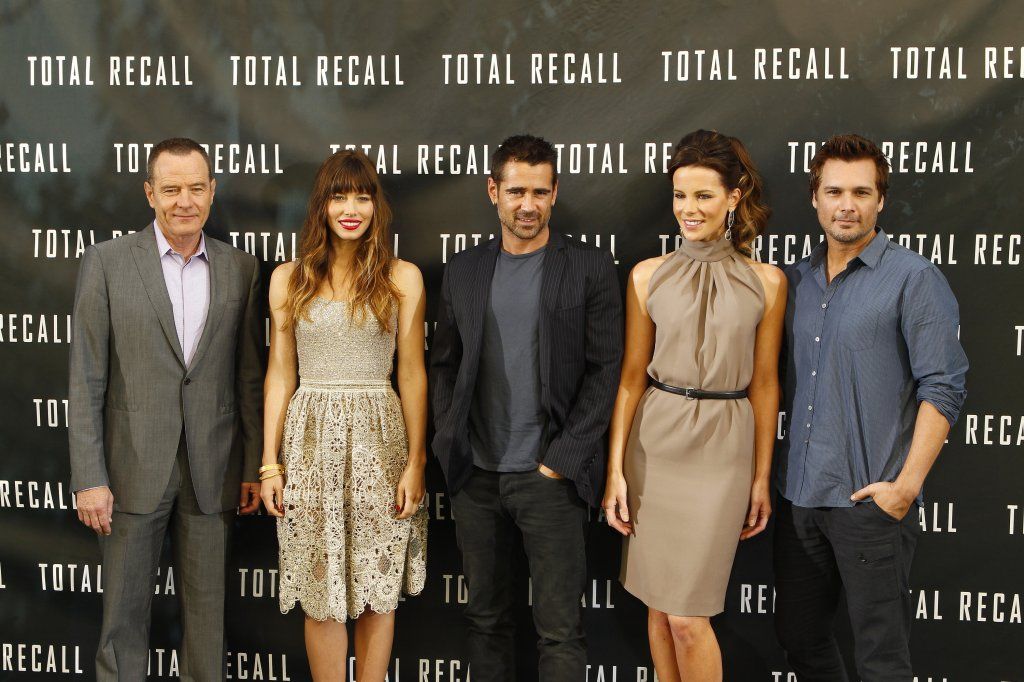 P.S. And OH! Forgot to tell: Total Recall comes out tomorrow, i.e. the 3rd of August ‒ in India too. Directed by Kate's über handsome husband, Len Wiseman, the film also stars Colin Farell, Bryan Cranston, John Cho and Bill Nighy. Here's the film summary and trailer to help you decide… 🙂
Total Recall is an action thriller about reality and memory, inspired anew by the famous short story We Can Remember It For You Wholesale by Philip K. Dick. Welcome to Rekall, the company that can turn your dreams into real memories. For a factory worker named Douglas Quaid (Colin Farrell), even though he's got a beautiful wife (Kate Beckinsale) who he loves, the mind-trip sounds like the perfect vacation from his frustrating life ‒ real memories of life as a super-spy might be just what he needs. But when the procedure goes horribly wrong, Quaid becomes a hunted man. Finding himself on the run from the police – controlled by Chancellor Cohaagen (Bryan Cranston), the leader of the free world – Quaid teams up with a rebel fighter (Jessica Biel) to find the head of the underground resistance (Bill Nighy) and stop Cohaagen. The line between fantasy and reality gets blurred and the fate of his world hangs in the balance as Quaid discovers his true identity, his true love, and his true fate.