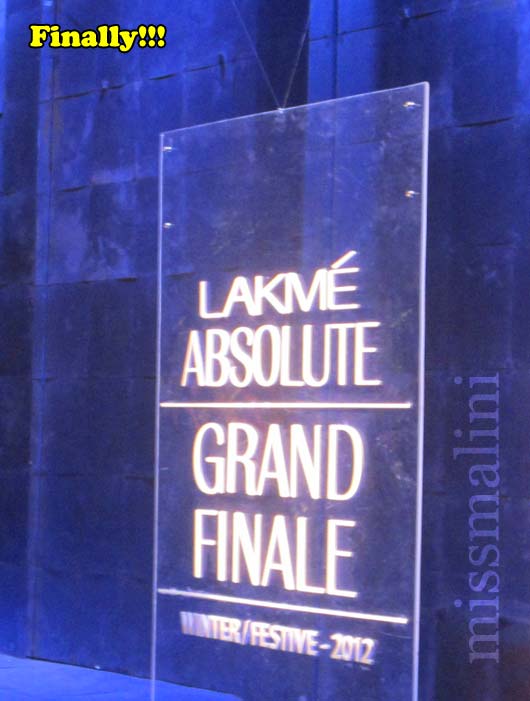 For someone as shy and sensitive as Kallol Datta, being invited onto a coveted platform where everyone will take notice and scrutinize his work, can be intimidating. But as part of Lakmé Fashion Week's Grand finale designers, he maintained his voice in his collection and gave us a show worth the hype.
In all my meetings before the show for "The Race To The Finale" series, not once did he mention what he was up to, as far as his collection was concerned, and I didn't press him. I was selfish and needed to be in that MSA soaking it in for the first time with the world. All he said to me was that, "It will be me, but a little exaggerated… but me". So it was.
The Set
Sumant Jayakrishnan, the man who designs the Grand Finale sets was overheard saying, "the set was going to be challenging but fun". At first glance, it was just huge panels of industrial steel tiles; a setting that was perfect for the designer showing. The moment the show began the backdrop panels started revolving to introduce the mirrors on the other side. It all added to a dark minimalistic kind of drama that everyone knew was waiting for them.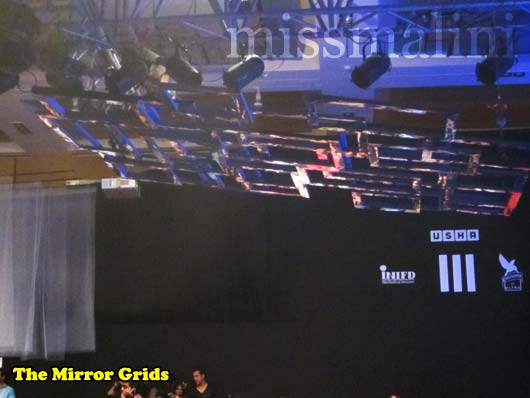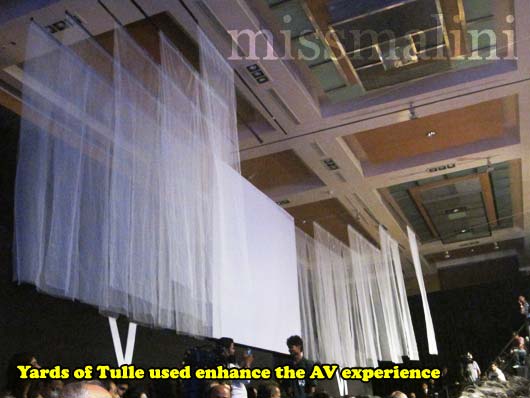 The AV screen was given a facelift with sheets of tulle arranged in ascending sizes. There were 3 installations of graphic grids with mirrors suspended from the ceiling over the runway.
The Designers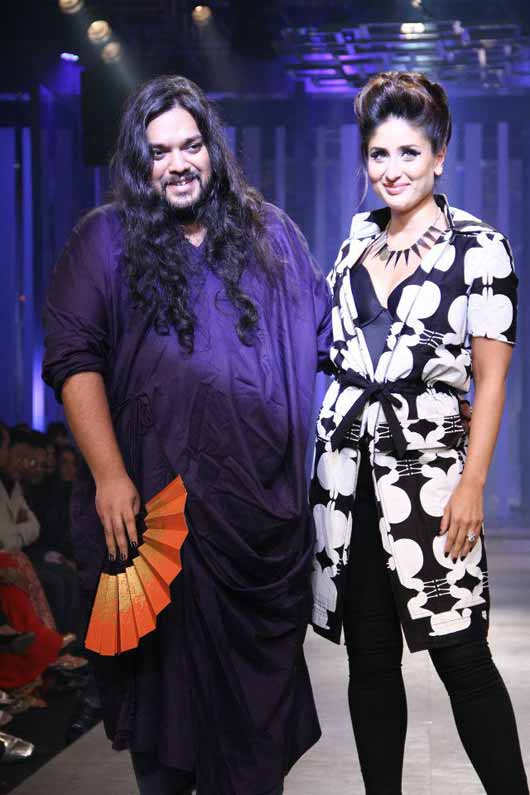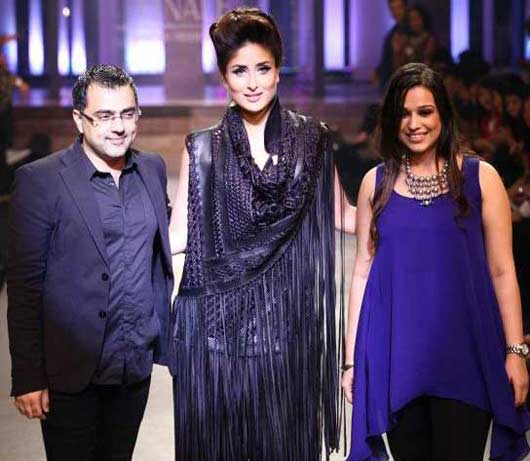 Kallol Datta and Pankaj & Nidhi are both talented visionaries in their own right. Frankly, I was very surprised and a little nervous to imagine the product as they both are very different from each other. Where Kallol's collection has an honest-to-guts back story and print heavy with avant garde silhouettes, Pankaj & Nidhi are craftsmen with their basket weaves and texture plays. Which in turn obviously meant that the audience were from two separates schools of fashion, both strong and who may or may not understand each other's sensibilities.
Once the show was over it seemed that the comparisons were bound to take place, but I'd rather not discuss that. It's simply not important, but we can celebrate their work and critique them individually, if you like!
Kallol Datta 1955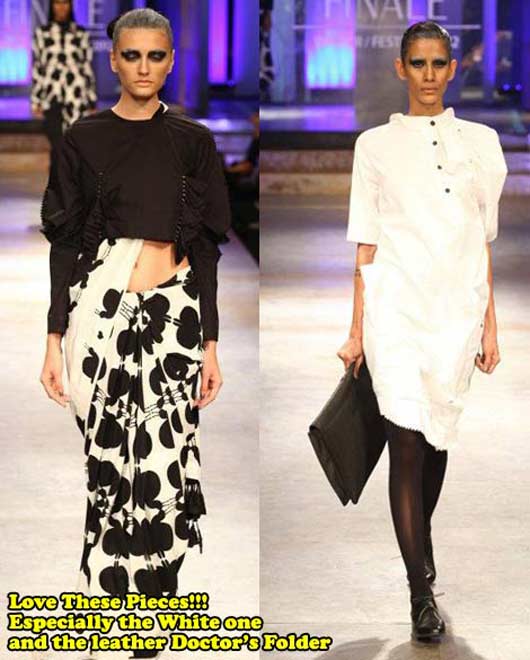 Surelee Joseph opened his show, a friend of the designer who started with him in his first Gen Next show back in 2008. Dark eyes and grey-rooted wet hair seemed like a perfect base to set the garments against. The silhouettes in his collection were all visually lean and slender. To match the Lakmé Absolute Monochrome range of products, the colour pallet was monochromatic with a few appearances of blue and brown. The press release spoke of the collection being a mélange of 4 print stories introduced by Kallol as "cuts". Snails mating, abstract artwork of safety pins and faces formed the prints in the collection.
As predicted in the Race To The Finale posts, Kallol's signature rouched tunics, shape-shift silhouettes and his own take on sari draping came onto the runway one after the other. His minimal yet intense vision was paired with all his statement details of cloth tassels, pierort ruffled collars and slashings on sleeves and sections. And, as in every Kallol Datta 1955 showing, the models wore flat shoes. It was all a part of the designer's personal take on style being easy and true to self. After all he is the ethno-grunge maestro.
No Kallol Datta 1955 show is complete without the audience leaving with a tune in their heads. Soko – I'll Kill Her was that soundtrack in the show and it was beautiful. The sad yet violent tone in the string-heavy track matched the collection's own soul and obviously it was all planned by the man.
Pankaj and Nidhi
I have loved and respected their work in the past few seasons. This time I was thrilled to meet Pankaj, who is a gentleman and extremely humble. Though we kept bumping into each other through the week, we spoke during the show rehearsal for a minute.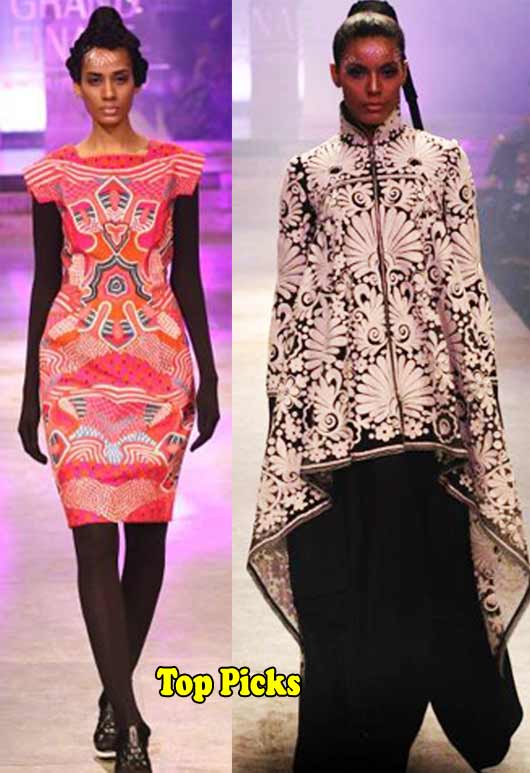 We all know the genius of the duo and the amount of work that goes into each of their garments. They can boast of winning international titles and the moment you see the patterns they create with their basket and other weaving techniques, you know why. Closing the Grand Finale, they bombarded the audience with kaleidoscopic patterns in black and white and graduating to a more coloured palette.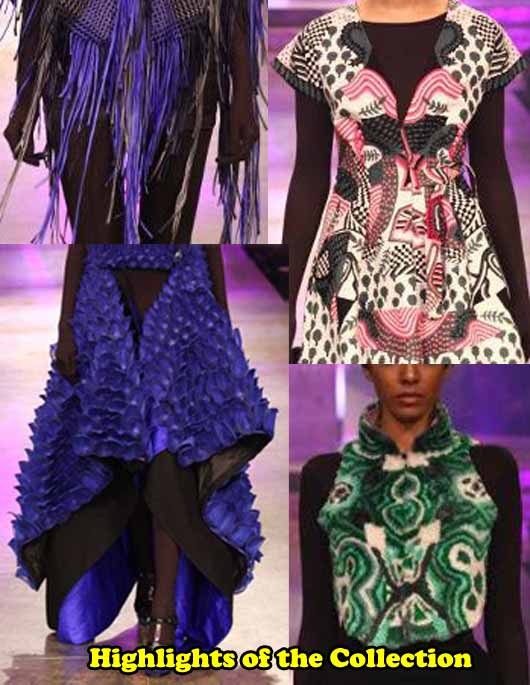 Asymmetrical jackets, huge collars and long fringes were some of the details that got a round of applause from the audiences.  The make-up was smoky eyes and a graphic design mimicking their patterns on the forehead in white. The black bodysuit formed the base of every garment and it all came together through the show. Pankaj and Nidhi did maintain their beautiful build up with every passing look.
Kareena Kapoor walks with the designers as the face of Lakmé Absolute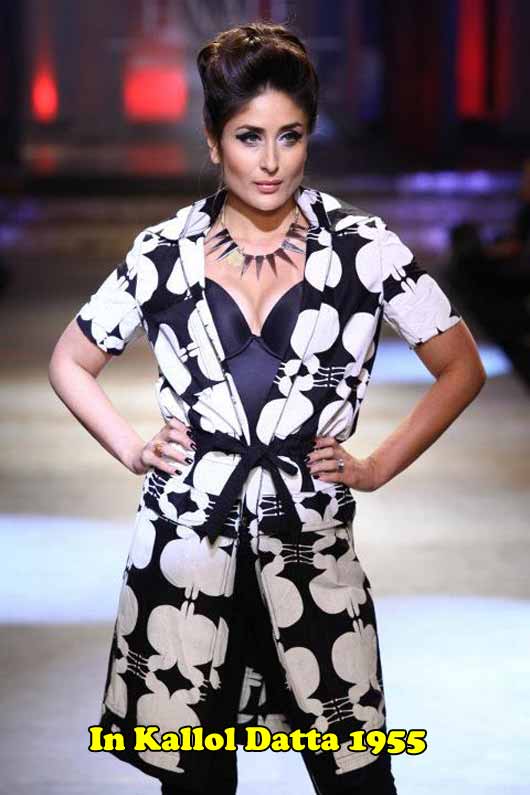 I would have never imaged Kareena Kapoor in a Kallol Datta 1955, but there she was standing in his black and white snail printed hoodie. And she almost pulled it off. But I wish she just walked relaxed rather than tarting it up. But the superstar that she is, I guess she has an image to maintain. Nevertheless, she is the face of Lakmé Absolute and she was there besides Kallol with a smile.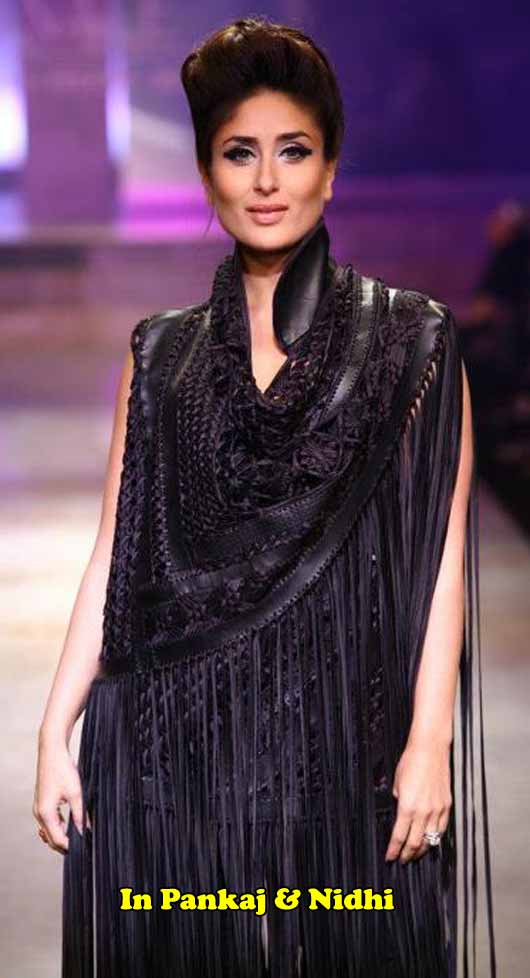 Kareena reemerged in a Pankaj and Nidhi cutwork tasseled tunic and tights. No surprise that she pulled this look off easily. The designers' ideology is easy and could blend in with Kareena's style.
If I could just say, "Kareena… experiment more… you could surprise yourself. Love the cheek bones."
The Grand Finale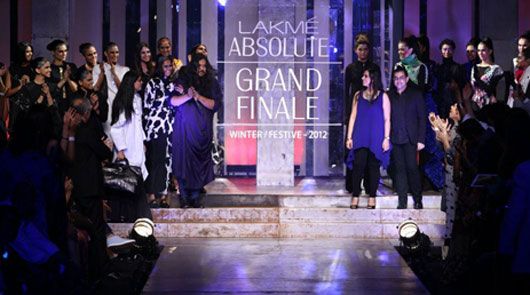 This finale was more grounded than the ones in the past, but filled with magazine editors, international fashion critics, buyers and established designer names like Krishna Mehta and Rohit Bal. As promised by show stylist, Gautam Kalra; after a long time Mumbai has seen a show that was set up to international standards. I loved that it was all stripped of fake drama and meaningless dance performances to create "illusions". It was simple, well paced and above it all, the designers showcasing were honest and didn't hold anything back. Probably the most raw and heartfelt show that literally gave us goosebumps!
Coming soon the video to wrap up the Race To The Finale With Kallol Datta.
Picture Courtesy : Lakme Fashion Week (LakmeFashionWk)