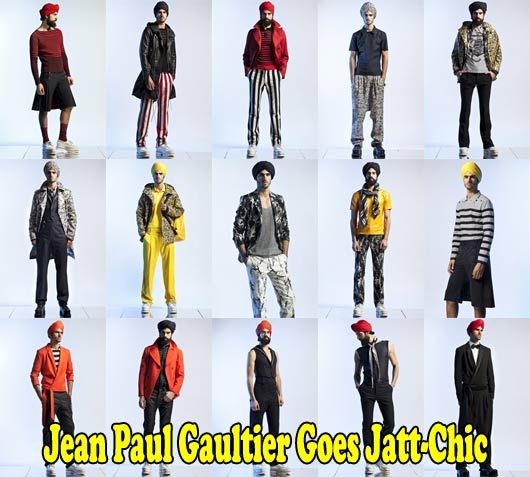 Wild guy, Jean Paul Gaultier is yet another international fashion giant who has looked to India for inspiration. This time he chose the masculine rugged look from the Sikh community. Check out what he came up with in his spring-summer 2013 collection for men. Using the raw, unapologetically masculine soul of the North Indian community, Gaultier mixes it up with his own personal edge in a more sophisticated set up for spring.
This Is Sikh-Chic!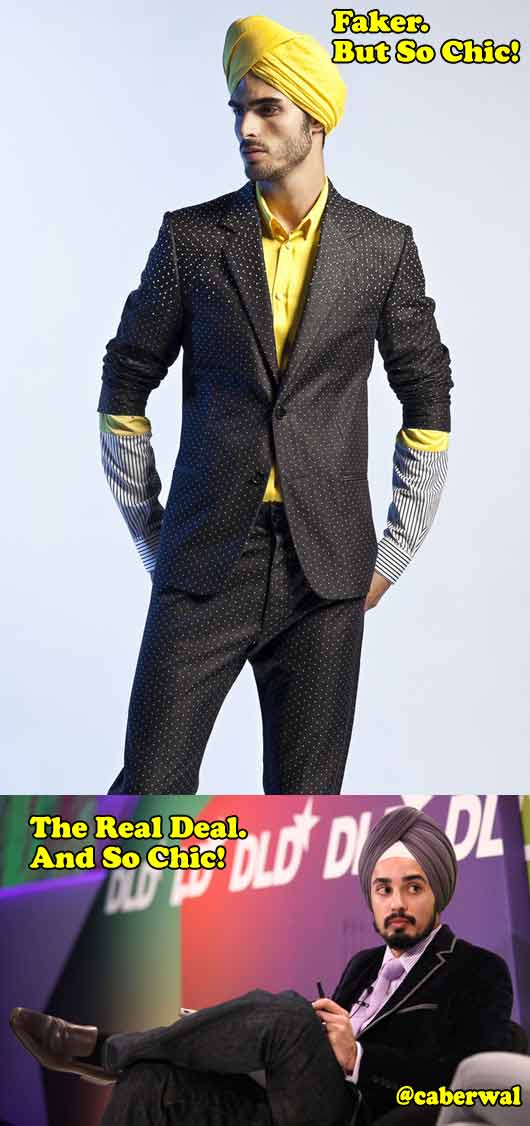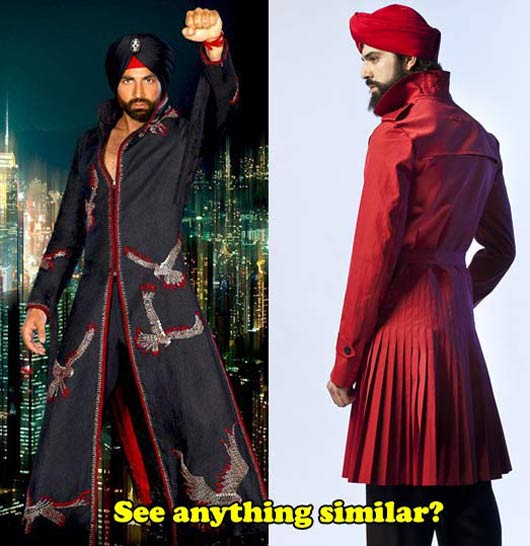 Gaultier's vision, when it comes to his garments and shows, is very image heavy. Somewhere on the same plane, the look of a Sikh man following tradition also makes a strong picture. Gaultier twists it into his own context while respecting the religious background by not going artistic crazy. Taking tips from the turban, sherwani, pathani kurtas and shalwars in more than a few pieces, the collections backbone was strong and very straight-on.
True To Gaultier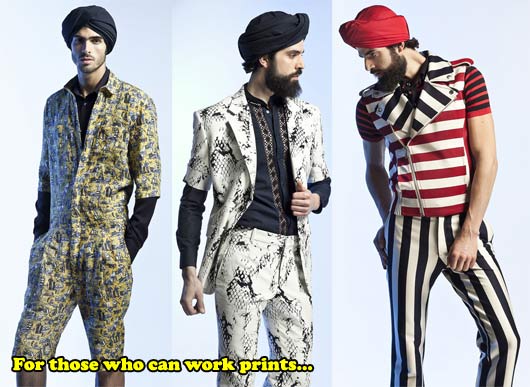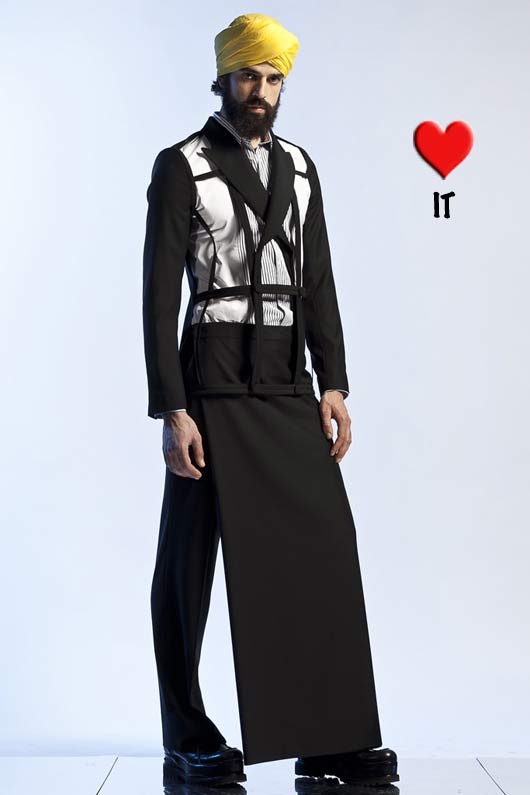 But, Gaultier's collection wouldn't complete without a touch of madness and an edge. He brought forward this statement in his crazy prints and the ever-so rock classic solid stripes that he loves. But apart from his sharp framing in the garments and how he chooses to put it together for the runway, one particular look stood apart. A half skirt with a çage-like vest over a white shirt sure did its trick. Gaultier is know for his absurd mind evolving Madonna's costumes and he definitely wouldn't hold it back in his own collection now, would he?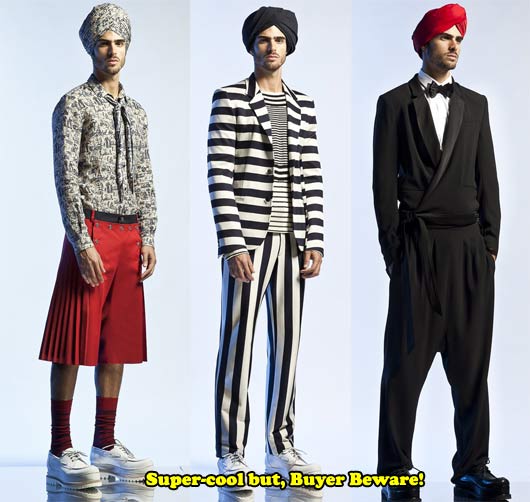 Through the collection, there were 3 pieces that will need a strong confident man to do them justice. The pleated red 3/4 pants and the nautical striped series of garments will be tough to pull-off if you are someone who follows the pack. Especially when it comes to the 'formal' overalls,  as cool as it looks, it can easily fall flat in the wrong guy.
Top Pick In The Collection
(If you must get your hands on it for Spring.)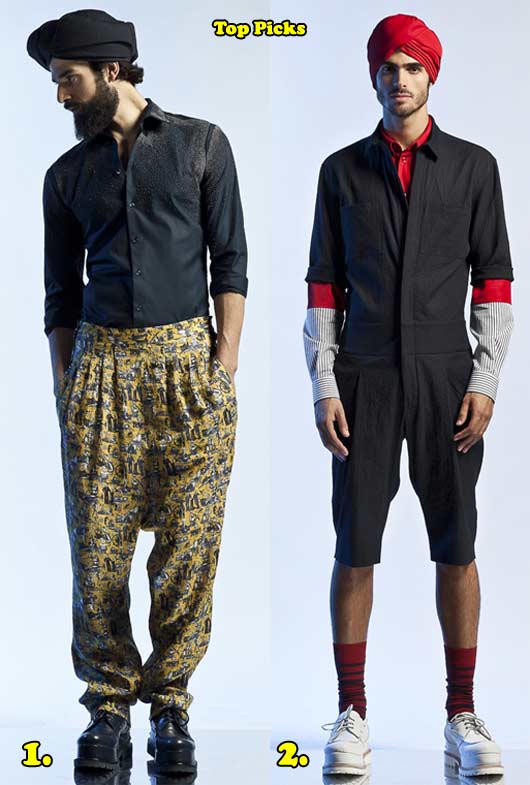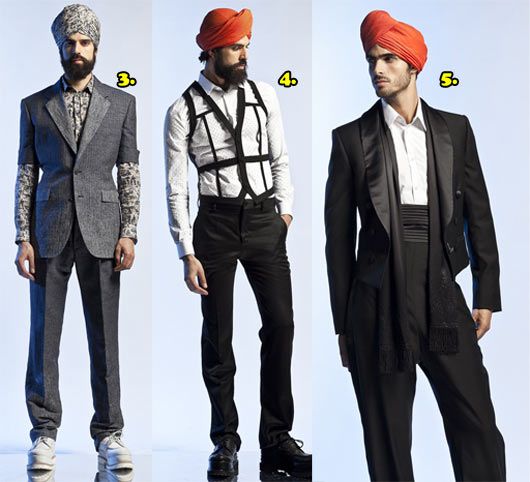 1. The printed 'pathani shalwar' drop-crotch pants
2. The cropped charcoal overall
3. The Grey half-sleeves suit with the printed shirt
4. The 'caged' waist-coat
5. The Jean Paul Gaultier spring/summer 2013 tuxedo.
In an overview, Spring/Summer 2013 for men at Jean Paul Gaultier looks good enough to eat. Clean yet edgy and globally fashion forward. for more on fashion and style, reviews, trend spotting and tips stay tuned on MissMalini.com!