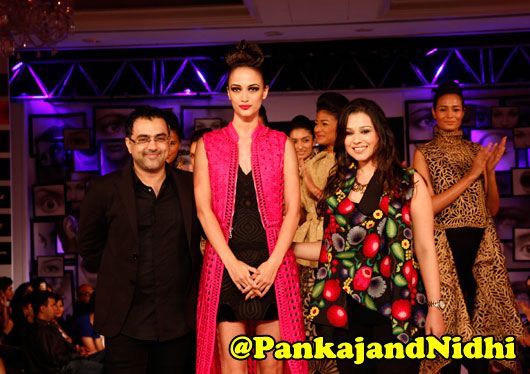 Pankaj & Nidhi are a force to be reckoned with. The husband and wife duo first met as colleagues when they were working under Rohit Bal and have successfully built up a brand. We caught up with them to talk all things fashion.
TeamMissMalini: Tell us a bit about your collection for Blender's Pride entitled The Liquid Gold Tree.
Pankaj&Nidhi:  It's a mesmerizing melting pot of ancient cultures and modern craft. A hypnotic vision in black, gold and precious colours like fuchsia quartz and agate blue. Executed with the precision of a goldsmith and the flair of a baroque sculptor. Incorporating our unique textures and detailing in luxurious silks, leather and fine merino wool. A collection that's meant to be timeless and treasured.
TeamMM: What do you think has been the biggest change in the Indian fashion industry?
P&N:The biggest change has been in the Indian consumer itself – the consumer is much better informed about fashion in India and globally. This has happened because a revolution in terms of retail, media, social networking and of course the internet – Blogs and sites such as MissMalini and HighHeelConfidential are point in case.
TeamMM: This year has been quite a high point for the both of you, regional Woolmark  winners, Grand Finale designers for LFW and being one of the sixth finalists for the Vogue Fashion Fund –  do you feel like you've entered the big league?
P&N: This year has been very special for us and probably one where we'll look back at as being one of those years which proved to be a turning point in our careers. We're excited and super charged with whatever has happened till now and what the future will bring.
TeamMM: What are the biggest mistakes Indian women make when it comes to fashion?
P&N: Not dressing to their body types and not paying enough attention to accessorization.
TeamMM: Mumbai or Delhi, which city do you think is the fashion capital of India?
P&N: Delhi is the design capital of India and Mumbai is the glamour capital!