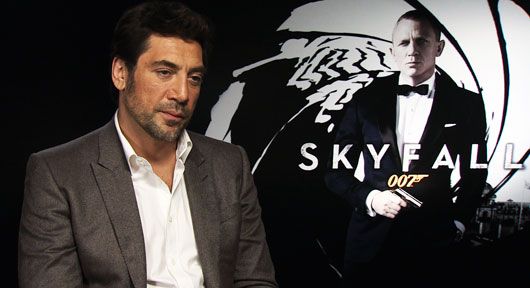 He's been called the next Marlon Brando by some film buffs, and directors who work with him consider him among the best actors on the scene. On tonight's episode of The Front Row with Anupama Chopra, Spanish actor Javier Bardem discusses the upcoming James Bond film, Skyfall, and his views on acting. Read on to see an excerpt from tonight's show.
Anupama Chopra: "You've been called this generation's Marlon Brando. Director Julian Schnabel said you are one of the greats alongside Jack Nicholson and Al Pacino. And yet you can barely stand to watch yourself on screen. Why?"
Javier Bardem: It's funny this thing about 'Brando', because every year there is a new 'Brando'. There is only one Brando in the world and I don't think anybody will ever match him. I am always saying that the joy of performing doesn't have anything to do with the joy of watching that performance. They are two different games. So you do your thing and forget about it.
Javier and Daniel Craig were spotted recently at the Royal premier of Skyfall, and both were definitely looking the part!
Audiences are eagerly awaiting the release of Skyfall (Nov 1st in India), especially with the highly praised theme song by Adele. Here's the latest trailer showcasing her song.
Watch "The Front Row with Anupama Chopra" on October 26th at 8:30 pm on Star World for the full conversation with Javier Bardem. For more details on the show, log on to their website (www.thefrontrow.starworld.in) or follow them on Twitter @thefrontrow2012 and on Facebook at thefrontrowwithanupamachopra