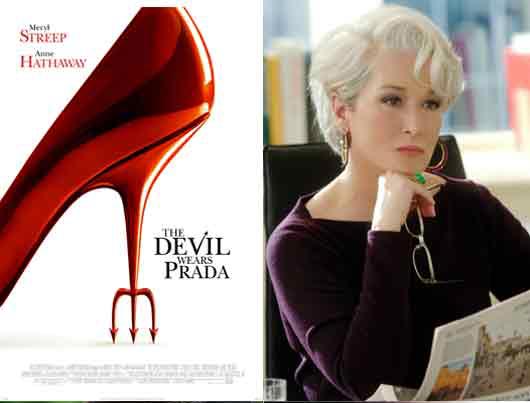 Gather around the screen, fellow fashion and film buffs. If you like fashion in films or even better, feature films based on fashion, you can't have missed these 5 movies.
1) The Devil Wears Prada (2006)
This classic fashion film is a screen adaptation of a book of the same name, which is based loosely on fashion's high priestess/she-devil, Anna Wintour. Meryl Streep's outstanding performance as the tyrannical Editor-in-Chief, Miranda Priestley thrives on making her assistants and employees' lives a living nightmare, while maintaining an untouchable status throughout the film.
2) Coco Before Chanel (2009)
The movie talks largely about the life of Coco Chanel, before the founding of her fashion empire. Taking viewers into the life of young Coco and introducing them to the woman behind the name, Audrey Tautou plays Coco in a manner that is both endearing and empowering.
3) Gia (1998)
This is a biographical portrayal of the life of fashion model Gia Carangi, who lost her life in her battle with heroine addiction and AIDS. One of Angelina Jolie's strongest performances till date, this film talks about the strength, the trials and the tribulations of Gia through her years with respect to her addictions, career, love interests, sexuality and their inter-relations.
4) Factory Girl (2006)
Sienna Miller plays the part of Edie Sedgwick, underground starlet and muse to artist Andy Warhol (played by Guy Pearce) in this 2006 flick. Miller delivers a flawless performance, showcasing all of her character's build-ups and break-downs adorned in 60's shift dresses and smokey eyes. The film is a look into the underground art and pop culture scenes of the time, but more importantly, the dysfunctional relationship between an eccentric artist and his fragile muse.
5) Brüno (2009)
Sacha Baron Cohen's comical genius turns into the fabulous and scandalous character Bruno in this 2009 mockumentary. While playing off pretty much every stereotype of a gay fashion reporter from Austria, Cohen steers the film through various politically incorrect and traditionally taboo topics. While this one is sure to make you squeam as much as it makes you laugh (if not more), some scenes in the movie make it worth a (mindless) viewing.
Hope you enjoyed this fashion quickie of sorts. Be sure to tell us about your favourite fashion film. Maybe we've seen it – or maybe we need to see it next!