I think it was fate that led me to Vinoteca by Sula to celebrate Hardy Wine Company's 10 years in India.  Last week I discovered Hardy's wine while my family was vacationing in Goa.  I had never tried their wine and was very impressed with the smooth taste of their Cabernet-Shiraz.  Also, for such a good imported wine, it was very affordable.  We ended up ordering the wine two nights in a row during our holiday!  I had also taken a photo of the wine bottle so that I could try to find it when we returned to Bombay.  I wasn't actually expecting to find it, since the bottle in Goa was "For sale in Goa only."  You can imagine my surprise when I was invited to attend the very same Hardy's Wine Company's anniversary when we returned.  I couldn't believe the coincidence or my luck!  Hardy's, we were meant to be. 🙂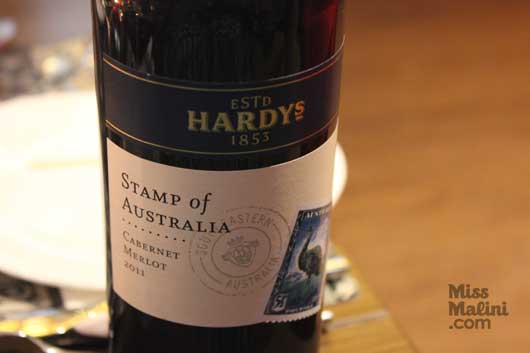 Cecilia Oldne, Global Brand Ambassador at Sula Vineyards, put together a wonderful event at Vinoteca by Sula.  Vinoteca by Sula is an intimate wine and tapas bar with a beautiful bottle light fixture and a cozy atmosphere (I think it's a great place for a date). Cecilia welcomed Catherine Gwynne (Regional Manager-Americas, Middle East, Central Asia & Africa of Accolade Wines (Hardy's) and Steve Waters, The Australian Consul General.  Also spotted at the event were Jade Jagger, Bandana Tiwari and designer Mathieu Gugumus Leguillon.
We were presented with a tasting of the 2011 Hardy's Stamp wines, paired with a wonderful assortment of Tapas.  Chef Silvia Grimaldo (a Spanish Native) of Vinoteca by Sula prepared the Tapas.  The Tapas included a Cheese Platter with a Dill Hummus, Roasted Peppers with Goat Cheese and Mushrooms with Blue Cheese on toast, Patatas Bravas, Mini Lamb Burgers, and Chicken Croquettas.  The Dill Humus was very refreshing and went very well with the sparkling wine.  I also enjoyed the salty mature cheeses and the spicy Patatas Bravas, which paired nicely with the red wines.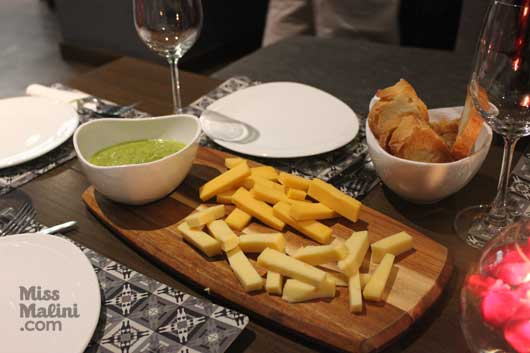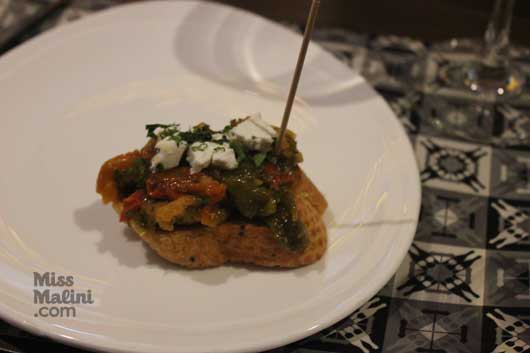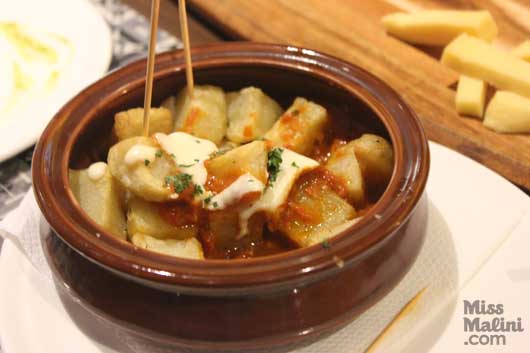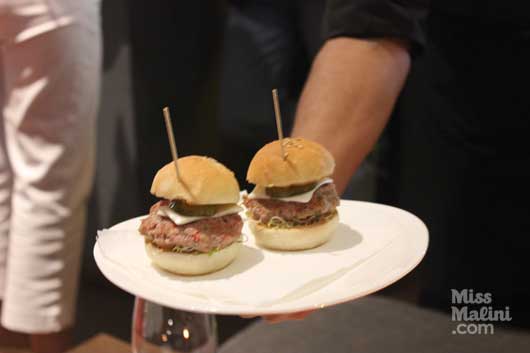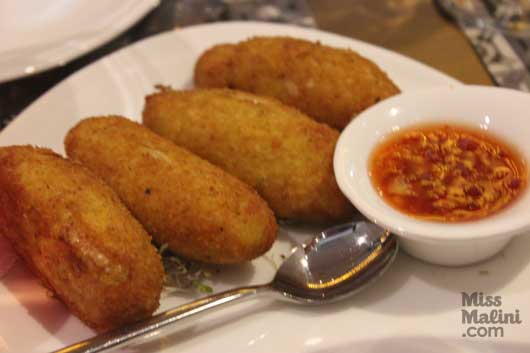 The tasting included Hardy's Stamp Sparkling Chardonnay-Pinot Noir, the Riesling-Gewurztraminer, the Chardonnay-Semillon, the Cabernet-Merlot and the Cabernet-Shiraz.  The sparkling Chardonnay-Pinot Noir was a perfect start to the tasting, with the light bubbles cleansing your palate and opening your taste buds.  I found all of the wines to be delicious, but the Chardonnay-Semillon was my favorite of the white wines; clean and crisp, with just a slight citrus sweetness.  It reminded me of a lazy summer day.  My favorite of the red wines was, of course, my fated Cabernet-Shiraz. 🙂  It's a perfect medium bodied, soft dinner wine with hints of berry.
Here are a few facts that I did not know about Hardy's and Sula wines.  The Hardy's Stamp range of wines has actually been a part of the Sula Selections portfolio for 8 years.  Sula Selections is the import branch of Sula Vineyards and also the 5th largest importer in India.  Finally, the Hardy's Stamp range has over 150 years of wine making experience and goes perfectly with India's spicy cuisine.   I highly recommend you try the Hardy's Stamp wines and check out Vinoteca by Sula.