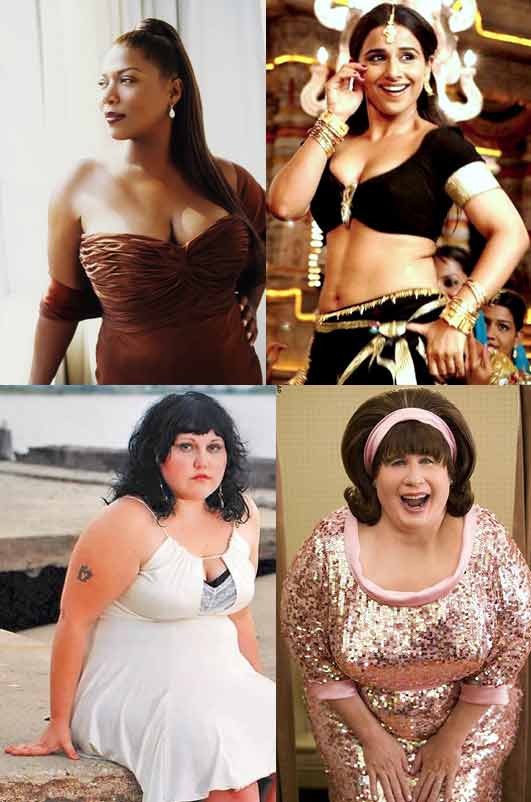 I was was watching Chicago the other day, and couldn't help but be amazed at Queen Latifah's sexy solo in the movie. So, here's presenting a few videos that celebrate real women with real curves. Below are 5 videos, including one with a familiar Hollywood A-lister as a 'big, blonde and beautiful' woman!
1) Queen Latifah As 'Mama' in Chicago
Catch Queen Latifah working a sexy gold wrap number, while she sings about being 'good' to her to let her be 'good' to you! The video showcases Latifah's saucy side and a very confident woman in full control of her sexuality.
2) Beth Ditto from the band 'GOSSIP'
She is big, bold and belts out a heavy sound with her band, Gossip. Beth Ditto is known for three things, her music, her BFF Kate Moss and her sexuality of the unapologetic kind.
3) John Travolta in 'Hairspray'
Sexy John Travolta plays a woman in the 60's ashamed of her size. In this song from the musical, she steps out for the first time and enjoys life in her own skin, embracing her size and beauty!
4) Vidya Balan as Silk Smita
Vidya Balan along with costume designer, Niharika Khan, took back the torch from skinny framed actresses.  Through her strong character portrayal, she shut all mouths that passed personal statements with respect to her public appearances and encouraged a much needed change in perception towards 'sexy' in Bollywood.
5) Big Girl, You Are Beautiful!
Now to tie the strings together with Mika. The track speaks for itself!