Andrea Brown of Team MissMalini recently spent a week touring Tuscany, Italy, sampling the region's delicious wines and famous cuisine. Here's the third of her travelogue series on Touring Tuscany!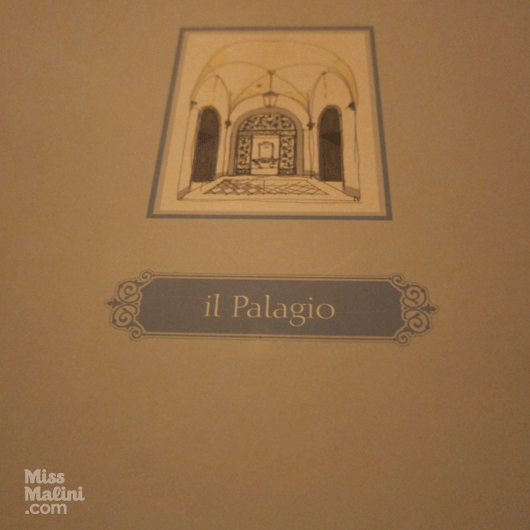 If I had to choose one word to describe the dining experience at Il Palagio located in Four Seasons Hotel Firenze, it would be impressive.  Luxury oozed from every aspect of the restaurant, from the elegant décor and high vaulted ceilings to the eloquently spoken staff and perfectly presented dishes. The dining experience at the Michelin Star rated Il Palagio was sure to be as visually pleasing as it would be appetizing.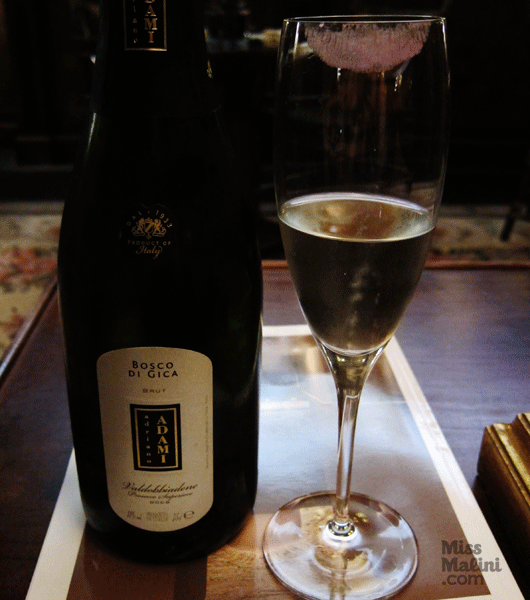 My favorite dish was hands down the seasonal appetiser using poricino mushrooms, with the sorbet that acted as a pre-dessert coming in a very close second. My main course of roasted wild sea bass was sadly not up to the mark and even deemed overcooked by two of my dinner companions. Their award winning cavatelli pasta did not have me jumping out of my seat, but I thoroughly enjoyed the baby squid that laid on top.
My menu in photos:
The variety of bread could be a course of its own.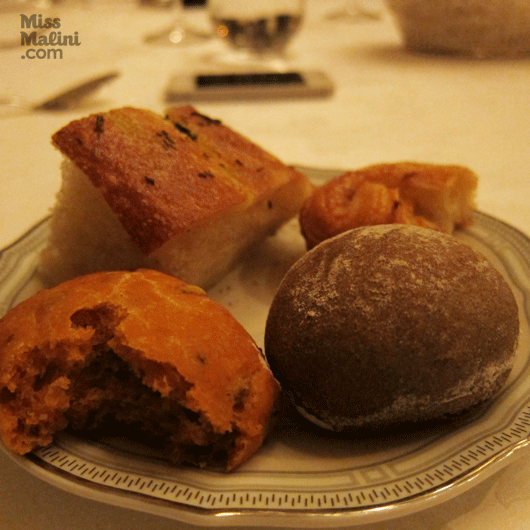 Chef's Tasting Dish: Parmesan Flan with Quail Egg and Creamed Spinach. Superb use of colors!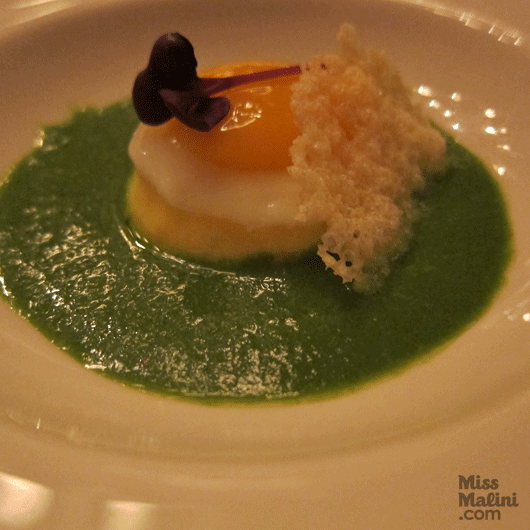 Seasonal Appetiser: Poricino Mushroom, Parmesan and Spinach Salad. My favorite dish of the night!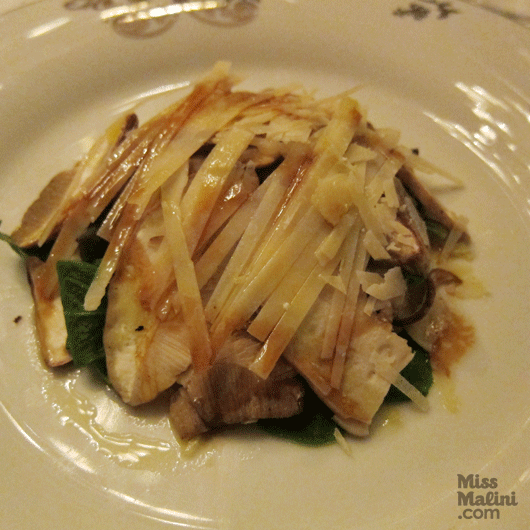 First Course: The award winning Cavatelli Pasta 'Cacio e Pepe' with Marinated Red Prawns and Baby Squid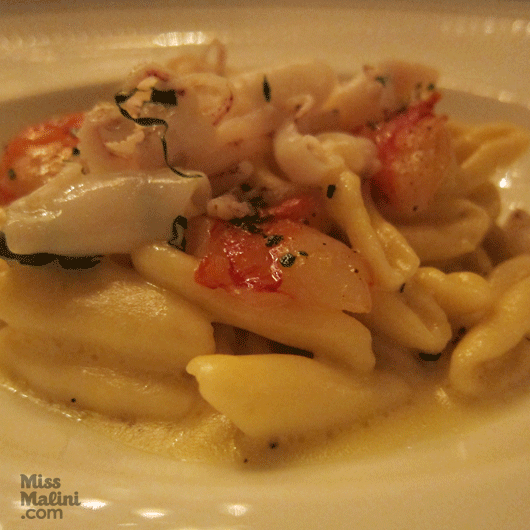 Main Course: Roasted Wild Sea Bass Fillet with Crushed Tomatoes Confit and Artichokes. My least favorite dish of the night.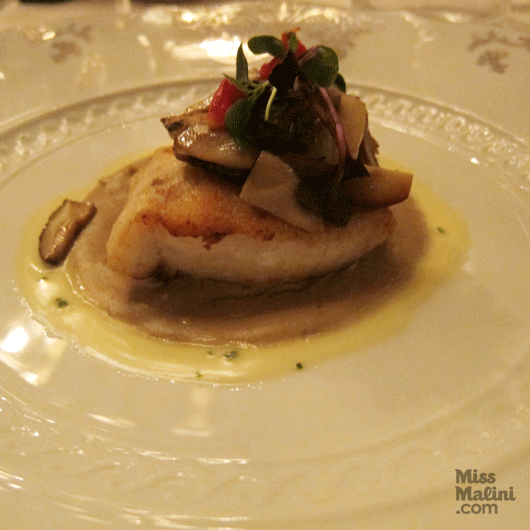 Pre-dessert: Fresh Raspberry and Passion Fruit Sorbet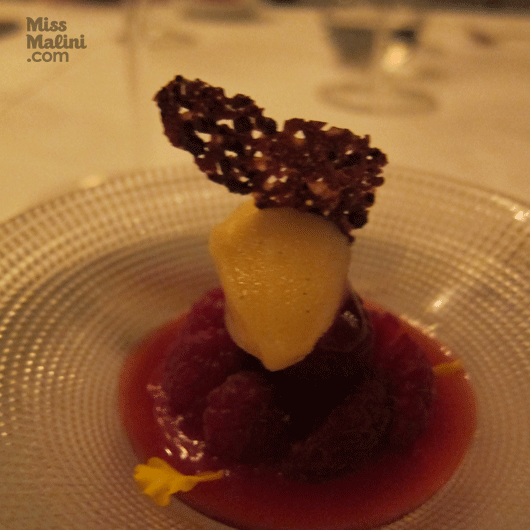 Dessert: 'Amedei' Dark Chocolate Cremoso with 'Amarelli' Liquorice Meringues and Sassolino Liquer Ice Cream. This dessert was outstanding. The perfect mix of flavors and textures.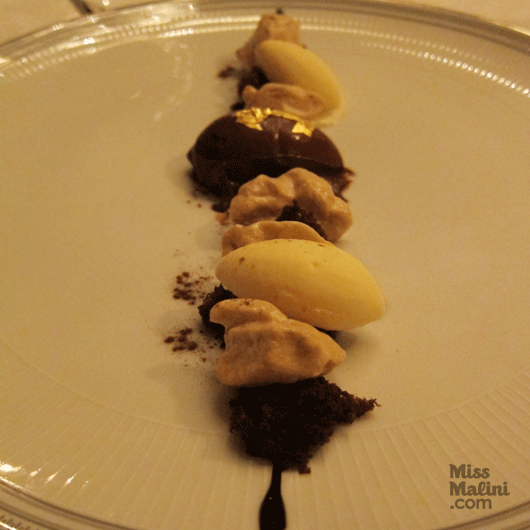 Post Dessert: Assorted Sweets courtesy of Il Palagio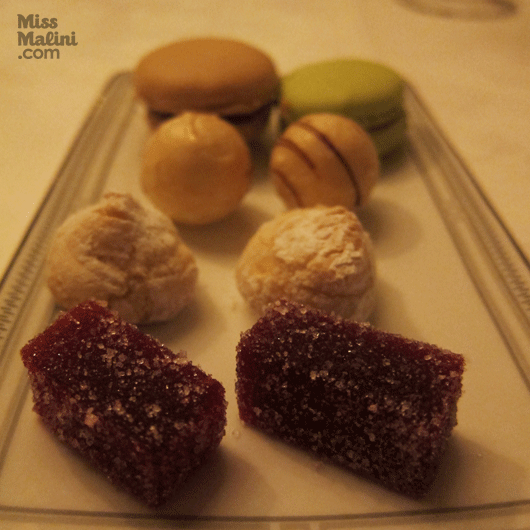 I may have also had a bite or many of this delectable dessert as well: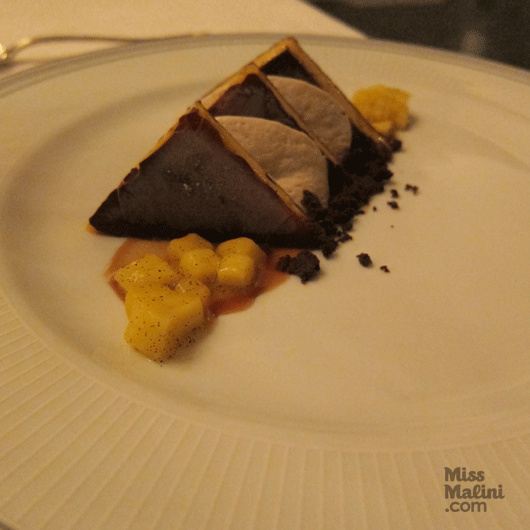 If you find yourself in Florence, Il Palagio is a dining experience not to be missed!
Up next: Touring Tuscany: Part IV – Hotel Lungarno
See also:
Touring Tuscany: Part I – A Toast to Montepulciano!