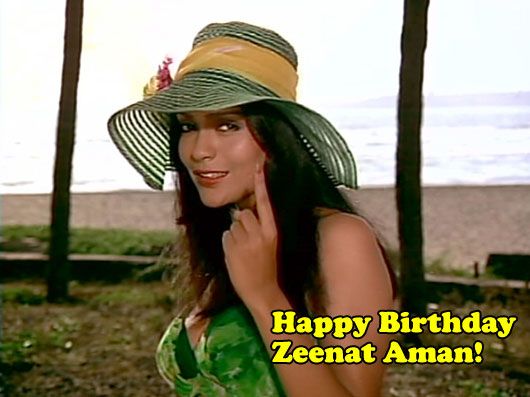 Zeenat Aman was a trailblazer in Bollywood. She was the first actress to kiss and wear a bikini on-screen way back in the '70s. Talk about creating a storm! She put the sex in sexy with her risqué outfits which featured thigh-high slits and deep necklines. In fact, during the late '70s she alongside dream girl Hema Malini was one of the highest paid actresses. On her 61st birthday I've rounded up her top 3 most iconic film looks.
1) Busting out in a Bikini in Qurbaan.
It's not easy to don a bikini on-screen especially back in 1970s when India was a lot more conservative. But Zeenat managed to pull it off with aplomb and kept is classy! Now that's no easy feat.
2) The Hippie Look in Dum Maaro Dum
The '70s we can say were err… free spirited? Pioneering the hippie look miss Aman rocked poker straight locks, oversized sunnies and a pretty tunic/kurta style top. But for a real taste of desi-cool was her bindi. This look was aped by countless Indian women and goes down in history as one of the most iconic songs in Bollywood.
3) Rocking the Maxi in Chura Liya
Choker. Check. Big Hoops, Maxi Dress. Check and Check. Zeenat epitomized the eras glam swaying in a gorgeous white maxi-dress strumming a guitar serenading Vijay Arora in the movie Yaadon ki Baraat.
Which look according to you is the most iconic?