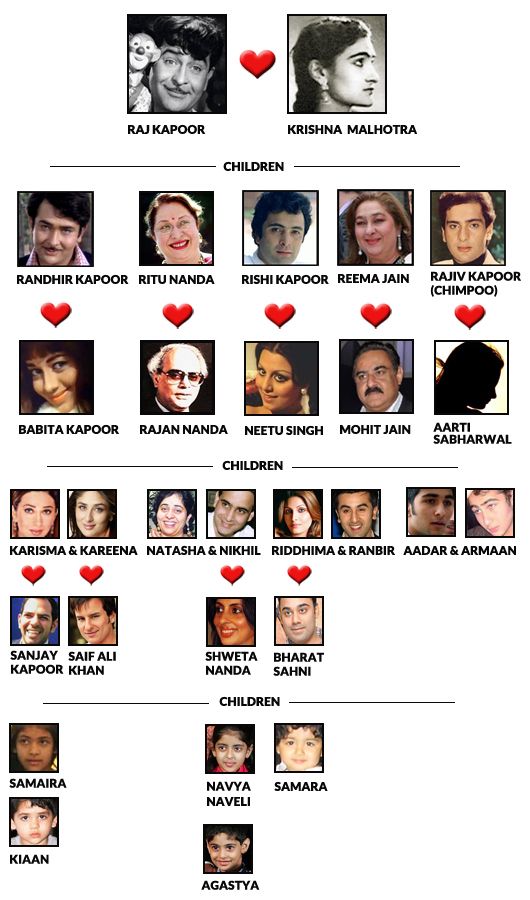 As I was blogging about Ritu Nanda'sNew Year's Eve party it occurred to me that a Kapoor family tree might help clarify this complicated lineage! I'm guessing you knew most of these connections but I found a few particularly intriguing. Like for instance I didn't  realise Shweta Bachchan Nanda was connected to the Kapoor family by marriage. Especially since the massive fallout between the Kapoor and Bachchan's over Karisma Kapoor and Abhishek Bachchan's broken engagement must have made extended Kapoor family occasions a little weird, no?
Amazing how much Karisma resembles her mom Babita Kapoor, especially that smile! I also noticed that Samaira Kapoor has light eyes! Are we thinking next generation Bollywood perhaps? Aadar & Armaan Kapoor are growing up fast and I'm guessing the Kapoor clan will continue it's filmy pursuits for generations to come.
PS. Raj Kapoor's two brothers Shammi Kapoor and Shashi Kapoor were also big in Bollywood. I thought Rajiv Kapoor (Raj's youngest son) looked so much like Sammi that I initially had them confused until I realised this was good ol Chimpoo! *lol*
Cute how Riddhima Sahni and Karisma Kapoor named their daughters Samara and Samiara isn't it? I wonder if that was planned?
Any other interesting observations of the Kapoor family tree that come to mind? Leave me a comment below!
Psst! There's more on the family tree extensions here on Wikipedia.