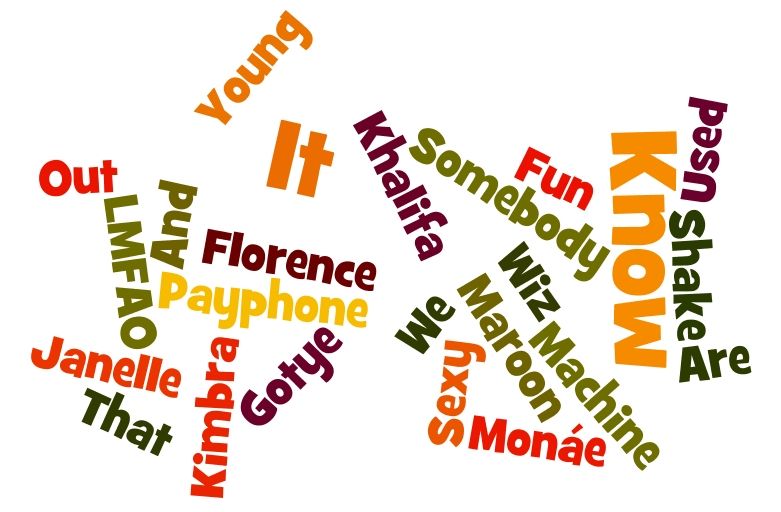 The 55th Annual Grammy Awards will be telecast LIVE on Vh1, courtesy of NESCAFÉ. Tune in: Feb 11th at 6:30 am for LIVE telecast, and 9 pm for a primetime repeat.
Today, I'm filling you in on the Grammy nominations for Best Pop Duo/Group Performance, a new category introduced last year combining the previous categories for Best Pop Collaboration with Vocals, Best Pop Performance by a Duo or Group with Vocals and Best Pop Instrumental Performance. Amy Winehouse & Tony Bennett were the inaugural recipient of this category for their duet Body and Soul.
1) Shake It Out by Florence + The Machine
The second single from the Florence + the Machine's second studio album, Ceremonials, Shake it Out was voted the best track at the 2012 NME Music Awards.
Florence Welch says the song is about "getting through something or seeing the light at the end of the tunnel."
2)We Are Young by Fun ft. Janelle Monáe
Three Grammy nominations… Blimey!
3) Somebody That I Used To Know by Gotye ft. Kimbra
The song, which finds Gotye addressing an ex-girlfriend and reminiscing about their relationship and break-up, was the most streamed song of 2012 on Spotify.
Kimbra, btw, was not Gotye's initial choice for the female vocals. In his words,
"There was a vocalist who was quite high profile in Australia who was all set to do it and then cancelled the night before we were going to do the vocal session. In fact, we met at a festival months later and she was just like, 'Maybe that was a mistake.'"
Gotye spent five months looking for the right voice for the song, even trying his girlfriend, Australian singer-songwriter Tash Parker, but her voice wasn't right for the tune. Eventually, Kimbra was recommended by the song's mixer after he'd produced her debut album Vows.
"Kimbra has so much she can do with her voice. On the one hand I feel like she's able to channel all these great jazz vocalists but then with 'Somebody That I Used To Know' what I was really looking for, I just wanted it to be raw and direct. I wanted to hear singing sort of trying to tap into the feeling of it and she did that."
4) Sexy And I Know It by LMFAO
In this catchy track, SkyBlu and Redfoo of LMFAO rap about how girls can't resist their unorthodox style in a comically boastful manner similar to Right Said Fred's I'm Too Sexy 20 years previous.
5) Payphone by Maroon 5 & Wiz Khalifa
Maroon 5 frontman Adam Levine sings in a downbeat mood as he reminisces about a failed relationship.
When asked by the British newspaper The Guardian why so many people relate to the song, given that they barely use payphones anymore, Adam replied,
"I think in the age of the cellphone, the payphone has transitioned from this thing we used to use on a very regular basis to this thing that is only associated with being used by someone under duress or in an emergency. If you're using a payphone that illustrates the point that you're struggling somehow or you've lost your cell. You're stranded. It indicates something much more than it used to mean, and that's kinda cool."
Who gets your vote then? Mine goes to Gotye!!
For more join the Twitter conversation #GrammysWithVh1