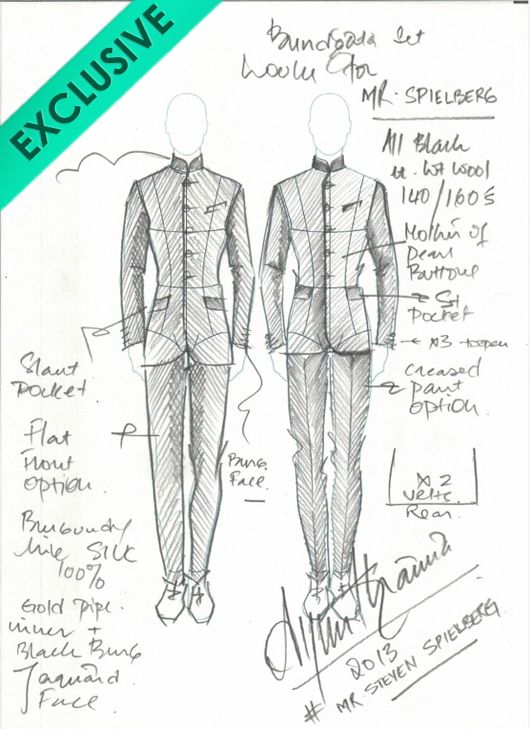 "It's a classic black bandhgala set, with lots of signature Arjun Khanna fine detailing. It has a burgundy lining with inner gold piping and a burgundy/ black jacquard facing, finished with mother-of-pearl buttons."
Look what I got my hands on! A sketch of Steven Spielberg's bespoke outfit created by Arjun Khanna! And to top that after a hiatus of four years Arjun will also be showing at Lakmé Fashion Week this season! Woohoo 🙂
Arjun Khanna designs for Mr. Spielberg!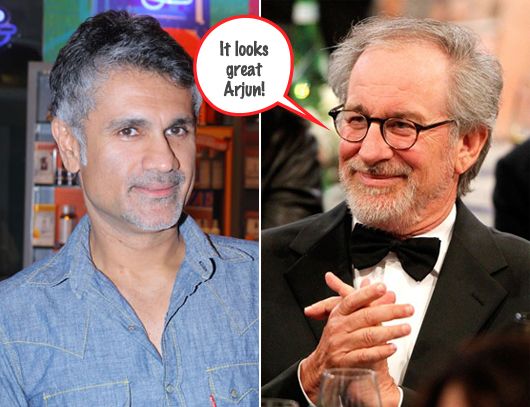 Isn't that awesome? Arjun Khanna created a custom ensemble for the Hollywood legend. Apparently he was asked to do it as a gift by a common friend and when he found out that it was for Mr. Spielberg he said he'd do it free of charge along with a personal note. And voila this bandhgala came to life!
The outfit was personally delivered to Spielberg in Los Angeles late last month and Arjun is currently hoping the measurements were correct since they were provided by a third party, if hey are chances are Mr. Spielberg will be seen in this Arjun Khanna original at a dinner party that Anil and Tina Ambani have organised in his honour at their home on March 12. Yes he's coming to Mumbai on a four day trip since Reliance ADAG had entered into a joint venture with Spielberg's DreamWorks Studios in 2009.
Arjun playing it safe says, "Yes, I was recently commissioned to create a special outfit for Mr Spielberg, but I am honestly in no position to answer when and where he will wear it."