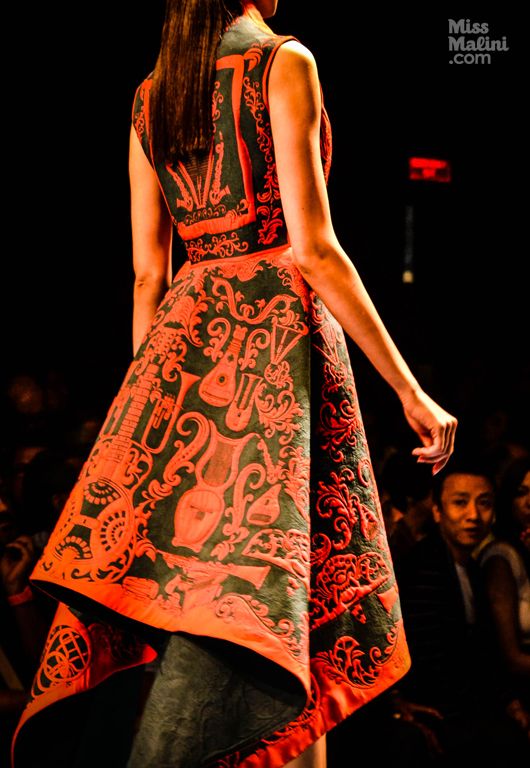 So Fashion fever has hit the Capital as Wills India Fashion Week Fall/Winter 2013 Edition started today. Stalls were up in time, shows did not run too late and most ran to a full capacity. There are some shows that wowed me, and others where I wonder why I was even bothering to even take notes. Print was a huge trend, black as always was popular and there was lots of colour be it neon, red or emerald green.
Here are my top five picks of the day!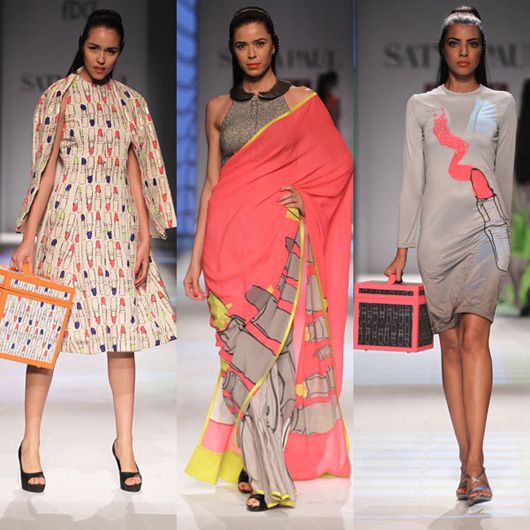 1. The opening show went to Satya Paul, and since it was their new fashion director's Masaba Gupta debut expectations were high. The trousers sari had once upon a time been a Satya Paul innovation and Masaba brought it back with her own take—the suspender sari. Neon suspenders over a pre draped trousers, young, fun and easy to wear. I have a feeling you will be seeing a lot of this is most fashion mags. Hope to see more innovations on this drape in "the week".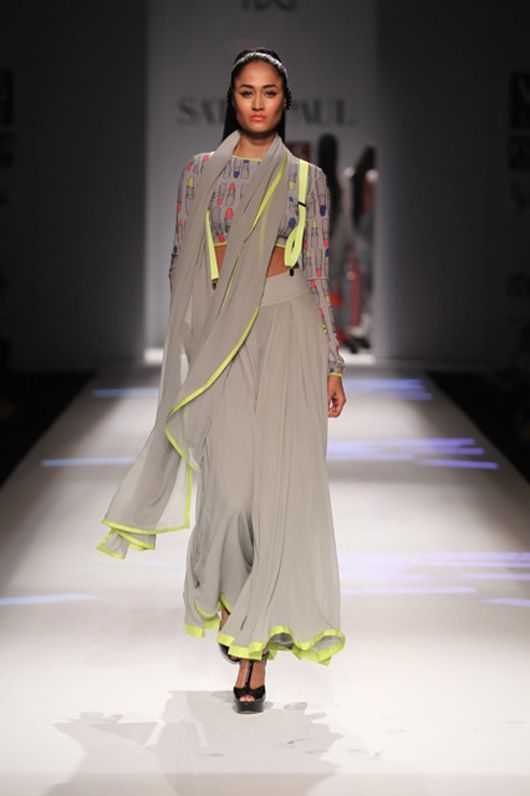 2. Winged Eyeliner—Whether it was Siddartha Tytler, Kanika Saluja, Masaba Gupta, Anupama Dayal or  Nikasha – prominent eyeliner is back.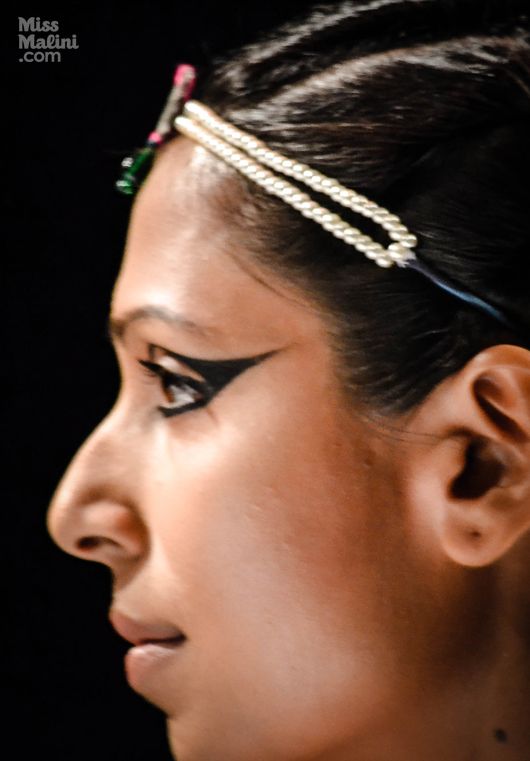 I love this trend as it instantly glams up any look be it a sari or an evening dress. Looks like beauty wise next season is going to be about dramatically elegant eyes.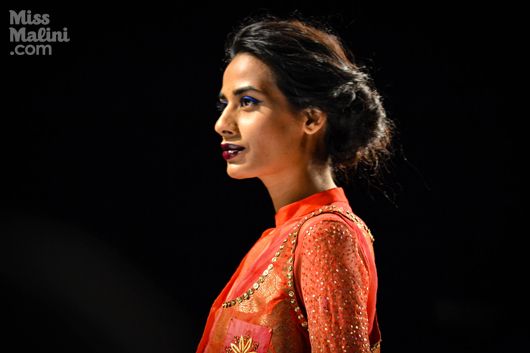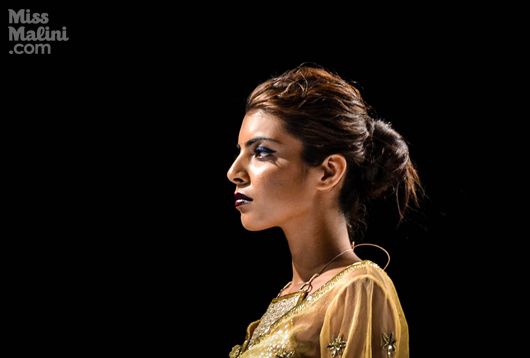 3. Vineet Bahl's Awadh Collection was full of beautiful chikankari and vintage style dupattas. It was so beautiful it almost made me want to get married again!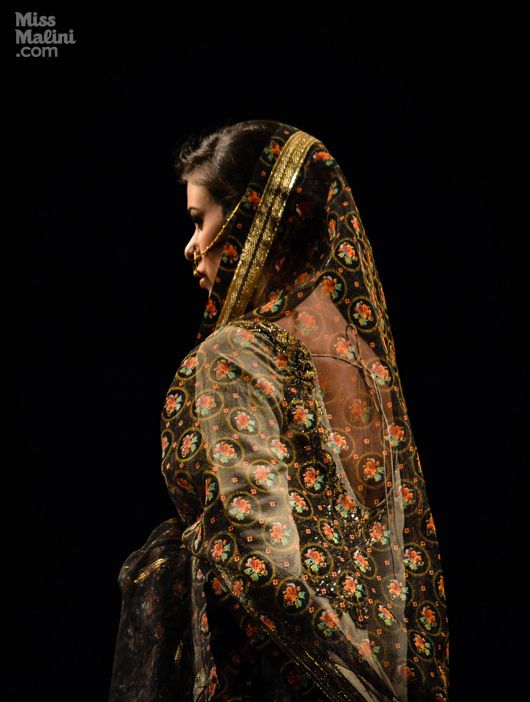 His careful styling added, the haath-phool added that old world charm. We have been seeing a lot of haath phools of late be in at Chanel Paris-Bombay Pre-Fall show a year ago or Manish Arora's collection for Amarpali, or in Eina Ahulwalia's collection. The Haath phool should be a welcome addition to any girl's jewel box.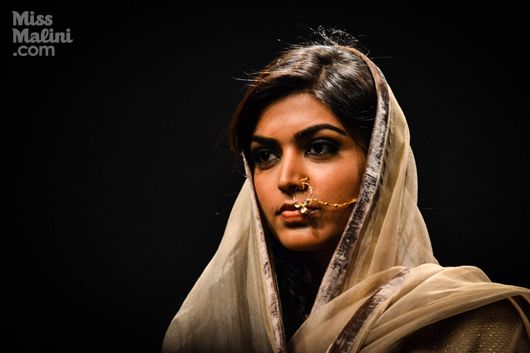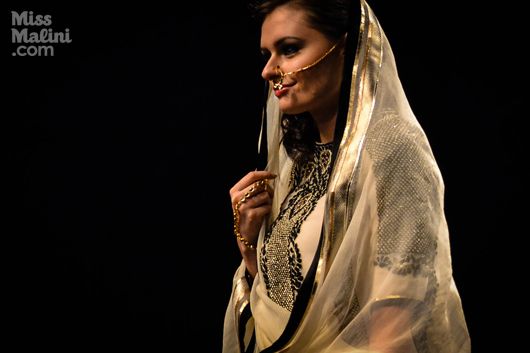 4. Pankaj and Nidhi's collection was called The Music Box and the press release said, "A collection that promises to be music for the eyes". The collection lived up to its name, the use of appliqué, leather, lattice was pure genius.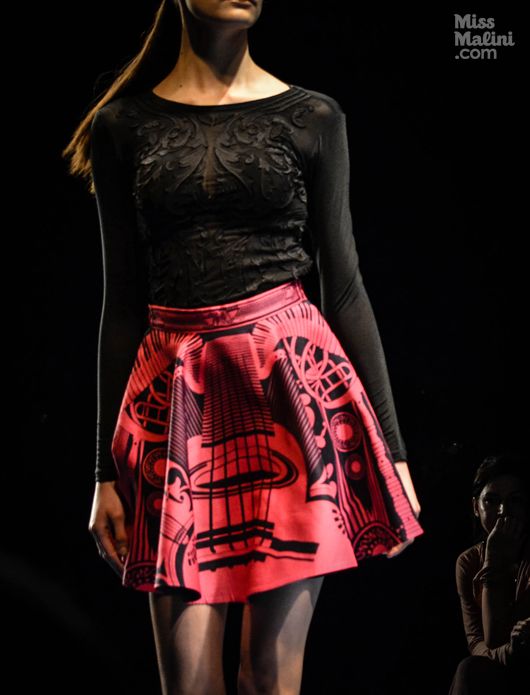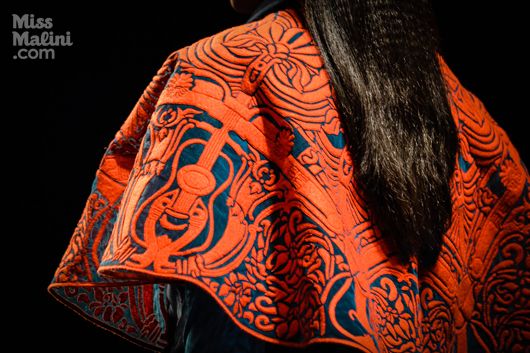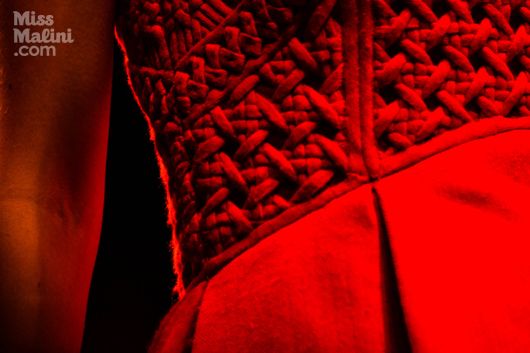 The silhouettes were wearable with the cinched waist jacket being key. And the way violins, trumpets, guitars were used as inspiration for surface inspiration and for prints was just lyrical.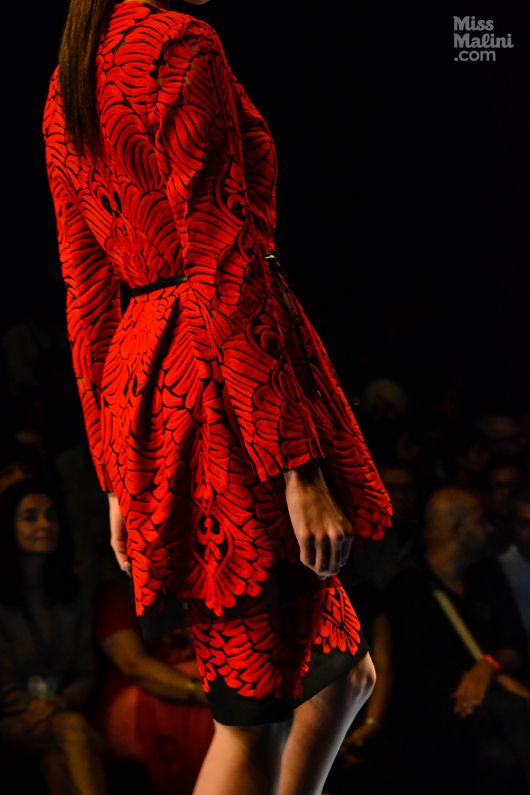 5. Nikasha's collection was called "Raat Ki Raani" and had a very Benarasi feel—but it was her backs I feel in love with. There is nothing sexier than a bare back; low necklines take a backseat as all attention is on given to the back.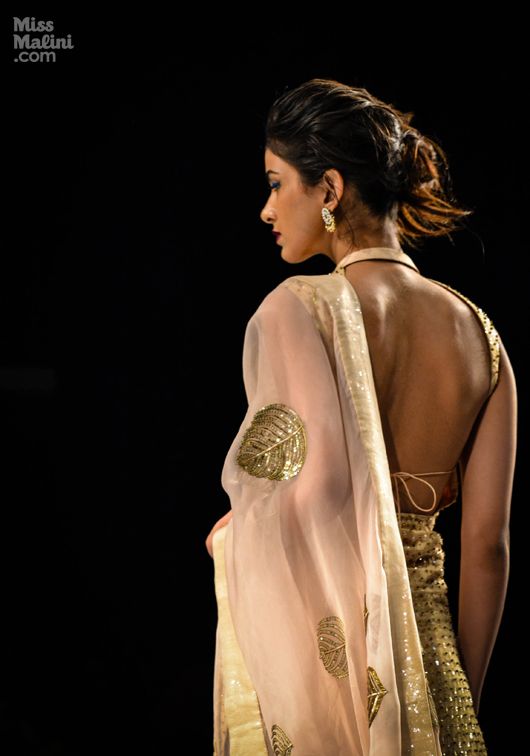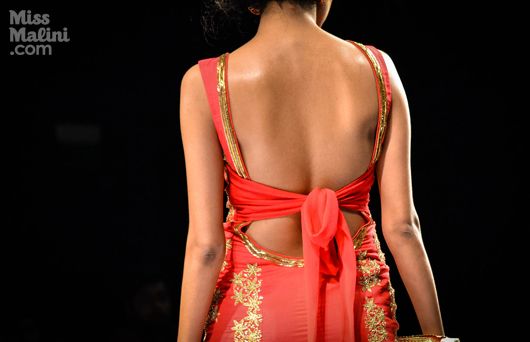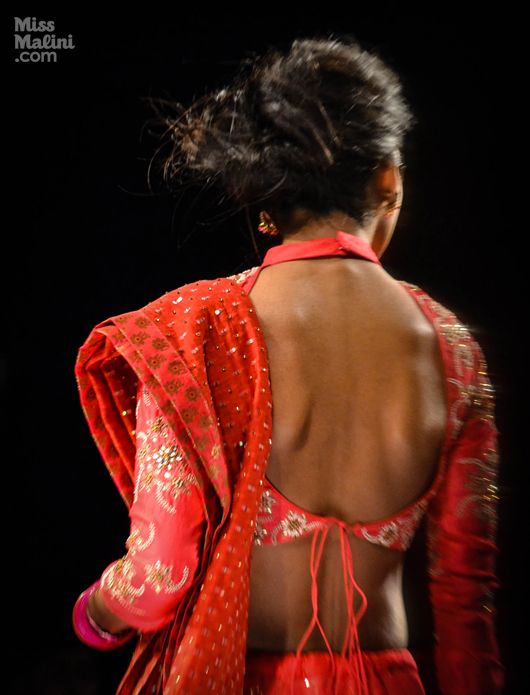 And of course there were also a few fashion faux pas, here is my one constant peeve at fashion weeks – Showstoppers! I request that designers do away with the  'showstopper'! It takes away from the collection and is so unnecessary! Today thankfully we had just one showstopper and that was Preity Zinta for Surily Goel.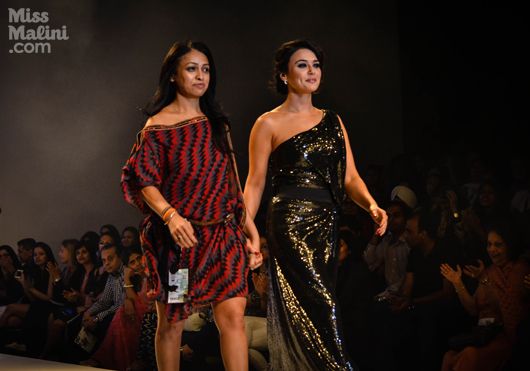 More Tomorrow!
To win an amazing Fiama Di Wills gift hamper AND couple passes to Wills Lifestyle India Fashion Week in Delhi on March 16th simply Tweet @MissMalini what makes you#BeYOUNG (using the hashtag of course!) More contest details here :)Pix courtesy: Surbhi Sethi for MissMalini