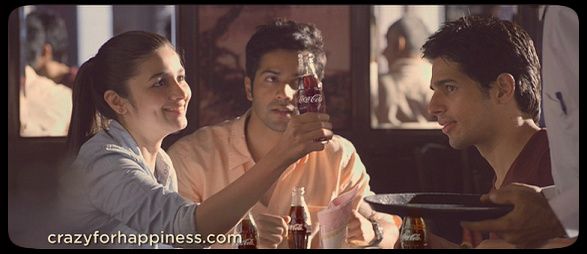 If you've been watching the IPL (Me! Me! Me!), then you must have caught this adorable little spot of Coca-Cola featuring the Student of the Year trio.
The TVC, titled "Bewajah Khushiyan Lutao, Coca-Cola Pilao", kicks off with Alia Bhatt, Sidharth Malhotra and Varun Dhawan sitting at a restaurant. Varun then shouts out to the waiter across the room asking for three bottles of Coke for their table, only for Alia to change the order to four, much to Sidharth and Varun's surprise. When the waiter brings the order, it turns out Alia got the fourth bottle for the waiter himself. Surprised and touched, the waiter hesitates to take up Alia's offer, but eventually does after his manager gives him the nod. Lovely, non?
Scripted by Prasoon Joshi and his boundlessly creative team at McCann Erickson, the spot is the follow-up to Coke's smash hit "Crazy for Happiness" ad campaign. Heart that they have retained the mad-catchy soundtrack (by Amit Trivedi) from that one!