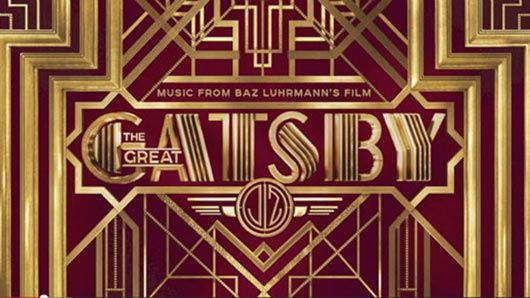 What do Moulin Rouge, Romeo & Juliet and The Great Gatsby have in common? Apart from Baz Luhrmann, both Moulin Rouge and Romeo Juliet had great soundtracks, and The Great Gatsby almost had it nailed. The soundtrack for the film is produced by Luhrmann and Anton Monsted with Jay Z on the chair as the Executive Producer. Like in his past films, Luhrmann has opted for a mix of artists to set up an all-rounded compilation of moods for his film. The idea is to recreate the roaring twenties with a contemporary twist, theoretically speaking…
The attempt was to bridge the gap between the new and traditional, or so it seemed. With a few tracks like Bryan Ferry's "Love Is The Drug"  and Beyonce's "Crazy In Love" covered by Emeli Sande that are close to decent, the rest have struggled to maintain a synchronous flow between each other. Most tracks here are either hybrids of old traditional jazz mixed with modern bumps or strong within their own genre but borrow moods from the film. "A Little Party Never Killed Nobody" which features Fergie and "Bang Bang" by Will.I.Am, tried to represent Gatsby's decadent parties and lifestyle, but didn't quite reach the finish line as they got lost in the commercial half-a-brain beats – thus seeming forced in parts and terribly disrupted the flow to  the other tracks. Will.I.am's rapping is painful to hear in the context of the twenties, even if it was meant to be a 'contemporary' take on the period. But it is Jay Z's own offering called "100$bills" that almost hits the mark with respect to the opulent theme of the film. He does it in his street cool style.
Florence Welch of Florence and the Machine and Lana Del Rey steal the limelight with their story-telling through music . Florence is known for her orchestrated choirs and theatrical idea of a painful romance. She brings it all to the table in "Over The Love". Starting the story with a light piano while singing "Every since I was a child.." and taking to it a resonating volume with her haunting vocals, the track is another example of her thrilling display of capabilities as an serious bankable musician. On another cinematic-ally executed note, "Young And Beautiful" by Lana Del Rey is quaint and soothing.  Old Hollywood sadness at its best, she is one of the relevant artists in the list, just because her music is beautifully heart-melting. The presence of Gotye and Sia is worth an appreciation, they have been making quality music for a while but have gained mass recognition recently. Gotye's "Heart's A Mess" again, is lyrically strong and has heavy brass which is not too far from his own sounds exhibited in his previous albums. Sia is deeply soulful and she has always been that. Both their tracks are the softer core of the soundtrack.
Surprisingly, the XX and Nero are thrown into the mix of artists. Is it for their strengths or just to merely add another dimension? Though both are well executed pieces, one in dream space and the other is a dubstep rendition. Jack White's cover of U2's "Love Is Blindness" is scratchily loud and rebellious in its tone. Lovers of alternative rock will applaud it but it might not go well with hardcore U2 fans. Now, the presence of all these artists in one soup makes you wonder, "How many genres are present here?!!" And this where the cookie crumbles.
With too many styles and each fighting to hold their own, it was a tall order and Jay Z may have dropped the balls. Especially by taking in all his 'friends' like Fergie, Andre 300 and Will.I. Am into the project, the lot seemed forced to 'get along' with each other. But the biggest loser here is Andre 3000 with Beyonce covering a classic that probably needed to be left peacefully alone in the first place. The blame is all on Andre more than Beyonce, he has butchered Amy Winehouse's infamous "Back To Black" to point that the late singer's father tweeted that he wasn't please with the outcome (with respect to Andre 3000).
With a few strong tracks, a healthy lot of fillers and some forced mutation of sounds, Music From The Great Gatsby has received mixed reviews and rightly so. For a fact, you can't please everyone – even if that's that what Jay Z, Anton Monsted and Luhrmann probably set out to do. Rock, electronic, dubtsep, jazz, hip-hop and not to mention a few covers, all together are hard to hold in sync. Their strong sense of individuality will clash with each other and as one music critic distinctively called it "a brilliant attempt disrupted by noisy neighbours".  Overall, the album is worth a listen in parts and you will love it in parts. But as I mentioned in my blog, this soundtrack is a classic example of "Jack of all trades master of none"