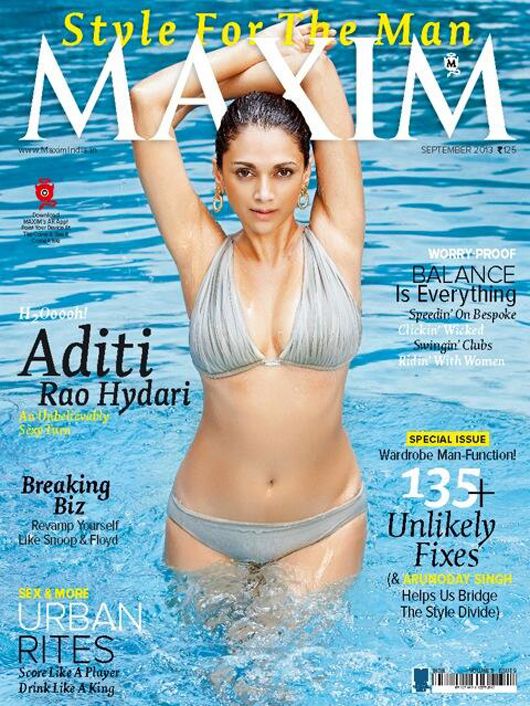 Murder 3 star, Aditi Rao Hydari, looks incredible on the September 2013 cover of Maxim. Styled by Maneka Harisinghani, Aditi shows off her bodacious bikini body in a two-piece by Shivan & Narresh, and vintage Givenchy earrings from Viange.
In this exclusive interview, Aditi told us about her experience shooting for Maxim, and how she manages to keep her svelte figure.
Team MissMalini: Did you feel the least bit self conscious while shooting for this bikini cover?
Aditi: Since the age of 3 or 4 years old, I have been a complete water baby and an avid swimmer. So wearing a bikini for me is pretty natural. While I'm in from of the camera, shooting these kind of scenes, I'm completely engrossed in the shoot. I'm just having fun. In fact, in between shots, I was even dancing in the pool and having a blast.
Team MM: Is this cover a conscious decision to reinvent yourself as a sex symbol from the girl-next-door image?
Aditi: No. It's not a conscious effort at all. In fact, even in Boss (her next film release), I have a bikini scene, where I'm coming out of a pool. A bikini is just another garment. It just shows you up for you who are. However, I must tell you that I won't do any random bikini shoot. There has to be a reason for it, a story behind it. I don't run away from who I am and what is being given to me. Its fun to try out different things as an actor.
Team MM: How did you prepare your body to be in perfect shape for this shoot?
Aditi: As you know, I have a petite frame so that is a blessing. For three days before the shoot, I lived on fish and vegetables only. I also practice a mixture of Ashtanga yoga and traditional yoga to keep myself in shape. Also, I had shot my bikini scenes for Boss, four months ago. And at that time, I was already training to be in perfect shape so by the time the Maxim cover shoot happened, I was quite ready for it.