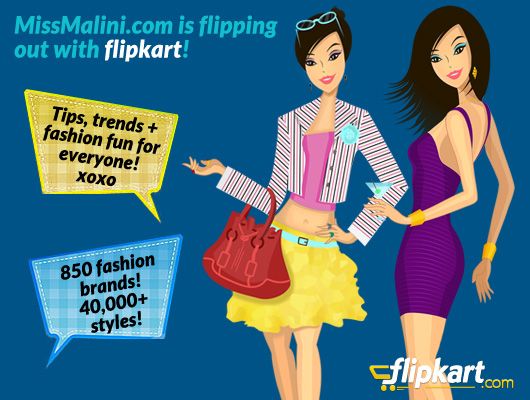 Hello my fabulous fashionistas, oh boy do I have news 🙂 Remember I told you this September we kick off our awesome association with Flipkart? Well the time has come! MissMalini.com has teamed up with the fabulous peeps over at Flipkart to bring you a one-of-a-kind digital alliance to solve ALL your virtual shopping needs!
TeamMissMalini has always worked hard to decode the latest fashion trends from India and around the world so your style IQ is always up-to-date. But let's face it – sometimes it's hard to translate New York Fashion Week or Priyanka Chopra's latest cover shoot into your personal style collection at home – and we're about to change that!
That's why we're joining hands with India's #1 online retailer to bring you fashion news you can REALLY use! Starting this month, our in-house style team will be curating the cutest looks for you to rock, inspired from the latest celebrity style and the trendiest runways from around the world. The best part? All of these looks will be assembled directly from Flipkart's readily available catalogue of over 850 fashion brands and more than 40,000 styles, so you too can look like an uber cool fashion cover shoot!
But that's not all. Aside from fashion glam, we're also bringing you everyday styles for everyday situations, because fashion shouldn't be restricted to special occasions. Not sure how to be stylish at the office? We've got you covered. Stumped on weekend wear? Check. Gearing up for the end of Monsoons? Yup, we're on it!
Oh man I simply cannot WAIT to show you what we have lined up! Everything from Trend Spotting, to Celebrity Get This Look For Less and my personal favourite – Online Shopping for Dummies – we've got you covered and looking fabulous.
Now sit back and take a deep breath because you're about to be MEGA made over! xoxo