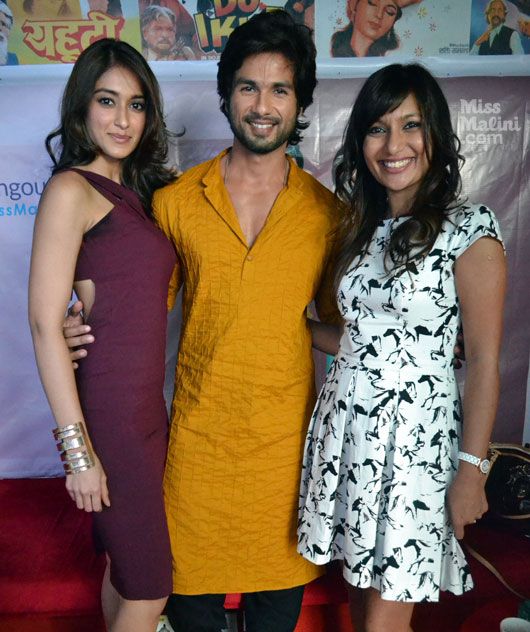 I really hope you guys got a chance to tune in live for our Google+ Hangout with MissMalini, Shahid Kapoor and Ileana D'Cruz yesterday, because it was a ton of fun! MissMalini spoke to the duo about their upcoming film, Phata Poster Nikhla Hero, and also threw in so many of your questions. They recited a dialogue from their movie, Shahid even sung (twice!) and, of course, they sent out all their love and best wishes to everyone. Incase you missed it, no need to worry at all because we've got the whole thing here for you to watch again 🙂
Psst – we're also giving you the chance to win some signed film merchandise. Read on to know how!
Win signed PPNH goodies
We're giving you the opportunity to take home some exclusive Phata Poster Nikhla Hero merchandise. We've got tshirts and mugs signed by Shahid, as well as autographed photos from both Shahid and Ileana. All you have to do is tell us in the comments below what your favourite part of the G+ Hangout was, and we'll pick lucky winners to send this stuff to! Just make sure to mention which city you're from.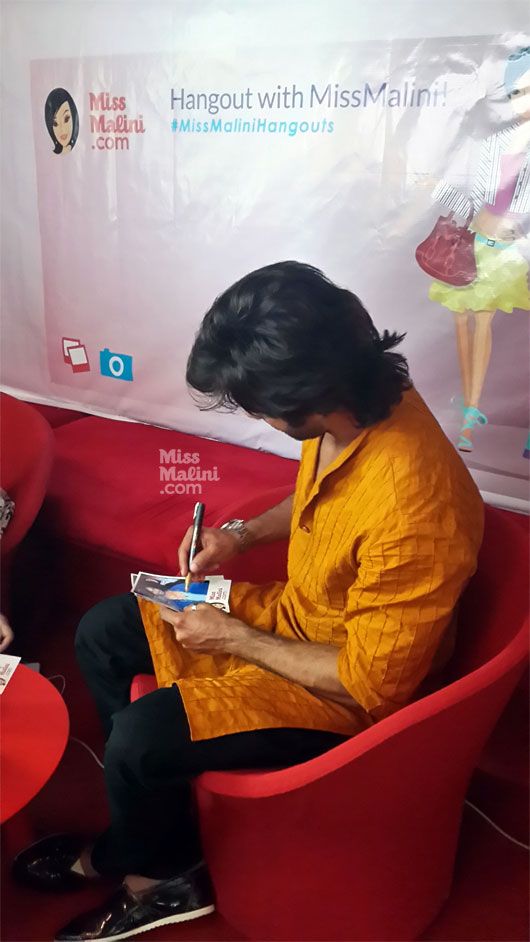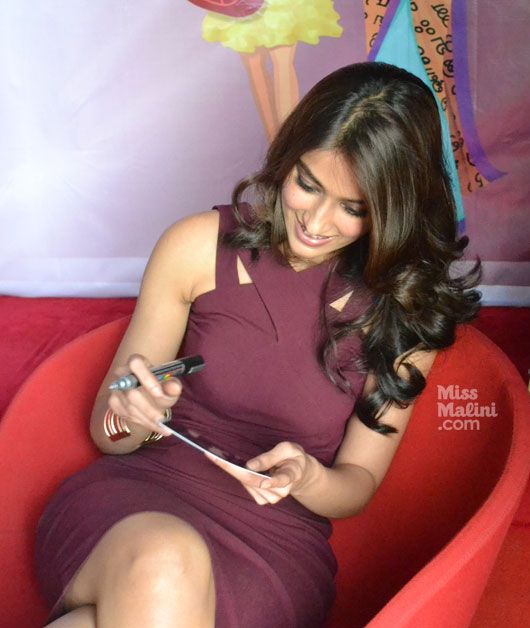 And if you just want to relive some of the fun from the Hangout, then here's a quick recap of how it all went down!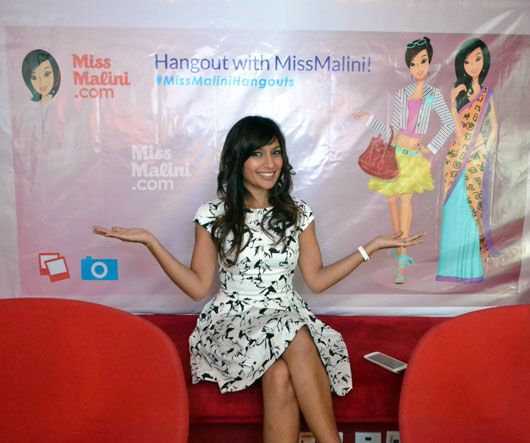 The set up was in the Glamour room at Google's offices, which is this gorgeous room with film posters all over the wall. MissMalini's animes made their way up there for the show as well; see?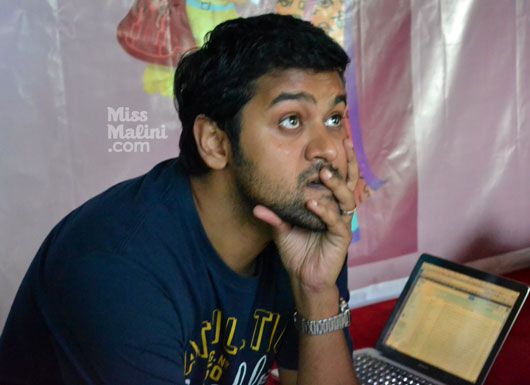 Nowshad also got the very arduous task of tech set-up and coordinating with (read: muting) those winners who joined the Hangout. As you can see, it wasn't an exactly easy task. (Shoutout to Harish for repeatedly breaking through Nowshad's muting barriers!)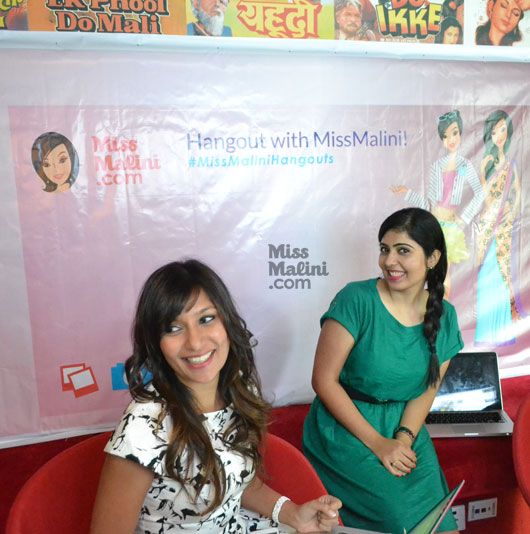 Then we waited and I pretended to be Shahid Kapoor for the cameras so we could test out lighting, angles, what have you.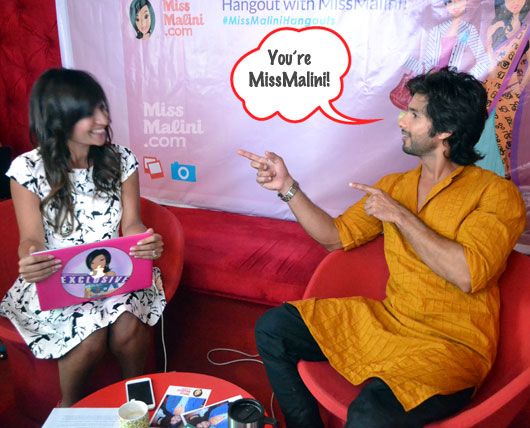 Then once Shahid came in, we kicked things off and it was fun times! Love how he was all "So you're MissMalini!" because he's been seeing her name everywhere but hadn't ever met her, so he had no idea what she looked like. (Although, he was a complete charmer and says she looks much better than her animes.)
What you may not have known is that, even though there were only a maximum of three people on screen, there were so many more hiding out in the sidelines! There was a lot happening behind the scenes, from taking photos to handling tech stuff to ferociously tweeting: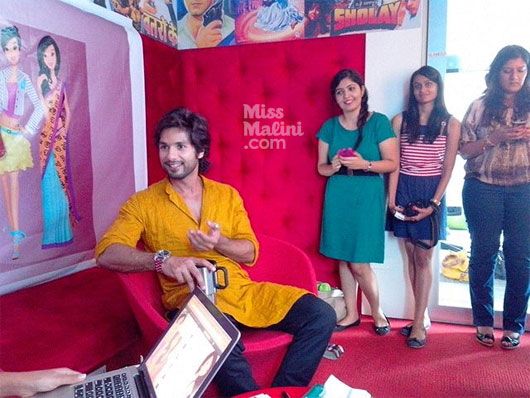 (To forlornly staring at Shahid, if you are me.)
Once Shahid was there, we of course got him to clarify a few of his rumours, so-true-so-false style.
1) He'd go bald for Vishal Bhardwaj's Hamlet adaptation: "Somewhere in between," says Shahid. He says they haven't really decided on the look yet, so they'll need to sit down and figure it out. Most likely he'll end up having to cut his hair really short instead of going completely bald. But nothing has been decided as of now!
2) He's been approached for Rajkumar Santoshi's sequel to Andaz Apna Apna: "So false!" He also says that, as a fan, he would like to see Salman Khan and Aamir Khan reprise those roles, and mentions it'd be "scary" if he and Ranbir Kapoor starred in the film instead.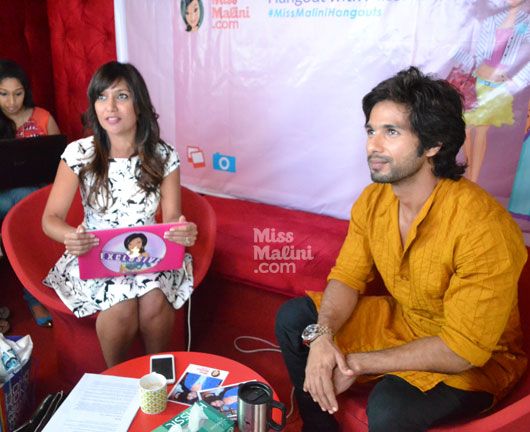 3) The title of Rambo Rajkumar has been changed: His character's name will remain Rambo Rajkumar, but since there are some copyright issues surrounding the name 'Rambo', they may have to retitle the film. He isn't sure as of yet, though, as he'll concentrate on that only once Phata Poster is out.
4) He wakes his girlfriends up at 5am to workout: "Whaaat?! I don't think they'd last with me for one week if I did that!" He also mentioned that he's not a morning person himself, and works out mostly in the evenings. The times that he did try to workout in the morning, it didn't go too well!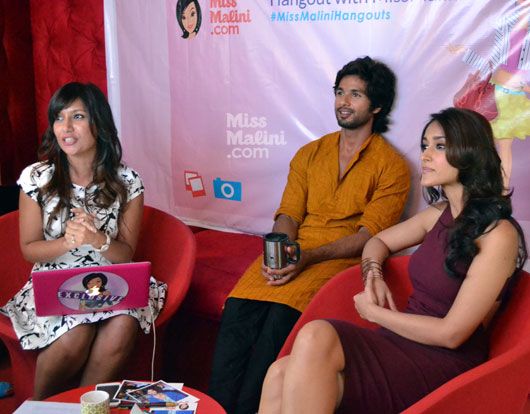 After battling Mumbai traffic (and a driver who took them in the wrong direction entirely!), Ileana D'Cruz joined us for the Hangout as well. We made her clarify her rumours too:
1) You're going to quit the South Indian film industry for Bollywood: "So false! I don't think you can quit an industry. It's fun working there. I started my career there, I have tons of respect for it, and I'd love to go back."
2) Shahid plays a lot of pranks on sets: "Actually, it's false, because Rajji was the one who played all the pranks!" He took advantage of Ileana's gullibility and kept convincing her of things that weren't true!
3) You are a chatterbox like your character: "I think that girl [my character] barely thinks before she says anything. I like to think before I say something." At which point Shahid interjects with a "Really?!"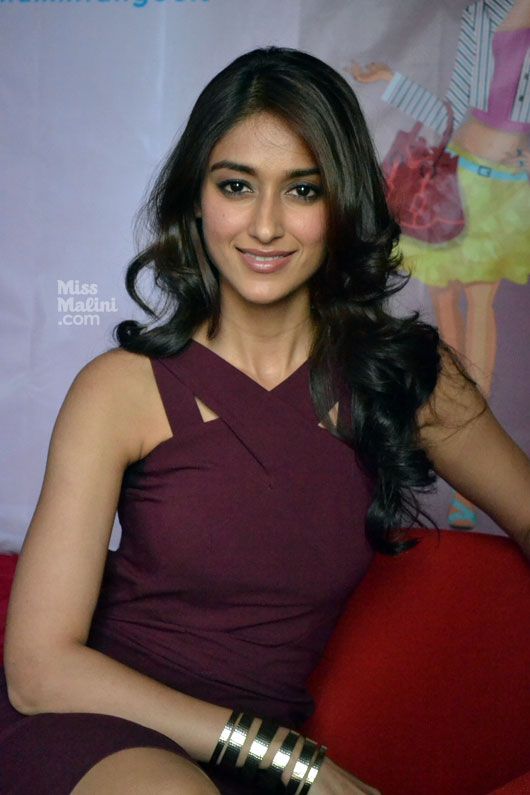 We even asked them to describe each other in 3 words. Ileana described Shahid as "mischievous, moody, incredibly focused" which is pretty funny because 'moody' was one of the words he used to describe himself too (simple and passionate were the other two). Shahid, on the other hand, described Ileana as "petite, talented, shy."
And we caught up with both of them post the Hangout to know their thoughts; here's what they said!
Pix: Khyati Gandhi for MissMalini.